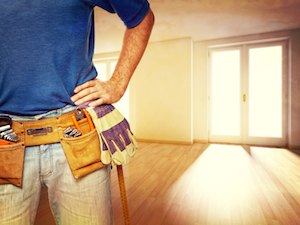 Home improvements are a great way to update your living space and increase your home's value. Owning a home also means taking care of general maintenance and occasional repairs which may require the help of a professional. Whether you are remodeling or fixing an existing problem, choosing the best contractor will get the job done right.
1. Consider the work to be done
Make a list of all the work to be done. Do you have a list of simple repairs or are you planning a large remodeling project? For simple repairs, you may be able to hire an all-around handyman. If your project includes something like plumbing, electrical work, roofing or structural design you may be better off with a qualified plumber, electrician or other specialized contractor.
2. Ask for recommendations
Neighbors, friends and family members are great resources when it comes to finding the right contractor. Be sure to ask what they liked and didn't like about the contractor so you can gauge whether the company will be the right fit for you. You can also search for recommendations online or use a service like Angie's List.
3. Talk about the timeline and contingency plans
Remodeling projects and many home repairs are known for taking longer than expected. Ask contractors about how they determine their timeline and whether they allow time for unexpected delays. If your project needs to be completed by a specific date, find out what parts need to be ordered or other steps have to be taken to meet that deadline.
4. Get a few estimates
After you have a short list of names, call to ask for estimates. Contractors will usually be willing to come to your home for a free estimate and answer any questions you may have. Prepare a list of the work to be done to help the contractor give you an accurate estimate, and always ask for an estimate in writing. Ask for references from previous customers as well.
5. Check for licensing and insurance
When meeting with contractors, verify that they are licensed to do the work and insured against accidents on the job. Also ask about any building permits that you might need for remodeling projects and find out what the process is for arranging permits and possible county or state inspections.
6. Do your homework
You can check out the contractors you are considering online through the Better Business Bureau and through any specialized licensing they may have. Follow up with any references you received from past clients and ask specific questions about the work that was performed, especially whether the project was finished on time and within their budget.
7. Put your agreement in writing
Once you've chosen a contractor, make sure the entire project is clearly spelled out in writing. Don't rely on verbal agreements and don't sign a contract that has missing or incorrect information. Check that all of the work and any included parts are listed along with the total cost of the project.
8. Never pay the full amount until the work is done
Contractors typically require a percentage of their pay upfront, as well as the cost of needed materials. However, a large portion of the payment should be held back until the project is complete. Don't pay the final bill, or sign off on the job, until the work has passed all necessary building inspections and you're satisfied with the results.
Finding a good contractor is rarely easy, but putting in some time to research your options will increase your chances of having a good experience.