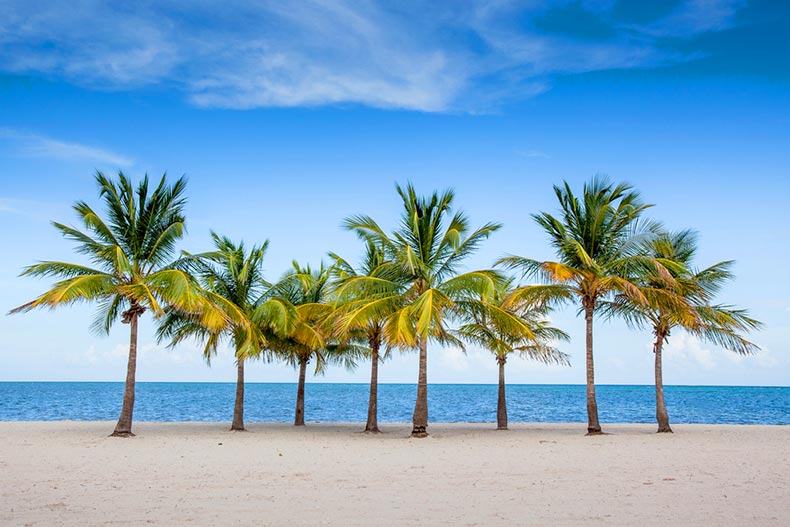 Many people dream of a Florida retirement, and while it almost always involves lots of sunny days, plenty of time on the golf course, and a lower cost of living compared to northern states, it's not always the utopia that people seem to think it is. Florida is diverse and ever-changing. Living in West Palm Beach is hardly the same as living in Ocala, and there are tons of small towns and special spots throughout the state that fly under the radar.
Today, we're encouraging anyone interested in Florida and Florida's 55+ communities to forget everything you know about them. Well, not everything. But, you should at least keep an open mind when it comes to some of the most common myths about retiring in Florida and living in an active adult community.
Myth #1: The Weather Is Perfect!
It's hard to complain about the weather in Florida, especially when people in other parts of the country are still shoveling snow. Florida has more sunny days than almost any other state, with an average of 246 sun-soaked days per year. This is especially appealing in January when shorts and flip flops are still the general dress code.
But in August, things can get pretty miserable. It's hot in the morning, and it's hot in the middle of the night. It's not only hot; it's humid enough to completely soak your fourth outfit of the day when you walk from your house to your car.
So the weather isn't perfect. It's warm in the winter, which is terrific, but the cold days do arrive, and they somehow seem more shocking than in other climates. A 50-degree day sends people into confusion and chaos.
There's also the hurricane threat. From July to November, the entire state is slightly on edge because of the potential for tropical storms. So, if you're planning to move to Florida, don't plan on perfect weather all the time.
Myth #2: It's All Snowbirds and Spring Breakers
Snowbirds are people who spend part of the year in a warmer climate. Most often, snowbirds will migrate to Florida for the winter, then return north for the summer. Spring breakers are the college kids and young adults who like to vacation in Florida and party for a week or two when they're not required to be at school or work.
Some areas in Florida do attract a lot of snowbirds. In Southeast Florida, for example, communities like Boca Raton and Boynton Beach see their numbers swell from October to February. In the Tampa Bay area, 55+ communities like Kings Point go out of their way to make part-time living secure and easy in their neighborhoods.
There are a lot of snowbirds. Nearly a million seasonal residents arrive in the state every winter and stay for at least a month. But, there are even more full-time residents. There might be a bit more traffic during the winter months, and you may have to book a table at your favorite restaurant instead of strolling right in, but it's not disruptive. In fact, you'll get to know new people from different places, enriching the area's sense of community.
Spring break in towns like Daytona Beach and Fort Lauderdale still attracts the college crowd, but with travel getting cheaper and younger generations being more nomadic in general, they're passing up their former Florida haunts in favor of places like Cancun, Central America, and Europe. You won't have to worry about your community being overrun with empty beer cans and stray bikini tops.
Myth #3: Florida Is Completely Coastal
Everyone talks about Florida's coastal cities. From Jacksonville to Miami, the Atlantic Coast is popular among visitors and buyers seeking homes for sale in Palm Beach County, Broward County, or recently emerging hotspots like Port St. Lucie and Ormond Beach. On the Gulf Coast, there are retirement and vacation destinations that are equally popular. Clearwater Beach is routinely rated as one of the best beaches in the country, and active adults are flocking to cities like Sarasota, Naples, and Fort Myers.
This leaves a large chunk of the state practically unexplored. You've probably been to Orlando, but what about Leesburg or Sebring or Mt. Dora? Central Florida has some large freshwater lakes that are ideal for fishing and boating. There are many golf courses, and there's a state park system that provides acres of hiking trails, camping sites, and wildlife management areas that invite hunters, researchers, photographers, and birdwatchers.
Many of the communities in Central Florida disrupt the general narrative of what it's like to live in Florida. There's a lot of arts and culture, cool winter mornings, and small towns where residents enjoy local diners, antique shopping, horseback riding, and soaking in natural springs. The 55+ communities in these areas offer new construction and resale homes with spacious floor plans, amenities like golf courses and resort-style pools, and a strong social atmosphere.
Myth #4: Florida Retirement Communities Are for Old Folks and Seinfeld Characters
Remember the popular episode of "Seinfeld" when Frank Costanza yelled about not being kept off the shuffleboard courts atDel Boca Vista, a fictional retirement community? It's easy to imagine that residents of Florida's 55+ communities are all caricatures or elderly and in bed by 8:00 p.m.
That's not true, actually.
Many people buying homes in these communities are barely past 55, and even if they're in their 80s or 90s, they're pretty active and likely to tool through town in a golf cart for dinner dances, pickleball tournaments, and community day trips.
The demographics have changed, and so have the profiles of most active adult communities. These neighborhoods are full of amenities that makes residents feel like they're living a perpetual vacation. With fitness centers, private beaches, day spas, woodworking studios, clay tennis courts, movie theaters, and ballrooms, there's always something going on. Many active adult communities also have full-time activity directors helping residents coordinate club meetings, happy hours, and social activities.
Don't take our word for it. Check out communities like Latitude Margaritaville in Daytona Beach, where a Buffet-branded lifestyle isn't just an idea; it's a reality. Or, take a look at Cresswind at PGA Village Verano where a worldwide competitive pickleball tournament was recently held. These aren't the sleepy retirement villages of decades ago.
Myth #5: You Can't Afford to Retire to Florida
Everyone saves for retirement a little differently, and packing up to move to Florida may sound like something that only the rich can afford to do, but that's not true.
For starters, homes are quite affordable, especially in 55+ communities. Some of the condos for sale start at under $100,000. Even new construction single-family homes can be found for a modest $250,000. If you want a million-dollar mansion, those are available too, but you can live frugally in Florida and not sacrifice any fun.
Also, Florida has no state income tax, so your pension, retirement, or social security income is left alone. There's also no estate or inheritance tax, making this a tax-friendly state for retirement-age residents. Oh, and your heating bill will be a lot lower than it was in Ohio or New York.
Florida is affordable, and you can find some great blogs and articles about where to find homes for sale in 55+ communities at or below your budget.