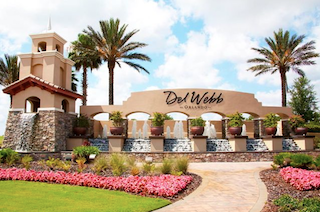 Energy-efficient systems and green building practices have been showing up in active adult communities more frequently over the past several years. These innovative advances are good for the environment, but they also help retirees keep down the costs of their monthly expenses. Most recently, a Del Webb and SolarCity partnership is promoting solar energy systems at two Florida communities.
For a limited time, active adults who choose a new construction home in Del Webb Orlando or Del Webb Stone Creek can take advantage of a special energy incentive. Del Webb has recently partnered with SolarCity to offer included solar arrays in homes in both of these popular communities. These 2 kilowatt photovoltaic arrays are estimated to save homeowners over $300 each year in their energy bills, without the usual upfront cost of paying for the equipment.
This incentive comes at a time when solar energy is becoming increasingly popular with active adult retirees. Baby Boomers are known as a generation who cares about the environment, and they also understand the value of advanced technology. By choosing homes with solar panels and energy-saving features, they can cut down on monthly expenses and further stretch their retirement nest eggs. Of course, Del Webb is not the first, or the only, active adult community developer to offer homes with solar energy systems.
Companies like SolarCity and SunRun have also partnered with Shea Homes, while Westinghouse Solar has worked with Lennar Homes. In most of their active adult communities, which commonly fall under the Trilogy brand, Shea Homes even offers a package that is billed to give you a "no energy bill home." Known as SheaXero, this special feature package begins with a solar energy system and adds a whole suite of features to further conserve energy.
These homes are designed to be eco-friendly, as well as promoting water and energy conservation. At Lennar Homes, the Everything's Included Home offers similar eco-friendly options. Homes with this package feature solar panels to create energy, as well as a range of features to conserve energy consumption. Additional features promote water conservation, indoor air quality and green building practices.
If you are in the market for a new construction home, take the time to investigate your options when it comes to solar panels and energy-efficient features. The monthly savings are often worth the cost and limited promotions, like the current offer at Del Webb Orlando and Del Webb Stone Creek, may get you a solar energy system without the upfront cost.