Over the years, we've seen a number of improvements in the technology built into our homes. Many of these have been incremental improvements, from increased energy efficiency through better insulation and LED lightbulbs to home security features like keypads and motion detectors.
In the last decade, however, there has been something of a revolution in home design centered around smart home technology. While this was once a feature of electronics trade shows and high-end homes, smart home technology has now become available to a greater number of homebuyers through reductions in price. It's also much more attuned to the needs of average homeowners.
55+ homebuyers have not been left behind and, in increasing numbers, are integrating these technologies into their homes and reaping the rewards of automation. Del Webb, one of the most popular builders in the country, is leading the charge when it comes to smart home technology in 55+ communities.
In this post, we'll highlight some of the practical applications of the latest in smart home technology and show how it can become an intuitive part of your home.
Smart Home Technology
Your home is where you should feel most secure, and the newest smart home technologies and apps can contribute to your peace of mind both when you're at home and when you leave, either for a short time or a longer trip.
Smart Doorbells
Your doorbell may seem an odd place to start when considering smart home technology, but the last innovations on this seemingly old-fashioned piece of your home are among the most popular. The newest doorbells, from Google's Nest line of products or Ring, allow users to see who's at the door before getting up to answer it. Beyond the obvious applications like avoiding solicitors, these cameras also allow users to monitor the delivery of packages, allowing you to confirm receipt even if you're not at home.
Smart Thermostats
Smart thermostats are another common upgrade that, according to the U.S. Energy Information Administration, are now seen in one in eight American homes. These allow users to control and schedule the heating and cooling of their homes through an intuitive interface, even if they're away from the house. The EPA has found the average homeowner saves $180 annually with a smart thermostat, easily offsetting the cost in less than a year.
Smart Locks
Smart locks alleviate that moment of panic we've all experienced when we're away from home and we ask ourselves: "Did I lock the door before I left?" With smart locks, this is no longer a concern because you can control your lock using your phone or smart device. They're also quite handy if you're expecting friends or family while running late and you want to let your guests in before you arrive.
In addition to smart locks, the newest security systems mesh seamlessly with your other smart home technologies, allowing you to monitor cameras and safety devices like carbon monoxide detectors when you're away. These safety and security technologies are especially useful for 55+ homeowners who enjoy the freedom of being able to travel at their leisure.
Added Benefits of Smart Home Technology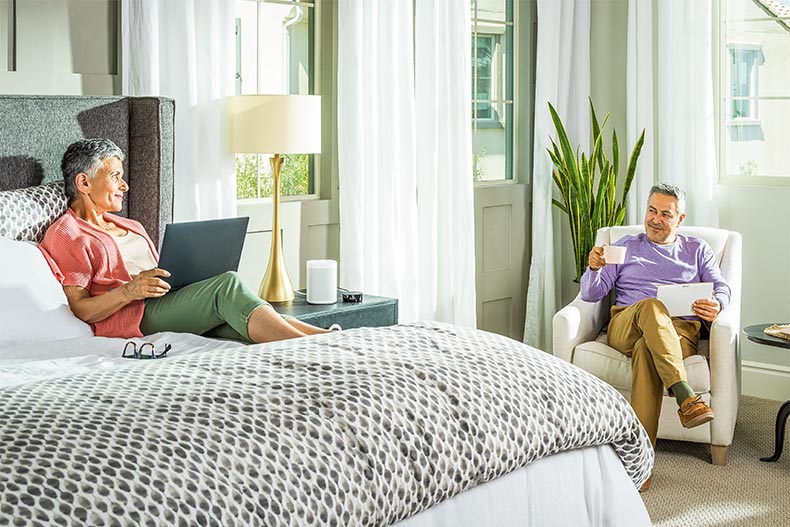 Along with contributing to your peace of mind, smart home technology can also help you monitor and even improve your health. Your home can help you track your sleeping habits, by detecting when you've turned your smart TV and smart lights off and when your phone is charging at your bedside.
Voice Commands
Voice commands picked up through a smart speaker can control many functions of the home, allowing you to make sure the garage door is closed or the sprinkler has been turned off without even getting off the couch. These same smart speakers can even give you audible reminders, helping you better coordinate your schedule while ensuring you don't miss anything important.
This is in addition to a whole host of other ways voice-activated smart technology can help you in your day-to-day life. You can ask Google, Siri, or Alexa to do anything from tuning to your favorite radio station to telling you how many tablespoons are in a quarter cup to reporting what the weather is in Tokyo (if you're dying to know).
Better Connection
Smart home technology also helps keeps homeowners better connected with both their home and their friends and loved ones outside the home. At the most basic level, modern homes are equipped with multiple WIFI access points, eliminating dead zones where internet reception is poor. These access points, along with many other smart home features, are now wired into homes during construction, eliminating the jumbles of wires and cables that so many of us who live in older homes deal with on a consistent basis.
When so well-connected in your home, it's easy to stay in touch with friends and family, wherever they may be. New devices like Facebook Portal make video calling as easy as a regular phonecall but with a lightweight, high-definition camera integrated into the device, allowing you to see who you're speaking to in real-time. You'll never miss a moment with the grandchildren, whether its a routine "hello!" or a celebration.
Del Webb Offering Smart Home Technology
Del Webb, long a leader in the world of 55+ homes and communities, is now offering smart home technology on all of their news homes, freeing homebuyers from costly and complicated retrofits. All homes come fully wired for both physical connections, say for your TV or modem, as well as wireless connections. From there, homebuyers have a wealth of options to choose from, ranging anywhere from smart locks and thermostats to voice-controlled irrigation and home-theater setups. You won't have to worry about complex installations and routing cables, and you can rest easy when the technology changes (and it will); most homes should allow for easy upgrades to the newest devices.
The benefits of living in a smart home are as varied as the types of devices and integrations available on the market today. Whether you go with Apple, Google, Amazon, or a host of other tech companies providing smart home solutions, you can be sure that the energy savings, enhanced connectivity, and peace of mind these systems offer are well worth their modest cost and any small learning curve that comes with using them.