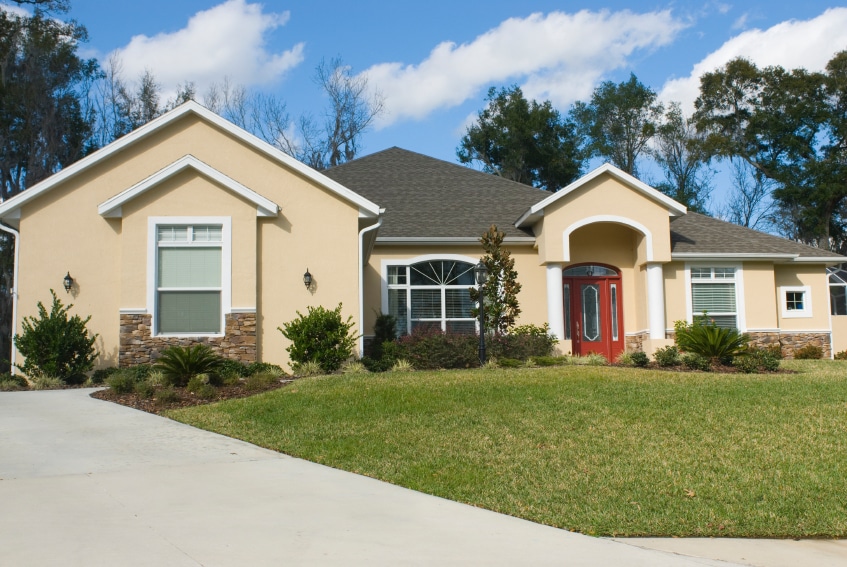 The current trend in active adult homebuying is about downsizing and simplifying, which is why ranch-style houses, also called ramblers, are making a comeback. This style originated in the American Southwest and California during the 1920s. Once characterized by a modest exterior, cramped hallways and limited square footage, today's ranch homes are open, airy and bright with lots of curb appeal.
Here are three basic styles of single-level residences, all of which are available in 55+ active adult communities throughout the United States.
Single family
A recent article in the Seattle Times featured a couple who traded up their suburban Chicago home for a ranch house in Boise, Idaho. A single-level home was a "nonnegotiable demand," said the couple, citing that they didn't want to climb stairs as they got older. But the house also has three bedrooms, as they also wanted plenty of living space.
Like many Baby Boomers, they found that they didn't have to sacrifice square footage in a single-level floor plan. Newly constructed single-family ranch homes offer as much as 3,000 square feet along with large rooms that flow into one another, wide hallways, and several bedrooms.
Compare that to ranch houses from the 1970s, which were about half the size and typically built on a narrow footprint. Still, even an older style rambler can get a makeover, as illustrated by this HGTV renovation of a 1980s-era ranch house. It was repainted in lighter colors, worn carpeting was replaced with wood flooring, and interior structures like brick columns were removed to create a contiguous flow among the rooms. The result is a lot of breathing room yet a livable, comfortable space.
One potential drawback of a single-family style home is exterior maintenance — it may require yard work and shoveling, depending on your homeowners' association agreement.
Single-level townhome Single-level townhomes offer the same desirable features as single-family ramblers — the ability to downsize, a lack of stairs, open floor plans — with the added benefit of low-maintenance living, as exterior maintenance is often managed by a townhome owners' association.
Single-level townhouses are typically built as duplexes, however, so homeowners have to share an interior wall and possibly a driveway or a garage. Floor plans are slightly smaller than single-family residences, generally around 1,700 square feet, but with a similar emphasis on open interior space and modern appointments.
Single-level condo
The distinction between a townhome and a condo is one of legal ownership. With a condo, the homeowner only owns the interior space and not the exterior, and a condo association fee covers yard work, snow removal, and maintenance of the exterior facade and roof. When you think of condos, an apartment-style complex with multiple levels probably comes to mind. But you can find condos built on one level, typically in clusters of four units.
Although they offer less square footage than other types of single-story homes, they're less expensive to maintain, and newly constructed units come with all of the same modern amenities as other one-level property styles. The Epcon Group, for example, provides single-level condos in many of its communities. Floor plans feature walk-in closets, spacious bedrooms, separate living and dining areas, modern kitchens, a courtyard, and a garage.
The best part about a single-level floor plan — whether single family, townhome or condo — is that you can simultaneously downsize and upgrade. What you lose in levels, you gain in spacious rooms and luxurious appointments. And, like their 20th-century forebearers, modern ranch homes are more affordable and less expensive to maintain than other types of housing.