Whether you're actively looking for your next home in an active adult community or planning ahead for retirement, a sense of adventure surrounds the homebuying process, especially for those who want to purchase a new construction home. Across the country, some of the best 55+ active adult communities offer brand new homes for sale. Each of these communities with new construction homes provides its own benefits, such as a tax-friendly location, resort-style amenities, and, of course, a variety of floor plans.
With a new construction home, active adult homebuyers not only become the very first owners and residents, but they also have the opportunity to customize a home to suit their specific needs, preferences, and lifestyles. Active adults who buy new construction homes can choose their own floor plans, upgrades, personalizations, and finishes. Yet, the process of buying a new construction home requires organization, patience, and an investment in the construction of the home from start to finish.
That's where a home inspection might come in handy.
Although it's not required for homeowners to hire an inspector to investigate their new construction homes, buyers generally follow the sound advice to have at least one home inspection—and possibly three or more. A good, thorough, and well-timed home inspection can increase a homebuyer's confidence in their new construction home and prepare them for homeownership.
It's certainly worth further exploring the question of whether or not you need a home inspection for a new construction home.
What Is a Home Inspection?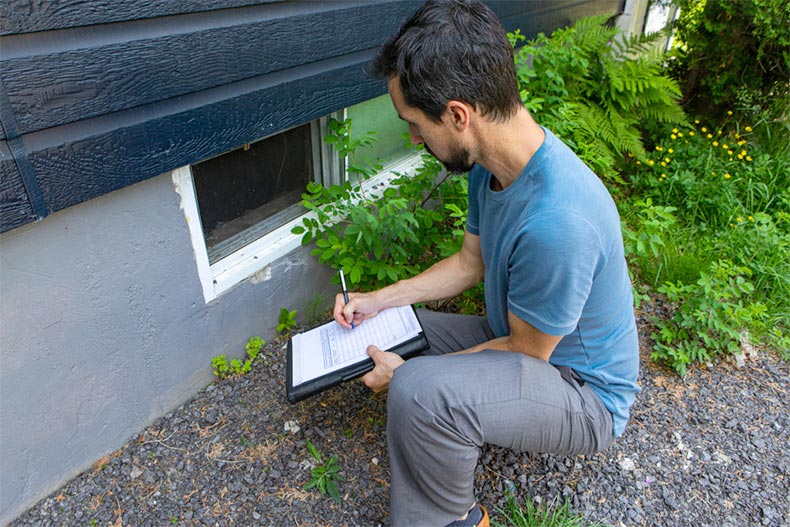 During a home inspection, a qualified home inspector surveys the construction elements of a home inside and out, from top to bottom, and from the smallest details to the largest structural components. According to the National Association of Home Inspectors, home inspectors can look at more than 1,600 different objects and functions. Home inspections can also take place at different stages of the construction process.
A home inspection often includes a thorough review of a home's exterior, including the roof, gutters, and chimney. It also covers exterior elements including doors, windows, walkways, driveways, stairs, porches, decks, and handrails. Similarly, the inspector conducts a comprehensive inspection of the basement, foundation, and crawlspace as well as any additional structural components. Inside, the inspector looks over the attic, insulation, and ventilation, including exhaust systems in the kitchen, bathrooms, and laundry areas.
In addition to these crucial components, a home inspection covers a home's heating and cooling systems, including the thermostat, sources of energy, and fireplaces. The plumbing inspected includes all interior water supplies, faucets, fixtures, toilets, sinks, showers, and drains. In addition, inspectors confirm the working order of waste systems, drainage sump pumps, and shut-off valves.
When it comes to a home's wiring, home inspectors check all the electrical work, such as switches, fixtures, circuits, electric meters, and smoke and carbon monoxide detectors. Inside the home, inspectors undertake a detailed review of doors, windows, and interiors, such as floors, walls, ceilings, stairs, and garages.
To summarize, a home inspection examines the condition of a home's roof, exterior, basement, foundation, crawlspace, structure, heating, cooling, plumbing, electrical, fireplace, attic, insulation, ventilation, doors, windows, and interiors. If (or rather, when) the home inspector identifies problems that need to be fixed, the developer can take care of those issues right away. Not to mention, this can save the builder time and money too, so they should be supportive of your desire to get a home inspection.
The fee for a home inspection includes a home inspector coming to the site to conduct the investigation as well as a written report of any findings. A home inspection typically costs around $300 to $500. However, the cost is well worth the investment to catch any potential problems before they become severe and expensive issues.
Common Problems in New Construction Homes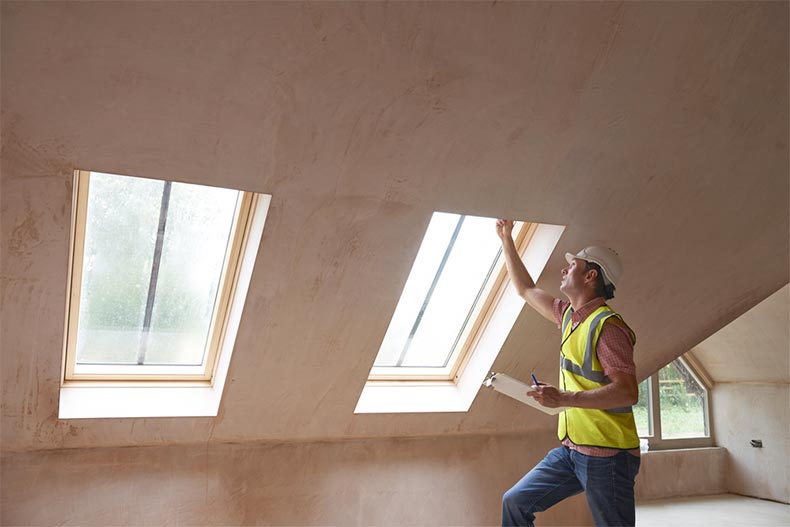 A common misconception centers around the idea that new homes don't have any problems compared to resale homes that often come with signs of depreciation. However, due to the complex nature of designing and building new construction residences, even brand new homes can have a number of issues. Often, builders hire many different subcontractors from several different businesses to come and contribute to a new home, which leaves plenty of room for error between the dozens of workers and specialists it may take to turn a blueprint into reality.
Although new homes may not have the wear-and-tear troubles of resale homes, the nature of new construction means that new homes have their own lists of common problems that can occur during construction. It's worth gaining an overview of a few common issues many new homebuyers come across when purchasing fresh residential homes in order to understand the value of a home inspection for a new construction home.
Look out for incorrect or insufficient insulation. In any home, insulation plays an extremely important role when it comes to creating a comfortable climate year-round. If not done correctly, a lack of insulation can cause heating and air conditioning bills to skyrocket. Keep in mind that insulation replacements and repairs that occur after the completion of construction often involve a costly process of knocking down walls and ceilings to resolve the issue.
Along similar lines, make sure to check the installation of the roof and siding. When roofing and siding materials aren't correctly installed on a home, it can cause a plethora of issues that result in time-consuming repairs. For example, shingles should sit flush against the roof rather than raised. Raised shingles could result in water damage to the home as well as roof damage and possibly more significant issues. If roofing materials aren't secured correctly, they could also fall off faster over time and need to be replaced, creating more work in the future.
Watch out for any plumbing or electrical errors. It's often said that if walls are the bones of a home, then plumbing and electrical systems are the veins that keep a home alive. Any errors in the routing of pipes could cause clogs and leaks, while incorrect wiring could result in power loss or even electrical fires. A faulty waste management system could cause some particularly awful situations that are often difficult to fix. A thorough check of these systems can help avoid expensive repairs or any safety concerns.
A new construction home should also have a top-of-the-line foundation and frame construction. One of the most detrimental issues in a new construction home involves structural weaknesses in the foundation or frame. If a home's foundation is crooked or uneven, or if the materials used to build it are of inadequate quality, it could lead to the home sinking, leaning, or falling apart over time.
As this brief look into common issues shows, many of the problems in new construction homes may seem small at the time but can worsen into more expensive and time-consuming repairs. Most homeowners prefer to take care of these issues before moving into their new home.
Even homebuyers with construction experience and knowledge often prefer to let a qualified home inspector take the lead on a home inspection to make sure everything checks out.
What to Look For During a Home Inspection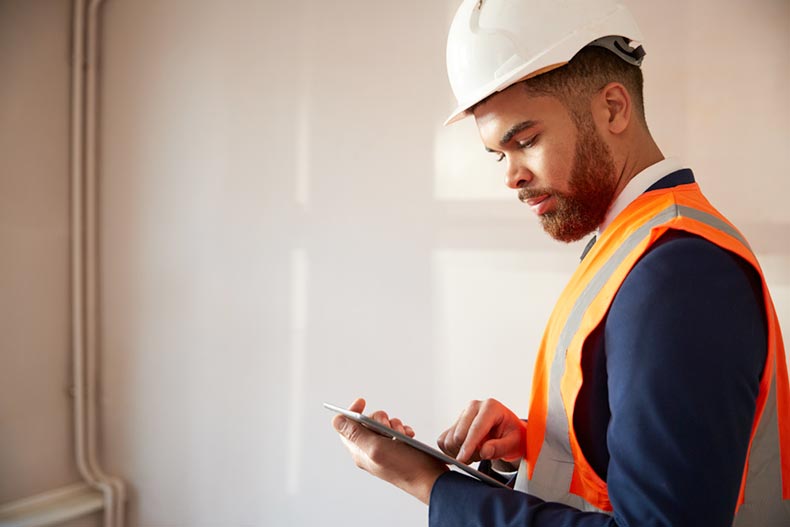 As reviewed above, a home inspection covers a great range of elements of a home, from the smallest details to some of the largest and most important. If you, as a buyer, have any concerns, questions, or red flags about the construction process, you may consider coming to the home inspection and alerting the home inspector. Along with the standard lineup of items to inspect, a home inspector can then focus specifically on any areas in question.
If you live close to the site of your new construction home or plan to visit the area, you may also consider visiting the property during the home inspection. Buyers who attend the home inspections can learn a lot about their new homes and see the inner workings of the residence. The inspector can also indicate on the spot when they see any problems and explain the issues in detail. This information can be useful when having discussions with the builder. While homeowners do receive a written report of any findings, many people appreciate the chance to have a face-to-face conversation.
If you're still on the fence about whether or not you want a home inspection for your new construction home, think about the long-term value of an inspection. Any issues discovered during a home inspection can affect the resale value of the home. Savvy homebuyers can save money, time, and worry in the future by identifying any problems early in the construction process and then resolving those problems before it's too late.
Home Inspections on New Construction Homes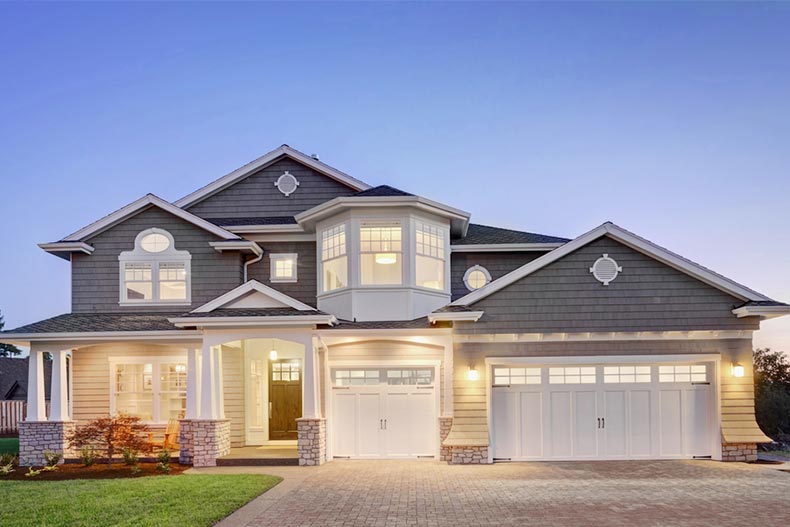 In the home building process, the question of deciding if to get a home inspection is just as important as the question of when to get a home inspection. While any inspection at all is better than no inspection, many buyers carefully time the inspection at crucial points in the construction process.
It's a good idea to have one, two, or even three inspections on a new construction home. Wisely spread throughout the building process, these inspections can help ensure that your new home arrives exactly as you want it to without any hidden problems.
The first inspection on a new construction home is often referred to as a "pre-pour" or foundation inspection. As the name suggests, this inspection occurs before the laying of a home's foundation. Even though there's technically no home to inspect, this careful quality check confirms that the home site has been properly prepared, spaced, excavated, and anchored. A pre-pour inspection can often provide homeowners with peace of mind since there's often no going back once the foundation is poured.
Then, a second inspection can take place after the framing of the home and before the drywall. At this stage of the construction process, a home typically consists of a frame with a roof and windows. The inspector can double-check all of the beams, studs, posts, and structural elements. More importantly, the inspector can still access all of the wiring, plumbing, insulation, and hidden elements before the drywall goes up. This represents an ideal place in the building process to ensure that the home meets your standards and is built to last.
At the end of the construction process, a third and final inspection can ensure that everything's in order before you move in. Active adults who plan on purchasing new construction homes near completion or already finished often have a home inspection during this stage. In this case, the home inspector can conduct a thorough review of the home before buyers commit to the purchase.
The important final inspection signs off that a home is safe, well constructed, and meets or exceeds all local building standards and codes. Any issues or concerns that come up during this inspection should be addressed before closing on the home. That way, you can ensure that you are ending up with the best possible home you can receive, and you can move in without any worries about the quality or construction of the home.
Some home buyers may not wish to have three home inspections, and that's okay. At a minimum, homeowners should aim for one home inspection during the construction process. Also, make sure to carefully read and understand any warranties offered by a builder. Although it's still a good idea to have a third-party inspection, a warranty can also cover any future issues should they arise.
A general rule of thumb suggests that two home inspections—one near the beginning of the construction process and one near the completion of the process—can strike the best balance between careful attention to detail and peace of mind.
Invest in Your Future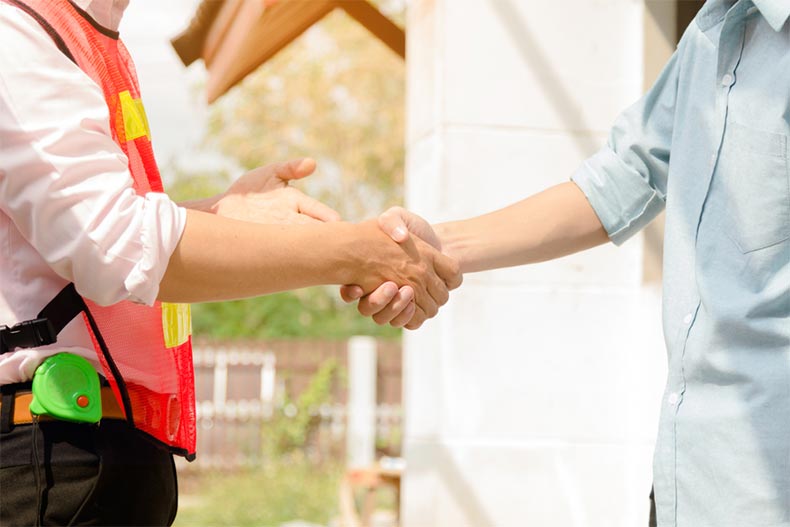 The decision to purchase a new construction home comes with plenty of excitement and anticipation. After all, you're making an investment in your future. In order to protect that investment from the beginning, it's wise to keep tabs on the construction process and schedule one or more home inspections.
A home inspection, conducted at just the right times in the construction process, can catch any issues before they turn into significant problems. Without proper inspections throughout the building process, there's a possibility for a profusion of issues that could cost the homeowner down the road. However, with the help of a qualified home inspector, you can feel even more confident and excited about your new construction home and all that the future holds.