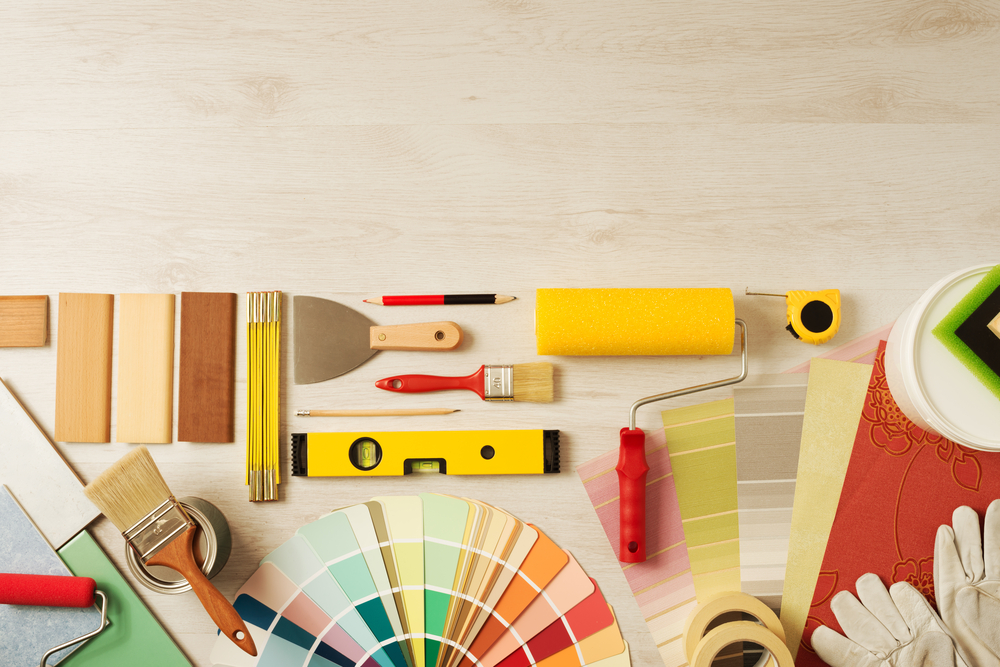 Now that spring has finally arrived you may want to change some things around in your home to give it a new, fresh look. It doesn't have to be a drastic change or cost you a ton of money either. Believe it or not but there are a few upgrades you can do to your home for less than $100. Most of these home projects you will need to do yourself instead of hiring a professional, but you will gain some DIY experience and save some cash in the end. So roll up your sleeves and get ready to learn about these 20 home upgrades that cost less than $100.
1. Paint your front door, trim or shutters – Quality paint doesn't have to cost much. Just pick a great bold color to paint your front door, trim, or shutters to revive and add some brightness to your home.
2. Replace exterior light fixtures – You want to make sure they light up your entryway adequately. This small change can make something old look brand new.
3. Go green and plant a tree – A tree in front of your home is easy to do and adds instant curb appeal.
4. Insulate windows – Insulate basement and garage windows with plastic bubble wrap. These areas are rarely ever energy efficient and this simple, inexpensive trick is easy to apply and remove.
5. Add a chandelier in your laundry room – Installing a beautiful chandelier in the laundry room adds a bit of class in an unlikely place. It might make folding clothes a bit more fancy.
6. Make a closet into a home office – If you have unused closet space in your home then try converting it into a home office. All you have to do is unhinge the door and replace hanging rods for shelves and voila, you'll have a nook for your workspace.
7. Bookcase cubbies – This simple trick is easy and requires just one sheet of 3/4 inch plywood and three 1x1 strips. Just cut vertical dividers to the depth of the unit minus 3/4 inch and fasten them in place with glue and nails. You'll have more space for storage and organization.
8. Get a new doorbell – Ditch your old ding-dong and get a new one. Modern styles and finishes can add a fresh look to your home and maybe impress your visitors with a new jingle.
9. Install new house numbers – If your house numbers are looking old and faded then try replacing them with new numbers that are made from brass, aluminum, or stainless steel. Pro tip: Try to match your new house numbers with the same finish that's on your exterior light fixtures.
10. Give your mailbox a makeover – Upgrading your mailbox is easy to do and adds curb appeal to your home. You can find different styles at home improvement stores that fit your taste.
11. Install a ceiling fan – You can find vintage-style ceiling fans for under $100. A ceiling fan is energy efficient and can help lower cooling costs in the summer and recirculate warm air in the winter.
12. Replace old doorknobs – You may not notice doorknobs that much but they can make a difference in the design aesthetic of your home. Try replacing old, boring, or plain doorknobs for glass doorknobs to add some sparkle and elegance.
13. Paint a tile backsplash – If you have an outdated tile backsplash then paint it with a bright or bold color. All you need is oil-based semi-gloss paint to liven up this area.
14. Freshen up walls – Bring a plain wall to life with shiny patterns that you can stencil on or roll stripes across to make it pop. This will give your wall a glimmering two-tone effect.
15. Furnace filters – It's important to clean or replace furnace filters regularly because they keep your air clean and it saves you money on your energy bill during winter months. Changing filters is inexpensive and easy to do and although you may not see it, you and your family will have better air quality at home.
16. Paint vinyl flooring – If you have worn out vinyl floors and you don't want to spend the time or money removing and replacing them then just paint over it. You can paint over vinyl flooring to make it look like "stone" floors. Just use two similar colors for the faux stones and white paint to create a grout line in between those stones. Seal it with three coats of polyurethane and you will have a like-new floor.
17. Window film – Transform a plain window into a faux etched glass with designs. You can find self-clinging vinyl or adhesive window films that are simple to install and remove from the window's interior surface.
18. Decorative electrical plate covers – This small detail adds a pop of color to any room. You can buy a variety of styles and designs online and installing electrical plate covers are easy, just make sure the light switch is turned off.
19. Cover your water heater – This easy trick can save you money in the long run. Purchase a fiberglass-filled insulation blanket and wrap it around your water heater. They typically cost about $25 and can be installed in about 30 minutes.
20. Floating shelves – You can free up floor space with floating wall-mount shelves instead of traditional, large bookcases.