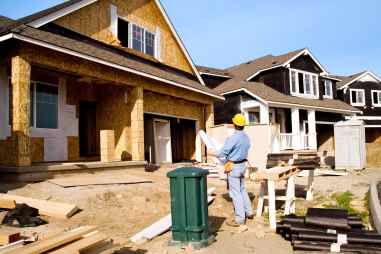 Building a new home lets you customize your finishes and optional features. It also lets you choose the lot where your new home will be built. While it's easy to get excited about your home's upgrades, don't overlook the importance of choosing the lot that will give your home its perfect setting.
In most active adult communities, builders release homesites in sections or phases. This gives homebuyers a choice of several different lots, while also confining construction to a certain area instead of having construction crews working throughout the community. Builders generally plan phase releases to offer a mix of homesites, including lots in a variety of sizes and offering different features.
If you don't want to choose a lot from the current phase, you have the option of waiting for a later release. However, home prices are likely to change from one release to the next. Costs are often lower during the earliest phases of development and may go up as the community takes shape, but that may change depending on the market. The market also affects when the next release will be available and your builder may not be able to give you a firm timeline for the release of later phases.
Depending on the lot you choose, your homesite may come with a lot premium. This additional fee is applied to lots that are likely to be more in demand. Waterfront properties and those that back to wooded lots typically come with a premium. Scenic settings are generally more expensive, including lots with views of golf courses or mountains. It may also cost more to live in a cul-de-sac or to have a homesite that is closer to the community entrance, the clubhouse or other amenities.
While choosing a premium lot may increase your home's value, remember that premium areas are somewhat subjective. Some homeowners might pay more to live on a wooded lot, while others assign more value to one that is closer to the community entrance and main highways. A lot premium is often worth the expense if you think it will add to your enjoyment of your new home.
The size of your homesite will also affect its price. Before settling on a lot, spend some time thinking about how you plan to use your new home. Are you willing to maintain a larger lot? How will you use the added space? Would a smaller lot suit your needs just as well?
If you're worried about privacy for a single-family home, make sure you understand where your home will be placed on the lot in relation to the neighboring homes. A larger homesite won't offer more privacy than a smaller lot if your home is built in direct line with your neighbors.
Other considerations include how level the ground may be and which way your home will face. A home that is set on a hill may work well for a design that includes a walk-out basement, providing additional living space with plenty of daylight.
The way your home faces will affect how you use your outdoor space. Think about where the sun will rise and set in relation to your home. Do you want your backyard or patio to have more sun in the morning or in the evening? This is even more important if you are interested in gardening or astronomy.
When building your own home, take the time to choose the lot that will meet your needs and create your own ideal retirement retreat.