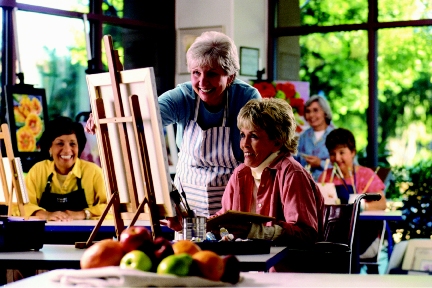 The cold months of winter offer a great opportunity to try out some new indoor hobbies. There are so many hobbies you can enjoy at home, at your community center or at a local business. If you're stumped for new things to try, check out some of the fun ideas below.
1. Track your family tree - Genealogy is a fun pastime which lets you learn more about your ancestors while also creating a personal history to share with your family.
2. Bake up some homemade treats - There's an art to baking delicious breads, cakes, cookies and other treats. Read up on baking basics, then test out recipes or create your own.
3. Brew up your own beer - Take your love of beer a step further by learning how to make your own. Home-brewing is a great hobby that is easy to learn, but gets better results with practice.
4. Practice your slight of hand - Adults and kids alike love the fun of magic tricks. Many tricks can be learned with a simple deck of cards or with other inexpensive props.
5. Learn some computer programming - With free online classes at Khan Academy anyone can learn simple computer programming to make animations, games, websites and more.
6. Clip a cache of coupons - Collecting coupons can be a great way to save money throughout your home. You can make it more social by trading coupons at weekly meetings.
7. Discover European board games - Shake up your game night with some popular European board games. Some great ones to try include: Settlers of Catan, Dominion, Ticket to Ride, and Power Grid.
8. Move in for a close up - Macro photography lets you see the world in a whole new way. This close-up photography lets you capture fine details and is easy to do in a small indoor space.
9. Express yourself with drawing or painting - Sign up for an art class or simply experiment with supplies from a local craft store. You can also look for social painting through programs like Paint Nite.
10. Capture your memories in handmade albums - Scrapbooking is a fun hobby that you can take up alone or with a group of friends. It also lets you make beautiful gifts for friends and family members.
11. Try your hand at needlecrafts - Knitting and crocheting are hobbies that also let you make handmade gifts for yourself or others. Join a club or take a class to make it a more social hobby.
12. Kick up your heels - Stay active indoors with a turn around the dance floor. Ballroom dancing offers great exercise for couples, while line dancing is great for singles or couples alike.
13. Join a bowling team - Bowling is a fun indoor pastime for active adults of any age. You can head to a local alley with a small group of friends or join a team and play in a league.
14. Shoot 'em up with laser tag - It may be a staple of kids' birthday parties, but laser tag can also be fun for active adults. Retirees can enjoy more quiet play during winter weekdays while kids are in school.
15. Share your life story - Take a class in memoir writing or simply begin writing in a blank journal. Only you can tell your story and your children will appreciate learning more about your earlier life.
What are your favorite indoor hobbies during the winter months? Tell us in the comments below.