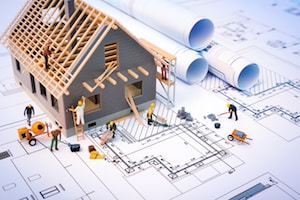 As developments are designed and new homes are put on the housing market, a growing trend for builders of active communities has been to construct homes on smaller lots. The median lot size for new houses has decreased approximately ten percent since the late 1990s. In recent years, the homes being built had been larger, but increasingly smaller homes are being placed on smaller lots too.
There is some debate as to whether or not smaller lots are a good trend, but there are some benefits to buying a home with less acreage. It is easy to see why it might be appealing to Baby Boomers.
Affordability
With smaller lots often comes smaller houses. Many people are still trying to recover from the 2008 recession and the ability to purchase a smaller lot and home makes it more affordable. Land costs can be steep and with smaller space typically comes lower home prices, mortgages and taxes. Additionally, residents can put their purchasing dollars towards desirable home features rather than investing in a large yard space.
Builders are responding to demand by building homes closer together. This also gives them the means to invest in attractive amenities for their homebuyers. In new 55+ communities cropping up all over the United States, the trend is to add more parks, community rooms and other great features, such as pools, tennis or bocce ball courts. This is great usable, shared space and homeowners don't have the responsibility that comes with a big yard.
A More Intimate Community
Over the past several decades people have gotten more isolated in their communities and it is not uncommon to hear people say they don't even know their neighbors. One study found roughly 50% of Americans admitted they didn't know their neighbors' names and British researchers said a third of participants said they couldn't identify their neighbor out of a police lineup. For active adults this can get pretty boring. Investing in a house built on a smaller lot, naturally brings neighbors closer together, encouraging interaction. Isn't it a nice thought to revisit days of yesteryear where friends can gather and chat over an adjoining fence or have an impromptu cup of coffee together from time to time? The opportunity to do this lessens when houses are spread further apart.
Emergencies and Safety
Knowing your neighbors is a plus for many reasons, especially emergencies. Neighbors who get to know one another will typically know when something isn't right. In the event of an emergency, neighbors closer in proximity can either hear or see if an emergency occurs and, even if they don't, they are literally just a shout away. Additionally, neighbors living closer together can easily keep an eye on one another's homes if the other is out of town, at work or otherwise not home.
Towns are revisiting their zoning laws and adapting them to allow builders to build in spaces that previously were not allowed. In this sense it enables builders to hire people to local economies to build on previously unbuildable lots, adding jobs. This is a win-win situation as both Baby Boomers and families seek to buy smaller homes and properties.
In many ways, buying a smaller lot provides a lot of opportunity, especially for 55+ communities. Homebuyers can focus on investing in the active adult lifestyle rather than a large yard that is less likely to be used.