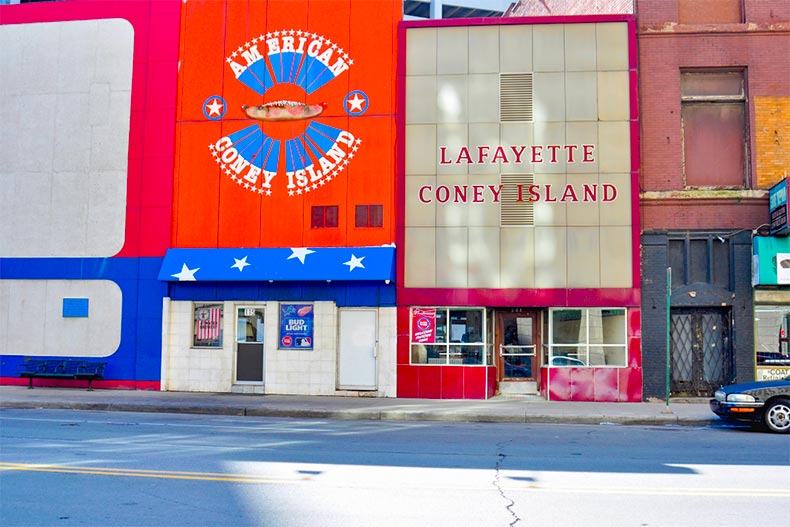 Coney Island restaurants are perhaps as synonymous with Detroit as the automobile industry. The first Coney Island was founded in Jackson, Michigan in 1914, and despite using the name of the New York's famous theme park, Coney Island restaurants are now a Michigan staple.
Coney Islands serve typical American diner food like breakfast and burgers but the main dish is the Detroit coney dog. Coney dogs are hot dogs topped with chili, diced onions, and yellow mustard. Coney Islands are known for their quick service and affordable prices and have become staples in many communities.
If you're settling down in Bridgewater, Heritage in the Hills, or just visiting, these are the best Coney islands in the Detroit area.
American Coney Island
American Coney Island is a legendary Coney Island in Detroit located in downtown Detroit on West Lafayette Boulevard. According to Opportunity Detroit, it was founded in 1917 by a Greek immigrant named Gust Keros. American Coney Island pairs greek cuisine to go along with the coney dog and other American fare.
The restaurant is also famous for its Coney Island Kit, which it ships all over the country. The kit consists of hot dogs, buns, an onion, and chili with instructions on how to prepare the food in the authentic style. American Coney Island has a long standing rivalry with Lafayette Coney Island for the top Coney Island in Detroit. More than a rivalry, this is a family affair.
Lafayette Coney Island
Lafayette Coney Island is the other iconic Coney Island restaurant in Detroit. Lafayette Coney Island was founded by the brother of Gust Keros, William Keros, in 1924. William was convinced to come to America to help his brother with American Coney Island but instead opened his own diner next door. Lafayette also pairs some Greek food with coney dogs and chili cheese fries. Like a sports team, both American and Lafayette have fiercely loyal fans. There is no consensus on who's coney dog is better, you're either a Lafayette or American customer and you stick to it.
Leo's Coney Island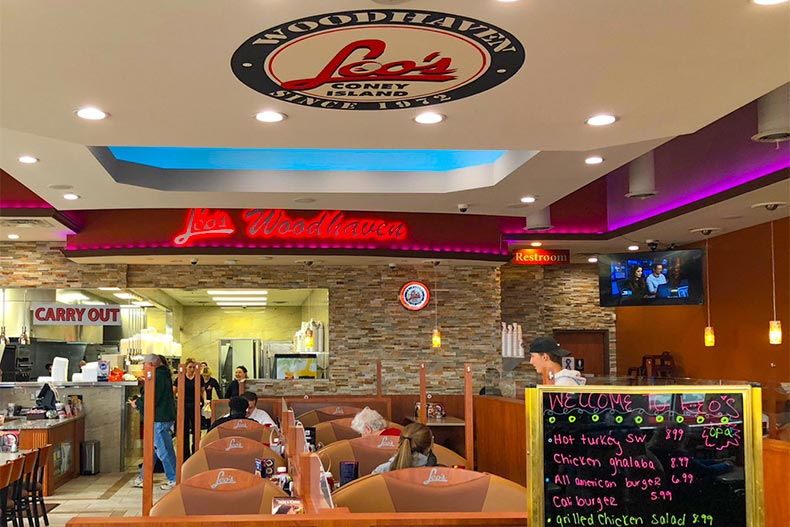 Leo's Coney Island is another chain of Coney Islands in Michigan. Leo's was founded by Peter and Leo Stassinopoulos in Southfield, Michigan in 1972. The brothers are nephews to Gust and William Keros, who founded American and Lafayette Coney respectively. Today Leo's Coney Island has expanded to over 50 locations in Michigan. Leo's offers the typical Coney Island fare of hot dogs, hamburgers, Greek pita sandwiches, and breakfast food.
National Coney Island
National Coney Island is a chain of restaurants with 20 diners in Michigan. National Coney Island was founded by James Giftos in 1965. James' son Tom Giftos Jr. took over the business after James passed away in 2011.
Initially, the menu was very limited and similar to that of American and Lafayette Coney Island, but it has since expanded. Apart from the usual hot dogs and fries, National Coney Island offers typical diner breakfast food like omelets and hash browns. Some locations have drive-through windows while others serve beer and wine.