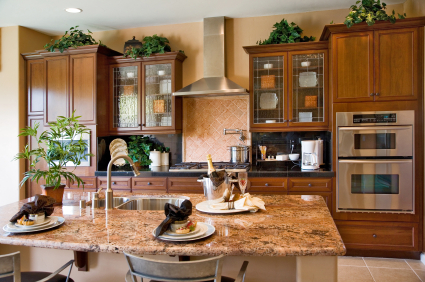 The kitchen is often regarded as the heart of the home. Not merely the location for food preparation, storage, and midnight sandwiches, the kitchen is where families bond, gather for the holidays, and long-time friends catch up over a glass of wine.
A kitchen is so crucial that homebuyers named it the most essential feature when looking for a new home (sharing top billing with updated bathroom). If your kitchen looks more I Love Lucy than Modern Family, then you've probably considered remodeling. But before you grab the sledgehammer, follow these do's and don'ts so your kitchen remodel gives this beloved room the look it deserves.
Contractors
Do hire one.
Ok, now put the sledgehammer down and start calling around. A kitchen remodel is not for hobbyists and is one of the most expensive, complex, specialized, and time consuming projects one can undertake. Hiring a contractor is so crucial that some states require it by law.
Do be thorough.
Given the large financial (and emotional) investment you're placing in their hands, it's important to get a clear picture of your contractor's work history. Have them provide references and ask them revealing questions. What are their work habits? Were they on time? Did they stick to the plan? Did the project finish within budget? How were problems resolved?
Don't pay more than 30% upfront.
Given the huge sum a kitchen remodel requires, paying most of the cost upfront introduces you to great risk. Although very rare, stories do exist of hired contractors ditching their client after a significant amount was paid upfront. A 30% payment in the beginning should be enough for the contractor to provide basic supplies for the project.
Don't forget the details.
Get everything in writing. Don't make final payment until the remodel is complete. Stay in constant contact with the contractor. Provide some snacks and refreshments for the workers as a display of your gratitude.
Budget
Don't get distracted.
Once the remodel starts, your imagination might run wild with "what if" scenarios. Last minute changes can boost the cost and timeline of the project. Ever gone to the store to buy a carton of milk and almost walked out with a new lawn mower? Now's not the time to succumb to those temptations.
Do budget for extra expenses.
Although you're being good about sticking to the original plan, unexpected expenses do come up in large-scale projects like this. If that wall you planned to knock down is actually a load-bearing wall, finding an alternate solution will cost time, which costs money. Most contractors suggest having a $10,000 contingency fund for a midrange kitchen.
Do keep your home's value in mind.
If you plan on selling your home, your luxurious kitchen remodel could actually make it harder to sell. There is a chance that your remodeling work increases the value of your home so much that buyers won't be willing to pay the higher amount to live in your neighborhood. Before you go all out, be aware of the property values in your area. On average, you should expect to recoup between 87 to 125% of your investment.
Design
Do experiment with nontraditional designs.
The standard "triangle" kitchen set up (where the refrigerator and stove are across from each other, with the sink between them on the counter) was developed in the 1950s to sell more cabinet space but has been on the decline recently. If you like this design, try placing a center island to add your own spin to it. Current design trends place a higher importance on having designated stations (clean up, prep, cooking, storage).
Don't design for just one person.
Even if one person does all the cooking, the kitchen is a natural social spot. You can have the cooking space of your dreams, but if your spouse can't walk through the kitchen without bumping their head on the pendant lights, then the kitchen will be lacking the welcoming warmth that is integral to any home.
Do have a wish list.
If you haven't yet, browse around on Pinterest and Houzz to get inspired about what elements you want in your new kitchen. Categorize them according to priority.
Do consider your cooking habits.
Are you a serious cooker? A novice? Or do you just want a pleasing, modern space to keep your leftovers? Are you planning on hosting parties for friends and family? Answering these questions should give you a good idea of what you must have included in the remodel.
Do be patient!
You're anxious to start on your new kitchen. You have all the ideas you need to make the sparkling, modern kitchen that you've always wanted. Before you sit down with the contractor or the bank to get your loan, take a few days to collect your thoughts. Really think about what you want and need out of a kitchen. Consider alternative styles and ask your friends for advice. Then you can relax knowing that you're one step closer to living in your dream home.