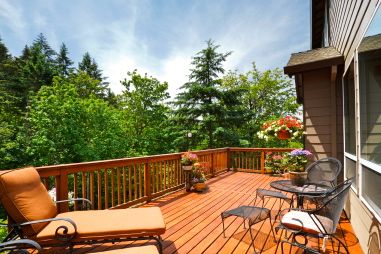 Many retirees plan to relocate to areas that have warmer climates with sunny summers and mild winters. This saves them from the drudgery of shoveling snow and offers ample opportunities to pursue outdoor activities. To make the most of this fabulous weather, retirees are developing their outdoor living space in creative new ways.
A home's outdoor living space refers to a number of different areas. It might include a covered patio, a spacious deck, an inviting front porch, or a cozy gazebo. With comfortable seating and beautiful landscaping, even a garden can be transformed into a form of functional outdoor living space.
Bring Interior Design Tips Outdoors
While outdoor design requires certain accommodations, the trick of creating a great outdoor living space is to treat the area as if it were another room in the home. In other words, bring traditional interior design tips outdoors, such as arranging the furniture to promote conversation and adding decorative elements to soften and enhance the space.
There are many elements that make an outdoor living space feel like an actual room, but the first step is to give the area some kind of enclosure or delineating outline. The space may already have structure, as in the case of a patio or covered porch, but structure can easily be created in an open area by erecting an arbor or large canopy.
Simply defining an open area with bushes, decorative trees, and clever furniture arrangement can also create a "room" in a backyard. Group outdoor benches and chairs in a way that will promote conversation and encourage frequent use. Having a central focus, such as an outdoor fireplace, is a great way to give an open area a sense of purpose.
Find The Right Furniture
Outdoor living space with structure, such as a porch or patio, is the most logical place to begin outdoor decorating. Start by assessing the function of the space. Will it be used for dining, lounging, or socializing? Keep that function in mind while designing, shopping, and arranging the layout for the space.
When planning, search for outdoor furniture that meets your functional needs. It's easy to find dining sets, couches, chairs, gliders, and even outdoor bars in a variety of styles and sizes. Before you buy, consider how the furniture will be arranged.
What is the best view and how can you accentuate that view while still arranging the furniture as you would in an indoor room?
If the outdoor living space is not covered, it's important to consider the amount of sun it gets and where you might want to add shade. Awnings, outdoor umbrellas, and gliders with built-in canopies are all great ways to add some shady places on an otherwise sunny patio.
Outdoor Living Space at Active Adult Communities
Many builders understand the importance of outdoor living space and are designing homes with interesting options. Covered front porches with room for a small sitting area and patios with features like built-in grills or fireplaces are popular in some communities. Other popular features in active adult communities are sunrooms and Arizona rooms.
Named for the state where they are most popular, Arizona rooms are basically covered and screened patios. A sunroom is more secure with walls made of glass or plastic windows. Each of these features lets homeowners enjoy the outdoors while being partially protected from the elements.
Whether they include generous front porches, covered patios, or sheltered gardens, many homes in active adult communities are designed to offer some form of outdoor living space. With thoughtful design, these outdoor areas can be as functional and inviting as any other room in the home.