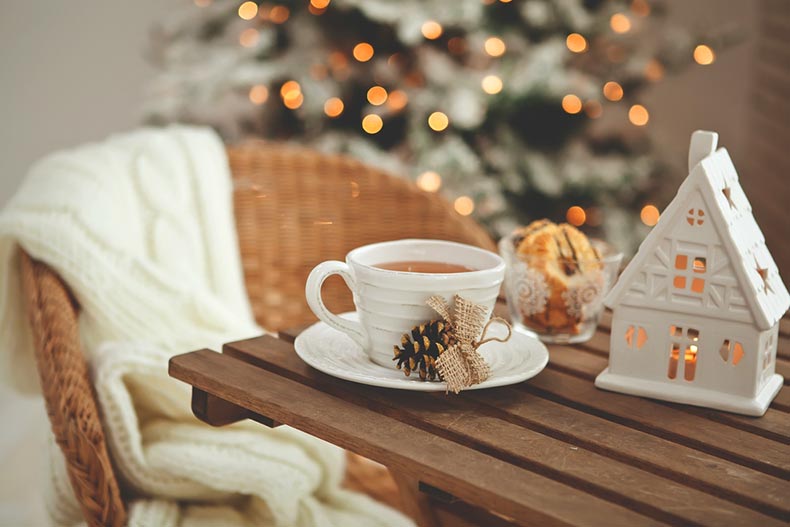 Before the winter season, many homeowners take proactive steps to ready their homes for winter. The process of winterizing a home ensures that the property can withstand the coldest months of the year. Whether you want to hunker down for the winter or you plan to snowbird and leave your home for a few months, winterizing is an important series of preventative measures.
This comprehensive checklist for winterizing encompasses a range of steps for snowbirds who plan to leave their homes for extended periods of time, but active adults who plan to stay home can cross off the action items that don't apply to them to create a custom to-do list. Keep reading to browse our winterizing checklist so you can ready your home for the winter.
Winterize the Interior of Your Home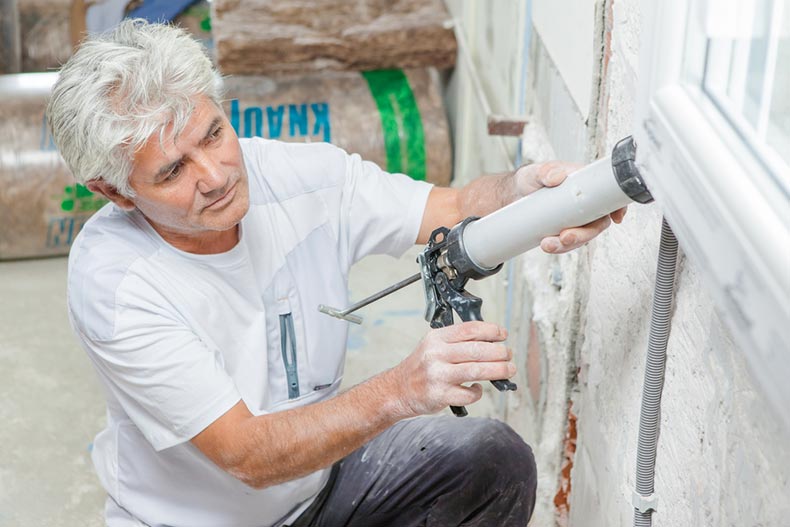 For many active adults, the winterizing process begins with a combination of interior and exterior home maintenance. Winterizing the interior of your home can help protect the home from the inside out and keep the property warm, dry, and secured throughout the season.
Install weatherstripping and caulk cracks in the frames around your windows and doors leading to the exterior, including any garage and patio doors. Any gaps around window frames or under doors could cause drafts and cold air to sneak into your home.
Replace your furnace filter frequently throughout the winter months. A clogged filter decreases the efficiency of your heater, which means the furnace has to work harder to heat your home.
If you're leaving your home for the winter, turn your thermostat down low but not off. A temperature like 55 degrees may seem cold if you're living there, but it will keep a home safely warm while you're away.
If you want to learn how to winterize a house with no heat, you'll need to take some additional steps to prepare your property. Shut off the main water valve, turn off the hot water heater, empty the water tank, and flush water out of the pipes so they won't freeze while you're away.
With any ceiling fans, find the switch that makes them rotate counter-clockwise to make sure they push warm air down instead of pulling it up.
Get your chimney swept to keep your fires safer and more efficient. When you're not using your fireplace, make sure to close your flue to prevent cold air or water from entering via the chimney.
Protect Your Appliances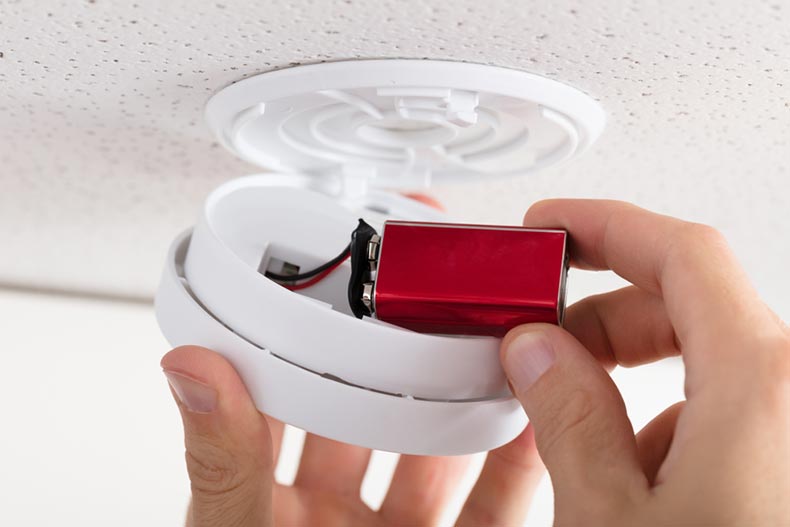 Check smoke detectors and carbon monoxide detectors to ensure they have fresh batteries.
Some of the easiest winterizing tasks involve checking appliances, big and small, to ensure that they function correctly throughout the winter to continue protecting and maintaining your home. These tasks can help active adult homeowners have more peace of mind throughout the winter.
Have an HVAC professional inspect your furnace and ventilation system to ensure it is operating at optimal levels to keep your house well-heated.
Hire a plumbing professional to inspect your home's pipes and hot water heater and perform standard maintenance. You might want to consider insulating exposed pipes in your attic and basement to prevent them from freezing and bursting and also to improve hot water efficiency.
Keep a small drip going on faucets that you don't use very often to prevent pipes from freezing. If you're leaving your home for the winter, consider covering your toilets with plastic wrap to prevent sewer gasses from entering your home. Snowbirds should also consider completely shutting off the water in their homes to ensure there are no water-related issues while they're away.
Close any vents that lead outside that you may have opened in the warmer months. Many homes have a vent in the attic to allow hot air to escape that should be closed when the temperature cools down.
Check smoke detectors and carbon monoxide detectors to ensure they're operating properly and have fresh batteries. Even if you're going out of town, these alarms could alert neighbors to problems in your home.
Set up any security systems and ensure they're in good working order. Some snowbirds choose to install security systems or other anti-intruder measures when they're away for long periods. At a minimum, check to make sure all windows and doors are securely locked when you leave your home for an extended period of time.
Winterize the Exterior of Your Home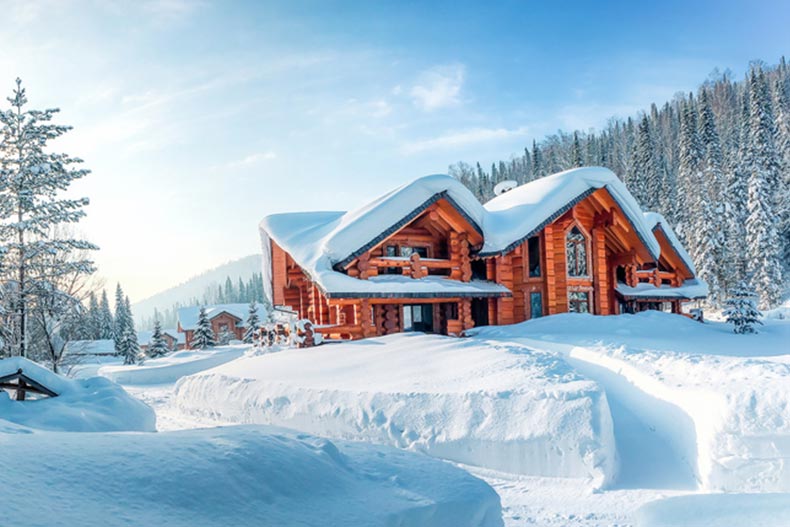 When many active adults think about winterizing their homes, they envision all of the outdoor tasks and preparation it takes to fortify a home's exterior to withstand the coldest months of the year. Although winterizing a home includes much more than exterior maintenance, these crucial steps are some of the most important items to keep the winter out of your home.
Put outdoor furniture and decorations into storage, including bird feeders, hoses, grills, and tools. Make sure all lawnmowers and similar equipment are in an enclosed space out of the elements, such as a shed, garage, or barn.
Mow and trim one last time. Pull weeds and annual plants and store any summer bulbs for next year. Exactly when to winterize lawns, however, depends on your climate and hardiness zone, but aim for late November or early December at the latest.
Prepare your deck or porch for winter by cleaning, sweeping, and making any minor repairs. Inspect deck boards and consider applying a protective coat of sealant so they can withstand the winter weather.
If you have a fence, check for any necessary repairs. The winter elements will make any structural or textural weaknesses worse for wooden and even metal fences.
Prevent any unwanted critters from coming in by sealing up any noticeable holes in your home's exterior. This includes leaks in your roof, spaces around pipes or wires, and cracks around windows and doors.
Check outdoor lighting to ensure it operates correctly and comes on when you want. Many homeowners have timed switches that turn on exterior lights every evening to protect against potential threats by keeping their home well-lit.
Weatherproof Your Home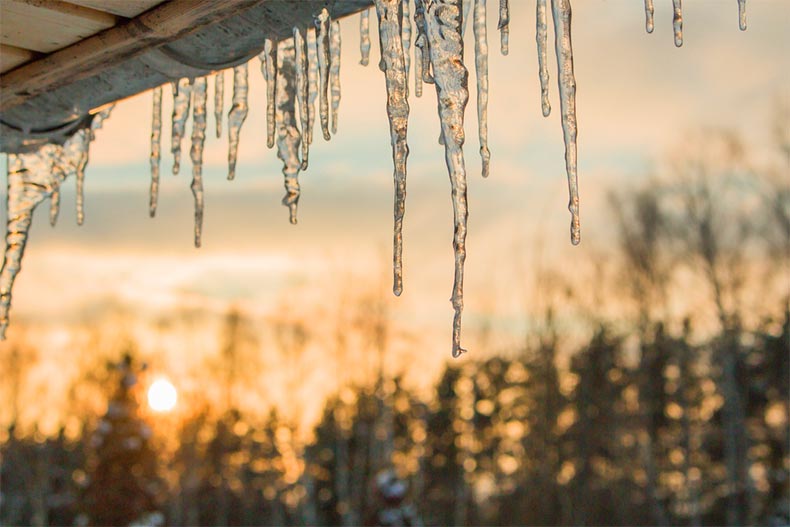 Windows and doors are the most likely places where heat can escape a home, so it's important to winterize them.
The winter months bring cold temperatures, snow, and all types of precipitation like sleet, hail, and freezing rain. Weatherproofing your home can protect against any combination of seasonal weather and the sometimes costly havoc it can wreak on your property.
Windows and doors are the most likely places where heat can escape a home, so it's important to learn how to winterize windows. In addition to caulking any cracks, homeowners might consider installing double-pane windows or plastic film insulation for more energy efficiency and increased insulation. Take similar steps to seal all windows and doors.
Clear debris from gutters and downspouts, and drain and cover all exterior faucets and spouts. Freezing temperatures could cause clogged gutters to burst or cause other costly damage.
Inspect the roof for any necessary repairs or damage. Clean leaves and debris from the roof to make sure it can withstand the weight of ice or snow. Also, make sure there are no holes or leaks that could damage your home's structure.
Clear any debris away from the foundation. If you notice any cracks or damage while you prepare the exterior of the home, make sure to hire a qualified foundation repair contractor to inspect the foundation.
Trim hanging limbs and branches off of trees in your yard. Snow and freezing temperatures could cause structurally weak limbs to break off and potentially cause damage to your home or property.