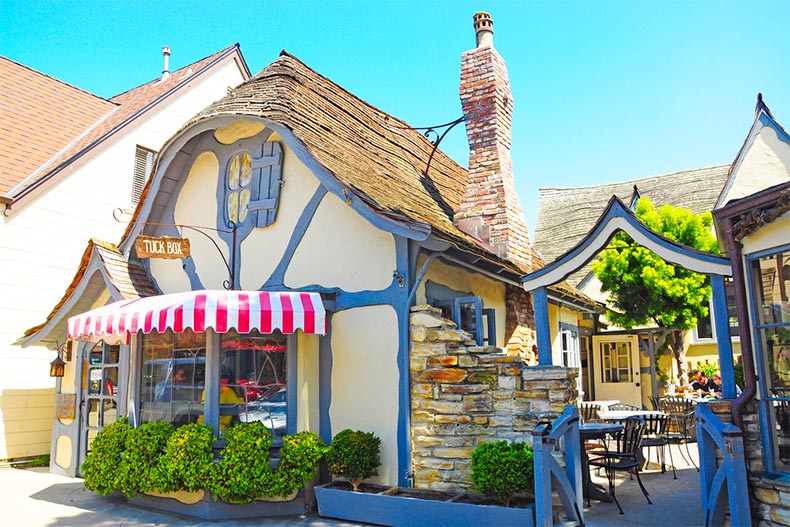 While California's major cities get all the attention, locals know that the state's small towns provide the perfect weekend escape. Whether you're seeking a charming mountain village or a coastal spot, we're exploring the 8 small towns in California that should be next on your travel list.
Ojai
Ojai is a favorite destination for Californians looking to get away for weekend trips. Surrounded by rolling hills, this small town is about 45 minutes southeast of Santa Barbara. Ojai is known for its luxurious spas, boutique hotels, romantic eateries, strong art culture, and farmers market. Whether you'd like to sample local produce, admire the natural beauty while on a hike, or play a game of golf, Ojai offers a relaxing itinerary for any traveler.
Recommended Stops: Ojai Farmers Market, Shopping in Downtown Ojai, Ojai Valley Inn
Morro Bay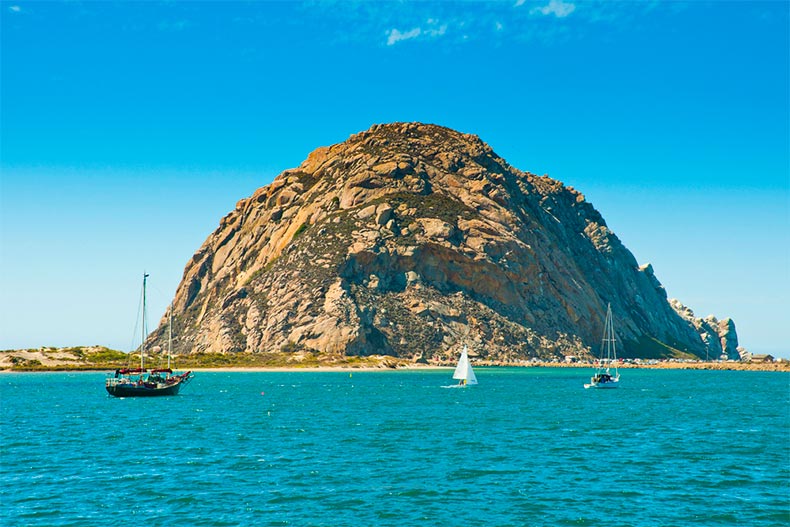 Morro Bay is nestled along California's Central Coast in San Luis Obispo County. Morro Rock, which is an ancient volcanic plug that towers up from the beach, is a famous local landmark. Those traveling to California's Central Coast won't want to miss this charming town. Its bustling waterfront is the perfect spot to dine with a view, or you can grab a cup of coffee and just explore. Visitors can also kayak, sail, fish, or play a game of golf at an ocean-view course. For nature lovers, the local area also offers opportunities for birding and viewing tide pools.
Recommended Stops: Main Street Market, Morro Beach, Blue Sky Bistro on the Bay
Idyllwild
While most think of the beach when it comes to California vacations, the state is home to charming mountain towns as well. Idyllwild is a favorite for Southern Californians who want to escape to the mountains for a weekend. This village is nestled in the San Jacinto Mountains among pine trees and surrounding forests. Idyllwild enjoys strong art and music culture, and for 25 years, the town has hosted its annual Jazz in the Pines Festival. This popular event draws music lovers from all over the country. With art exhibits, outdoor recreation, and charming inns, Idyllwild is the perfect way to recharge in the wilderness.
Recommended Stops: Middle Ridge Winery Tasting Gallery, Idyllwild Brewpub, Rock Climbing
Avalon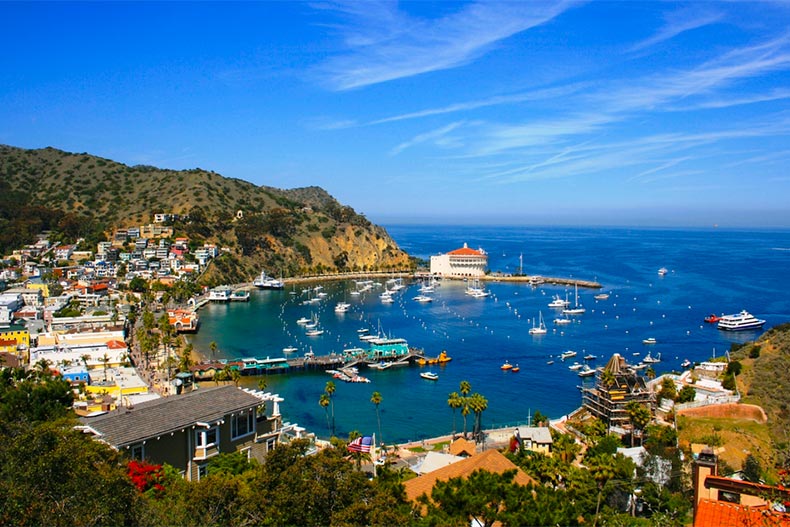 Avalon's quaint downtown is accessible by foot, but the water is where the real action happens.
Avalon is a tiny town located on Catalina Island, which is about 22 miles off the Pacific Coast. This picturesque village is less than three square miles in size, but it packs in enough charm and natural beauty to warrant a visit. This resort town is unique in that visitors can't rent cars to explore the island. But traveling by foot, bicycle, or golf cart is the ideal way to embrace the casual, slow-paced lifestyle of Avalon. The downtown waterfront offers souvenir shops, art galleries, restaurants, and beautiful views of the Pacific.
Recommended Stops: Historic Catalina Casino, Descanso Beach Club, Island Spa
Harmony
With an official population of 18, Harmony is truly a small town. Situated on the coast in San Luis Obispo County, Harmony is known for attracting artists, writers, and other creatives who all contribute to the town's quirky charm. Development in Harmony was originally driven by local dairy ranches and a creamery. Today, visitors can view the historic creamery building, grab a pint of locally made ice cream, or even get married at the tiny chapel in town.
Recommended Stops: Harmony Glassworks, Harmony Cellars, Harmony Headlands State Park
Big Bear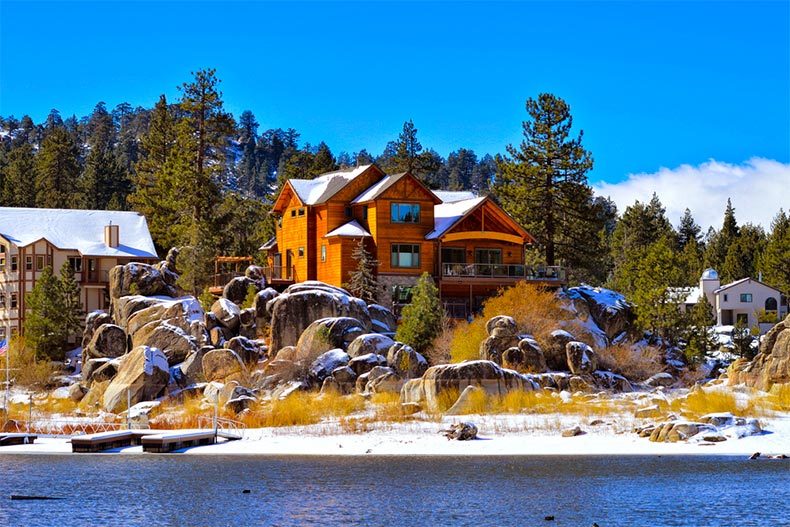 Big Bear is situated along the shore of Big Bear Lake in the scenic San Bernardino Mountains. During winter months, Big Bear is one of the top destinations for Southern Californians. This mountain town is home to popular ski resorts that draw locals and tourists alike. With excellent outdoor recreation, Big Bear is a popular spot any time of the year. Visitors can go fishing, boating, swimming, and more on Big Bear Lake. After a day of outdoor activities, you can wind down in Big Bear's downtown village area, which offers shopping, dining, and entertainment.
Recommended Stops: Big Bear Village, Snow Summit, Barrel33
Julian
Julian offers historic charm with an updated twist. This mountain town located about an hour east of San Diego was once a thriving gold mining community. Today, Julian is known for its picturesque downtown village, famous apple pies, and quaint wineries. The town hosts a number of events throughout the year, including a 4th of July Parade and an old-fashioned grape stomp. Whether you stay the night at a bed and breakfast or cozy lodge, Julian is the perfect retreat from city life.
Recommended Stops: Julian Pie Company, Julian Cider Mill, Pioneer Museum
Carmel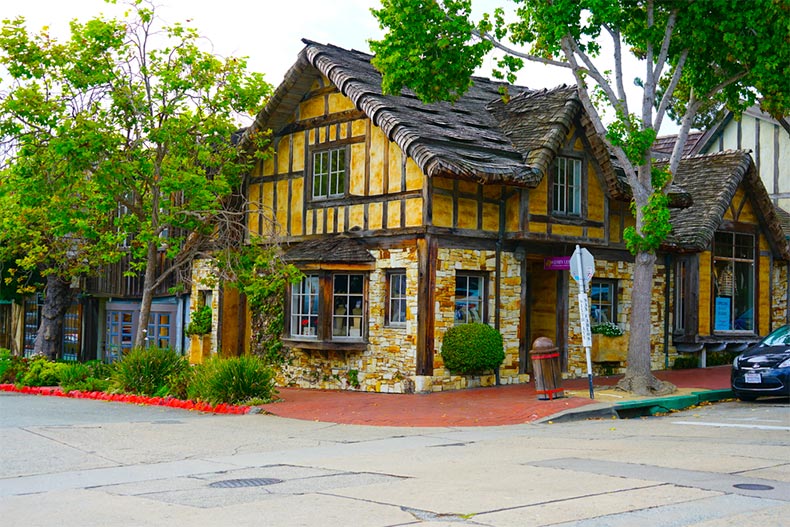 Carmel is another great coastal town with a quaint downtown. (Image via Shutterstock.com)
Few other towns do laidback coastal luxury better than Carmel. This idyllic coastal village in Monterey County is known for its stunning natural scenery, charming downtown village, and bohemian spirit. A trip to Carmel isn't complete without exploring Ocean Avenue's shops, boutiques, and eateries. Afterward, head down to Carmel Beach and enjoy the views of this iconic coastal town.
Recommended Stops: Carmel Bakery & Coffee House, Carmel Beach, Carmel Art Walk