Although states like Florida and Texas might come to mind as some of the most popular retirement destinations in the country, many active adults want to retire on another coast. The city of Savannah, Georgia, with its southern charm and coastal lifestyle, provides retirees with a versatile range of benefits. But you may be asking yourself, "Is Savannah a good place to retire?"
The perks of a Savannah retirement include a reasonable cost of living, affordable healthcare, and lower taxes with exempt social security income. With its pleasant climate, convenient coastal location, and rich historical past, Savannah represents an ideal city for a long and active retirement.
Climate
Known for its mild winters and humid summers, Savannah's subtropical climate is ideal for outdoor recreation and exploration all year long. The average winter temperature hovers in the low 60s, while the average summer temperature reaches the low 90s. The warmest summer months, July and August, also bear the highest humidity and the most rainfall of the year.
As a coastal city, tropical storms can sometimes bring added wind and rain, but nearby hurricanes are extremely rare. Many active adults will find Savannah's climate, with its gentle winters and hot summer days, a favorable climate for enjoying retirement.
Coastal Living
Even on the hottest summer days, the beach always offers wind, water, and waves. Only 18 miles from the city center, Tybee Island is home to five miles of clean beaches with wide shores and gentle waves. The North Beach area represents the best of seaside recreation with boutique shops, quaint restaurants, and watersports like sailing, deep sea fishing, surfing, and jet skiing.
At South Beach, visitors can walk along the pier, enjoy frozen summer treats and drinks, and even learn something new at the Tybee Island Marine Science Center. Just a few of the community celebrations held at Tybee Island include Independence Day fireworks, Mardi Gras parties, a Christmas parade, and a Pirate Festival.
Of course, the calm, sandy shore always beckons for those who want to lounge on the beach, wade in the waves, and share moments with loved ones under the sun. From the North Beach to the South Beach and all the beaches in between, Savannah retirees are never far from the sea.
Plenty to Do and See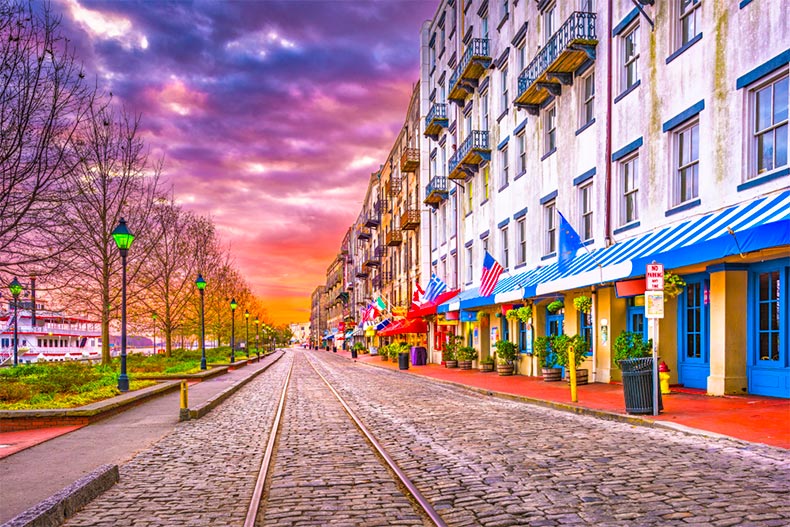 Rich with southern charm, U.S. history, and even ghost stories, the city of Savannah encourages an active retirement through its variety of excursions, activities, and sights. Stroll down the must-see River Street to watch ships come and go, explore boutique stores, and sift through antique shops.
At any of the 22 town squares across the city, such as Madison Square and Monterey Square, walk on paved trails or sit in a shady spot to enjoy well-tended landscaping, enormous oak trees, and interesting monuments. Historic sites with stories to tell include Old Fort Jackson, the Savannah Historic District, and Wormsloe Plantation Historic Site.
The downtown City Market area connects Savannah past and present with nightly music performances, specialty shops, art galleries, and upscale eateries. And, as a pedestrian-friendly city, a variety of walking, biking, and motorized tours allow everyone to access the best of what Savannah has to offer.
Surrounding the city, active adults can spend their time biking, walking, fishing, birding, swimming, and more at the Savannah National Wildlife Refuge, the Wassaw National Wildlife Refuge, and the Tybee National Wildlife Refuge.
About 32 miles away, Hilton Head Island in South Carolina beckons for day and weekend trips at this seaside destination. The Savannah/Hilton Head International Airport, just 10 miles away, allows active adults to make the most of their retirement with travel, whether across the country or across the globe.
55+ Communities Near Savannah
Ready to enjoy your retirement in Savannah? These active adult communities with homes for sale in Savannah, GA combine everyday conveniences and world-class amenities with easy access to all of the beauty and recreation of the city.
The most popular active adult communities in Savannah include The Landings on Skidaway Island, Coffee Pointe, and Cottages at Autumn Lake. The greater Savannah area offers two more communities to consider: The Fairways at Savannah Quarters and Westbrook Villas at Savannah Quarters.