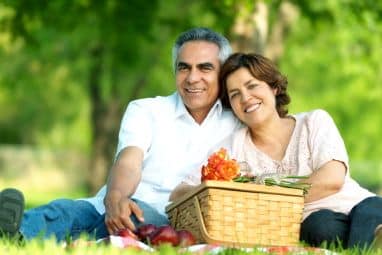 While some people assume that active adult communities are full of retired couples, that isn't necessarily the case. Many 55+ communities have single residents which make up one-quarter to one-third (or more) of their population. In fact, many people find that active adult communities are an ideal place for singles to make friendships and even fall in love. Yet singles who don't live in an active adult community can still learn from the social success of these happening communities.
What is it about active adult communities which help bring people together and spark romance among single residents? For the most part, the magic is rather straightforward. People are more likely to make a connection when they participate in activities with others who share similar interests.
Let's face it, the romantic partner of your dreams is unlikely to simply show up at your front door, but there is a possibility of making a compatible match when taking part in social activities. Special interest groups are a great way to find others who share your passions. Active adult communities excel in this area because they typically offer a wide range of social clubs featuring many different interests.
However, you don't have to live in an age-restricted community to participate in a special interest club. Check your own local newspaper or online city guides for club ideas. If you enjoy reading and discussing books, check to see if your local public library offers an adult book club. Another great way to find out about a variety of local special interest clubs is to search online through a website like Meetup.com.
Taking a class or attending a lecture can also lead to meeting others with similar interests. Many local businesses and organizations offer classes and lectures for a small fee. If you are artistic, you might try taking a course at a local art studio or craft store. You could also sign up for photography lessons through a local camera store, attend lectures at a local college or take part in a writer's workshop. Singles who are interested in volunteering may also meet someone special when taking part in local service organizations. There are many opportunities available through organizations such as the Red Cross or local churches. You can also use the Internet to look for local service opportunities with websites such as VolunteerMatch.org.
Of course, you can also take a more direct approach to love by joining a social club for singles, employing the services of a matchmaker or signing up for an online dating service. However you decide to meet new people, be sure to keep your personal safety in mind. Do not give out your home address to strangers you meet online and be sure to arrange to meet new people in a safe, public location. Take new relationships slow and move forward at your own pace.
While active adult communities are a great place to meet friends and potential romantic partners, you can become more social without relocating. Look for local social opportunities and enjoy the fun of trying something new.