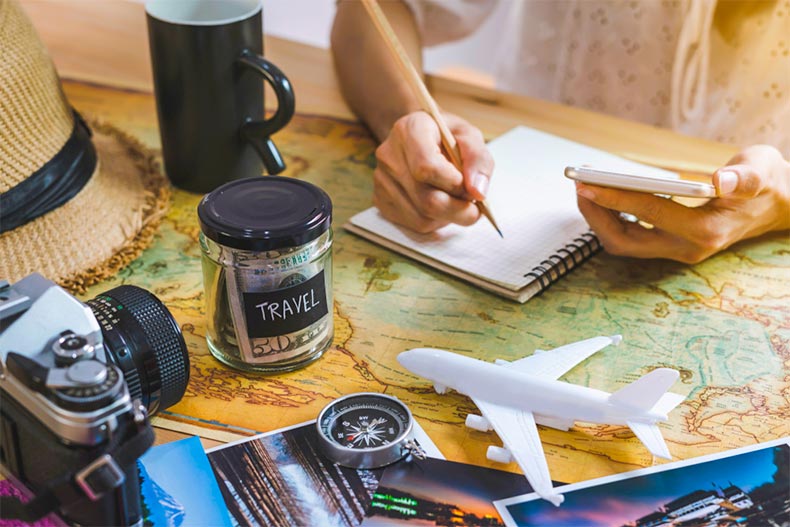 Traveling is like an addiction but one that is good for the body and soul. Once you start exploring the world, it can be hard to stop. Even before you arrive back home your mind is probably busy planning that next adventure. Lucky retirees may have extra time to pursue these dreams, but long weekends and weeklong getaways here and there also scratch that itch.
Having the financial resources to travel can be a stumbling block, but this needn't keep you from getting your feet wet (depending on where you travel, they can stay dry). A great vacation is not defined by spending large amounts of cash or putting yourself in debt. Creativity, flexibility, and budget-friendly resources are the main ingredients for planning an extraordinary vacation that won't break your bank.
It Never Hurts to Ask
When booking your trip, ask for discounts every step of the way. Many companies provide reduced rates for travelers, depending on their age, travel club membership, or even just because it's their slow season. This can be harder with airlines but you have nothing to lose by asking. Many of these lower prices are not advertised and sometimes just calling and speaking with a live person works. Whenever you check into a hotel, ask if there are any free upgrades available as well.
Join AAA and AARP
A yearly AAA membership is currently $57 and the second household member is free. Not only do you get towing assistance and other driver benefits, but they also have travel and vacation deals for their members. Once you join, you'll receive their magazine, which is a good resource for planning road trips. Online, there are deals for Disney vacations, cruises, tour packages, European vacations, hotels, and car rentals.
AARP's Travel Center has similar offerings to AAA, so compare the deals to get the best offers. Membership is around $16 a year and also includes a second household member. Member perks include 20 percent discounts at some hotels and 35 percent off for vacation rentals. They post quite a few air and hotel packages, like a four-day trip at an all-suite Orlando hotel for around $450 per person.
Closer to Home
Many active adults don't realize that there are many spectacular landmarks and attractions within a few hours of their communities. Instead of sitting in traffic for hours, consider visiting a historic small town, parkland, winding bike trails, wineries, or a nearby city that you've never visited. Many state parks, museums, and other charming tourist stops are free, so look into them.
To immerse yourself in the local culture, plan to stay a few nights at an Airbnb or a small inn. Research the top-rated restaurants and interesting pit stops along the way, which can evolve into a fantastic road trip. Also, get friendly with the locals as they often have the best recommendations and might even share information about area discounts.
Go Out of Your Comfort Zone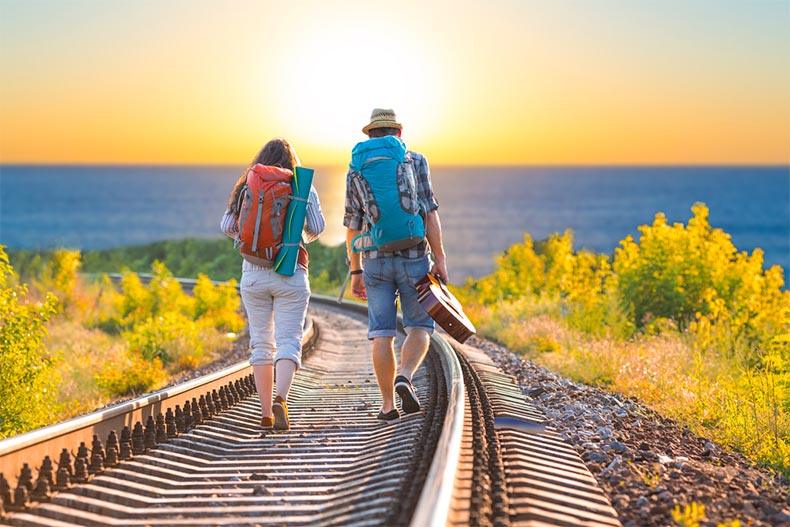 Popular tourist destinations like Las Vegas, Paris, the Grand Canyon, and Hawaii are starting to take a back seat to more up-and-coming regions. Although the old standards are well-liked for good reasons, they can be crowded and expensive. Forbes has some intriguing budget travel suggestions for active adults, like Barcelona, Montreal, Newfoundland and Port Saint, Haiti. Within the 50 states, consider the cities of Moab, UT; Houston, TX; Williamsburg, VA; and Tucson, AZ.
Other Budget-Savvy Tips
Air Travel
Budget Travel magazine recommends buying airline tickets two months before your desired departure date. Before then, become familiar with airfares by following the airlines online and registering for rewards programs.
Airlines charge extra fees for baggage and these can add up quickly. Always check with the airline first, then make sure to pack smartly. You do not need a different outfit for every day, and comfort should be your priority. Investing in a well-made carry-on that is the correct size with a roomy interior is highly recommended.
Tuesdays and Wednesdays are often cheaper days to fly. If you can handle red-eyes, they can also be less costly. Some budget airlines to check out include JetBlue, Southwest, Spirit, and Norwegian.
Travel in Packs
Instead of signing up for a bus tour, recruit friends and family members (that you really enjoying spending time with) as travel buddies. Imagine renting a five-bedroom house on the Outer Banks in North Carolina for around $5,000. For five couples, that would be $1,000 each for lodging. Quality time spent at the beach, lounging around the pool, and preparing meals together are the makings of a fun-filled, memorable vacation. Grandkids are optional!
Watch Out for Extra Fees
All-inclusive resorts and cruises are popular with active adults but read the fine print before booking. There may be extra fees tacked on to your bill if you aren't careful. There can be additional charges for Wi-Fi, alcohol, soft drinks, excursions, and tips.
Coupon Clipping & More
Go online or stop in the local tourist offices. Most will provide discount coupons in order to encourage tourism. Also, if you sign up for a hotel chain's reward program, you can save money when you stay with them. This can be limiting, but many 55+ travelers value the consistency of a trusted hotel. Many credit cards offer frequent flier miles and travel points, so this is another way to get reimbursed for the money you put out.
For ultimate low-budget travel, you might consider camping or attending a timeshare presentation. Camping will require some initial investment for supplies and possibly a camper, and you really have to love the outdoors. Timeshares can involve sitting through long, sometimes aggressive sales pitches, but you can decline the offer and often stay for free or at a deep discount. These two options should be carefully researched before moving forward.
There are limitless ways to save money on your next vacation. If you are willing to open up your mind to new things, you can enrich your life with more journeys whether they be short or long. After all, a sense of adventure is the hallmark of a well-seasoned active adult traveler.