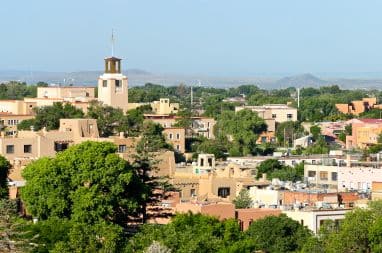 Active adults who love Southwestern deserts and sweeping mountain vistas are sure to be impressed by the majestic scenery in Santa Fe. This historic city offers a rich culture, distinctive regional flair, amazing outdoor recreations and one of the country's largest art communities. Active adults will truly find something different each time they discover, or rediscover, Santa Fe.
Location and Climate
As the capital of New Mexico and one of the state's largest cities, Santa Fe is located about an hour northeast of Albuquerque in the foothills of the southern Rocky Mountains. The city was founded in the early 1600s and is perched at an elevation of 7,000 feet, which has given Santa Fe the distinction of being both the country's oldest and highest state capital.
To adjust to the city's higher altitude, visitors and newly relocated residents will want to drink plenty of water and be prepared for changing weather. In the summertime, afternoon temperatures can easily reach the high 90s, but will drop by about 30 degrees in the evening. Santa Fe does experience four seasons, and winter is a popular time for outdoor sports like skiing and snowboarding.
History and Lifestyle
With roots that stretch back to the early 1600s, Santa Fe has a rich cultural history. The city is also a well-known center for the arts. It has hundreds of art galleries and is a mecca for local and visiting artists.
There are many museums exploring the local art, culture and history, while music lovers will appreciate the world-class Santa Fe Opera. Santa Fe's culture is largely enriched by its Native American heritage. Visitors and locals alike will enjoying touring the eight Indian Pueblos which are located north of Santa Fe. Toward the end of summer, the annual Santa Fe Indian Market is the perfect place to experience Native American art, culture, and traditional fare.
Recreational Attractions
Just outside of Santa Fe's exciting downtown, outdoor enthusiasts will find perfect hiking grounds in the Sangre de Cristo Mountains. But that is only the beginning of the area's outdoor recreations. River rafting on the Rio Grande is sure to be a memorable adventure, and there are plenty of opportunities for biking, geocaching, and other outdoor activities. Santa Fe averages 300 days of sunshine each year, offering plenty of time for golfers to test their skill at any of the area's challenging golf courses. These beautiful courses offer spectacular mountain vistas and dramatic high desert scenery.
Yet, once winter rolls around, those sunny days are also great for skiing at Santa Fe's fabulous ski resorts. When feeling lucky, locals can visit one of the area casinos or look for great deals at some of Santa Fe's eclectic shops. There's always something to do in the city, whether it's taking an art class, relaxing at a full-service spa, or having a drink with friends at a local club. Even seeing a movie can be an adventure as Santa Fe offers both large theaters with stadium-style seating and intimate art house cinemas.
Whether coming for a visit or relocating to the Santa Fe area, retirees will find many ways to enjoy a healthy, active lifestyle. With Santa Fe's close proximity to Albuquerque, some active adults may choose to live in a community between the two cities and enjoy the best that each has to offer.