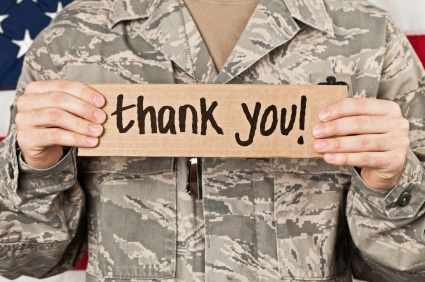 If you served in the military, then chances are you can benefit from a huge selection of discounts in popular categories like restaurants, shopping, travel, recreation, apparel, and much more. Many companies show their support and appreciation for veterans by providing preferred pricing or low rates on goods and services.
Veterans can take advantage of these special offers by showing their military identification or becoming a member of Veterans Advantage to get access to exclusive benefits and rewards from select companies. But remember: discounts and rates can vary from store to store, so make sure you inquire about those details with the merchant. Check out this list where Veterans can get discounts so they can shop 'til they drop while saving money too!
Travel
Retired military personnel can take advantage of discount rates for travel such as airlines, car rentals, cruises, hotels, and ground transportation services. Alamo offers veterans discounted rates on car rentals. Additional travel discounts are offered through Greyhound, while finding a place to stay is cheaper through chains like Best Western, Motel 6, and Castle Resorts. The more adventurous veteran can get reduced rates on vacation packages through Sandals Vacations and Disney Cruise Lines.
Apparel & Accessories
Who doesn't love discounts on clothes and accessories? Veterans can always keep their closet in style by shopping at select merchants. Stock up on appliances at Kohl's or stay warm during the winter months with discounts through Jelly Bean Quilts. Additional outlets providing veterans discounts include Nike, Oakley, and Old Navy.
Auto
Ride in style or keep your old car running like new with these cool auto discounts. Veterans can save big with discounts from Chrysler, Ford, General Motors, and Hyundai. Make sure your car is running smoothly with veterans discounts through Meineke and O'Reilly Auto Parts.
Recreation
If active adults know one thing it's how to have fun. Veterans can take advantage of great discounts to amusement parks, museums, and other cultural attractions. Take the grandkids on a vacation they'll never forget with discounts to Disney Parks, Jellystone Park, Legoland, or Six Flags Amusement Parks. Practice your swing at Topgolf or make it a point to visit all the national parks with the National Parks and Federal Recreational Lands Pass.
Retail
Some major retailers offer veterans discounts on simple items from cell phone service to haircuts. Retired military personnel have several offers at their disposal to see where they can make their dollars stretch. AT&T Wireless gives veterans 15% off of their monthly bill. Get some hiking gear at Cabela's before hitting the trail. No fishing trip is complete without a last-minute visit to Bass Pro Shops. Get cleaned up before a special event at Sports Clips.
Restaurants
Getting some grub at a great price not only keeps your belly full but also lines your pockets with extra savings. Several national chain restaurants offer a variety of discounts depending on the location or holiday, like Veterans Day, Memorial Day, or Military Appreciation Nights. It's best to check your local establishment first to see if any special rates and discounts apply in your area. Some national chains that offer discounts for veterans include Applebee's, Lonestar Steakhouse & Saloon, and Chick-fil-A.