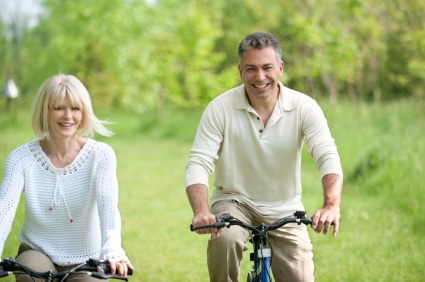 While resort-style active adult communities have a lot of appealing features, some homebuyers may not be comfortable with the limitations of an age-restricted development. Fortunately, many new communities are embracing some core elements of active adult living—such as impressive amenities and low-maintenance homes—while still being open to residents of all ages.
Developments which cater to an active adult lifestyle without the age restriction are sometimes described as age-targeted communities. The builders of these communities may design their homes, clubhouses and other amenities with older homebuyers in mind, but not establish an official age restriction. Other open-age communities may be designed with options for both older residents and young families.
A few examples of impressive age-targeted communities include: Trilogy at Monarch Dunes, in California, Villages of Citrus Hills, in Florida, and Prescott Lakes, in Arizona. Each of these open-age communities boasts spacious clubhouses, challenging golf courses, diverse social activities, and various outdoor recreations. They also offer homes which appeal to busy adults with low-maintenance floor plans and main-level living. This creates an opportunity for younger residents to enjoy the features of the community while also keeping an eye toward the idea of aging in place.
Younger active adults may find age-targeted communities without an age restriction particularly appealing when their children are young adults. College-aged kids can come home for the summers without worrying about compliance with an age restriction or even move back in until they become established in a new career. As adult children begin their own families, they may also want to live in the same community as their parents.
Some builders are successfully meeting these different needs through age-targeted enclaves set within larger open-age communities, like Regency at Brier Creek in Raleigh, North Carolina. This arrangement provides the best of both worlds with low-maintenance homes offered as a subset of a more diverse community.
In some cases, such as The Retreat at Craig Ranch, in McKinney, Texas, residents of the smaller, age-targeted enclave have access to their own private clubhouse in addition to the amenities found throughout the larger development. This may provide residents with both a quiet clubhouse of their own and a wider range of family-friendly activities. Both active adults and young families can also happily coexist in large, resort-style communities where the diverse mix of amenities supports the needs of every resident.
Communities like Lely Resort in Naples, Florida, and Terra Lago in Indio, California, offer a range of amenities from championship golf courses and hobby rooms to playgrounds and ice cream parlors. The wide variety of home styles and sizes also provides the perfect dream home for everyone.
Open-age communities come in several different designs, but many include the appealing features of active adult living without the age restriction.