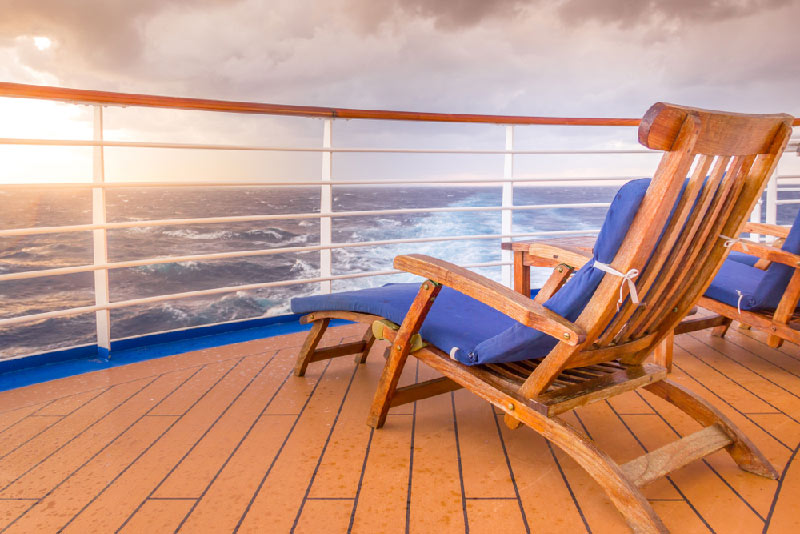 Waterfront Lifestyles International is offering a unique idea for retirement living that is anything but your typical retirement community. This boutique maritime lodging company is now taking reservations for retirement condos on a cruise ship.
Each week, the 300-foot Alegria will make weekend cruises to attractions such as shuttle launches, shopping excursions in Palm Beach, the Bahamas, and will take a once a year trip to Central America. All cruise expenses are included in the Resident's Care fee including meals and entertainment on board the ship. Residents only have to pay for cocktails, casino charges, spa fees, and purchases in the gift shop.
Pricing and Amenities
The idea of retirement aboard a cruise ship is not a new concept. Generally, however, such living opportunities were only available to retirees with deep pockets who could shell out in excess of over a million dollars for a cabin aboard a luxury cruise ship. The Alegria offers one of the first living opportunities on board a ship for a fraction of that cost.
Currently, cruise ship condo pricing is between $159,000 to $399,000 for staterooms and suites that range from 145 to 328 square feet in size. Additionally, Resident's Care fees run between $1,600 and $2,900 depending on the size of the unit. The fees include all operating expenses of the ship including crew, fuel, maintenance, insurance, all meals for two people, weekly housekeeping, country club membership, shuttle bus, and port fees. The vessel has most of the same amenities of the larger ships, including a workout room, spa, gift shop, cigar bar, night club, dining room, library, beauty shop, and storage area.
Room For Guests
The ship has twelve inside cabins that will be used as guest rooms for friends and relatives of the Alegria's residents. The rooms are free of charge and even include the guest's meals. Condo ownership includes permanent free membership at a nearby country club for golf and tennis outings. Alegria will be home-ported in Port Canaveral, home to Carnival, Disney, and Royal Caribbean cruise ships. The port is conveniently located less than an hour's drive from Orlando and adjacent to the Kennedy Space Center.
Waterfront Lifestyles International expects mass appeal from a growing crop of retirees who want a non-traditional retirement lifestyle. As opposed to living in a beach front condo or retirement community where the scenery never changes, retirees can purchase partial ownership in a ship that visits new and exciting destinations every week. A recent review of Waterfront Lifestyles International's website indicates that approximately 30 percent of the ship's 100 condos have been reserved. According to the website, the ship is currently undergoing renovations in a Jacksonville, FL shipyard and will be ready for occupancy in the spring of 2009.