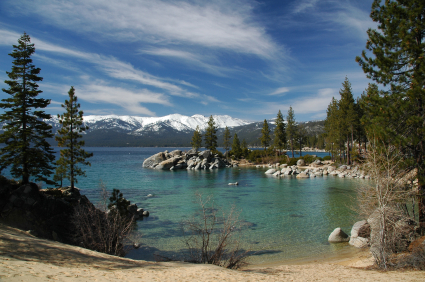 The idea of a Nevada retirement often conjures images of flashy living in the Las Vegas area. Yet, there is more to the state than its glitzy southern region. From the lush mountains near Lake Tahoe to its eastern high desert towns, many active adults find their ideal retirement destinations in scenic Western Nevada.
Climate
The Western Nevada region generally includes any area north of Mineral County that is within 100 miles of the California border. Primary cities in the region include the state capital, Carson City, and the well-known twin cities of Reno and Sparks. These Western Nevada hot spots are only about 30 miles apart along route 395.
Western Nevada's climate is largely influenced by its proximity to the Sierra Nevada Mountains. Summers are hot with daytime temperatures reaching the 90s or even climbing to over 100 degrees. The winter months are cool, with temperatures in the mid-40s, and there is some snowfall in the higher elevations. Snow and rain typically occur in the winter and spring, while the summer and fall seasons tend to be quite dry.
Cities in Western Nevada
As the state's largest city outside of the Las Vegas area, Reno has been dubbed "The Biggest Little City in the World." This bustling destination is primarily known for its casinos, making it a hot spot for tourists, particularly those coming in from California's San Francisco Bay area. Besides casinos, Reno has popular attractions like the National Automobile Museum and the Nevada Museum of Art.
Reno's twin city, Sparks, also boasts popular casinos including John Ascuaga's Nugget Casino Resort. Due to their close proximity, these two cities are commonly grouped together and referred to as simply the Reno-Sparks area.
Carson City, the capital of Nevada, is 30 miles south of Reno and about 20 miles east of Lake Tahoe. This historic city traces its European roots back to the 1850s. Before that, the area was mainly inhabited by the Washoe tribe of Native Americans. The new city prospered during the gold and silver boom period and became the state capital during the Civil War. Today, visitors can explore the area's historic sites and also enjoy modern attractions.
Nevada Taxes for Active Adults
Many active adults are interested in relocating to Nevada due to its retirement-friendly tax laws. There is no state income tax, no inheritance tax, and no estate tax. Nevada does have sales and property taxes, although some older homeowners may be eligible for a rebate on some of their property taxes.
Active Adult Communities in Western Nevada
There are some beautiful active adult communities in Western Nevada, including Sierra Canyon by Del Webb in Reno. While the Las Vegas area gets a lot of attention, active adults who are considering relocating to the Silver State should not overlook Western Nevada. This colorful region has a rich history, exciting attractions, and plenty of natural beauty. Plan a visit and see if it is the right destination for you.