A fulfilling retirement is different for everyone. For some people, it's all about the grandkids. For others, it's about finally having enough time to explore new hobbies. If you're single, you have the freedom to choose the city or community that fits your needs in retirement. If you're on the hunt for somewhere new to settle down in your post-working years, spots with fellow unmarried folks and reasonable home prices are attractive options.
55places.com looked at over 29,000 cities designated by the most recent census data, focusing specifically on major areas with a population of 20,000 or greater. We then broke down each area by how many single or unmarried people made up the total population. Additionally, we added in a median price to income ratio from the census data to target areas where you can reasonably afford a home.
From that data, here are 25 of the best places for singles to retire.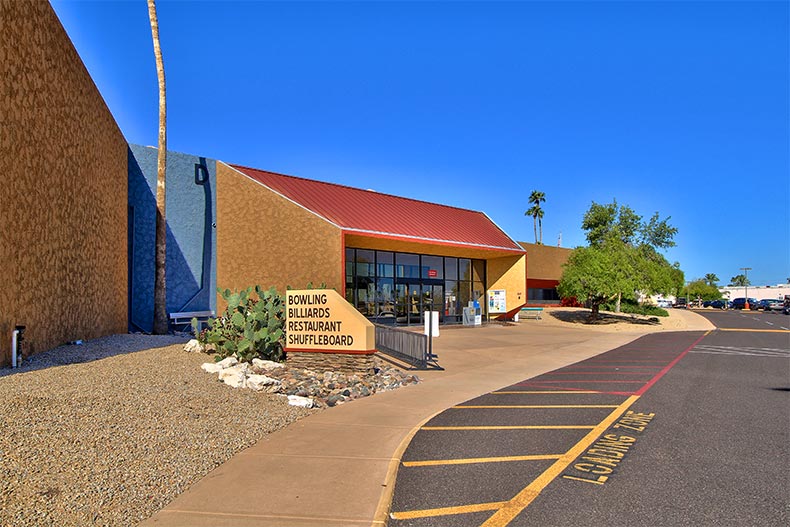 Arizona claims quite a few spots on the list of top places for single retirees. Sun City is a census-designated place in Maricopa County, and it's known as being home to the first 55+ adult community in the country, dating back to the 1960s. With such a long history, this community has had years to develop into an ideal retirement option.
Sun City has thousands of homes under the sunny skies of Arizona, made even more attractive by reasonable prices and low property taxes. In addition to the homes, Sun City has plenty of golf courses and social clubs to give residents plenty of ways to relax and connect with one another.
The active lifestyle communities in Sun City include: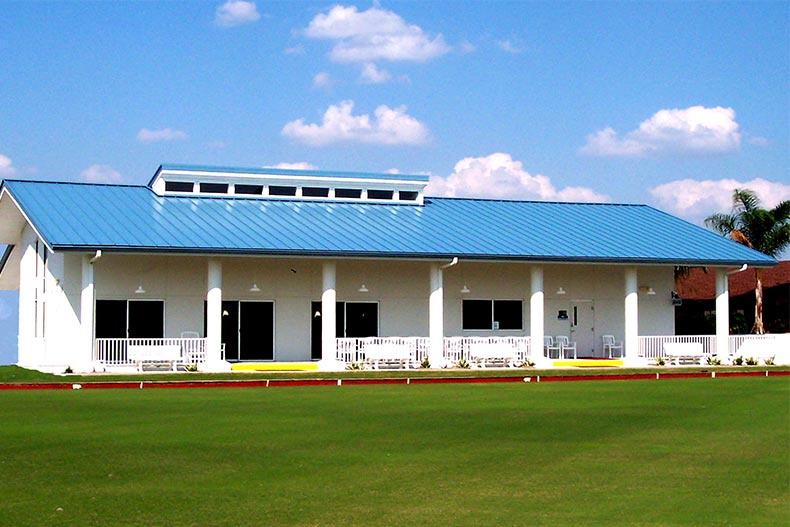 Sun City Center, located not too far from Tampa, is a 55+ community that offers residents plenty of different home styles and prices. You have the option of finding a smaller place just for you or something a little bigger with room to entertain.
As a self-contained community, Sun City Center has a wide array of activities within easy reach. You can head to the fitness center to swim laps, go bowling, play shuffleboard, or stroll the community's walking paths. For people who want to explore their artistic side, Sun City Center has a woodworking shop as well as studios for photography, ceramics, pottery, and more.
The active lifestyle communities in Sun City Center include: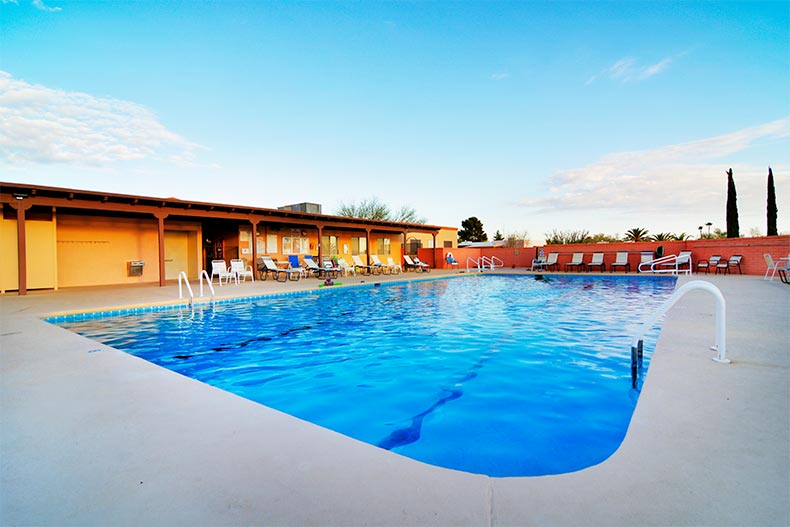 Green Valley is home to a large group of 55+ communities, some with thousands of homes and some with just a few hundred homes. It's also home to the popular Green Valley Recreation, a conglomerate of active adult neighborhoods located just south of Tucson. GVR amenities and clubhouses are open to all members regardless of which community or subdivision they reside in, providing endless opportunities to relax, explore, and make new friends.
The active lifestyle communities in Green Valley include: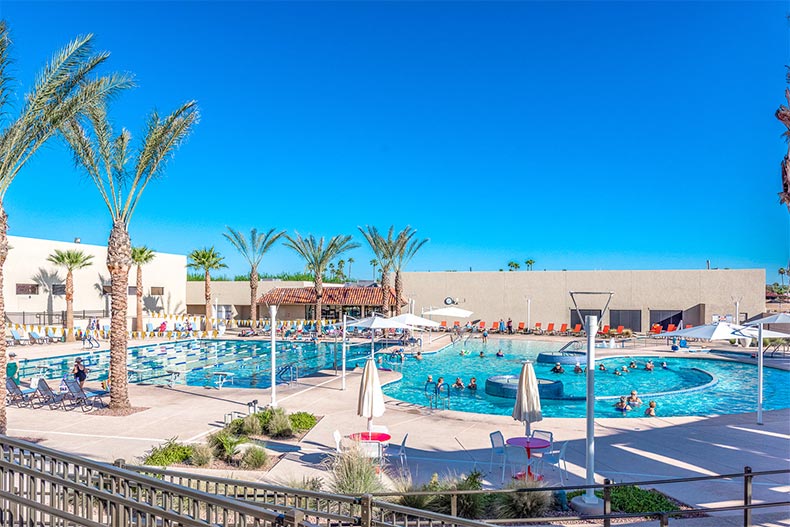 Sun City West is also a census-designated place in Maricopa County, just a couple of miles from the original Sun City. It's home to another 55+ community, albeit a slightly newer one. The homes of this community were built between 1978 and 1997.
Sun City West is designed to offer low-maintenance living for residents who want to remain active. You can hop on the golf cart-legal streets and head to the on-site retail stores or enjoy the myriad of available amenities. Sun City West has a spacious activity center spread across 48 acres, boasting options like tennis courts, pools, a golf course, and clubhouses.
The active lifestyle communities in Sun City West include: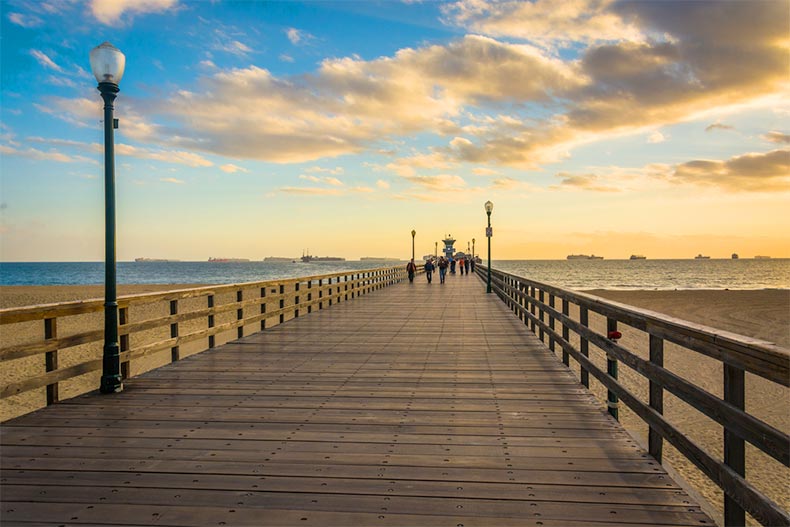 Seal Beach is a classic California coastal city. A part of Orange County, you can expect fabulous views and sunny weather here. In addition to the proximity to the ocean, Seal Beach offers a charming downtown and ample greenspace.
Retirees can happily settle anywhere in the city, but if you're looking for a 55+ community, Leisure World Seal Beach has you covered. This relatively small community has homes ranging from the low $100s to the high $500s. The community's six clubhouses host a wide variety of amenities and fitness activities, and there's also an extensive list of on-site clubs and classes where neighbors can bond over shared interests.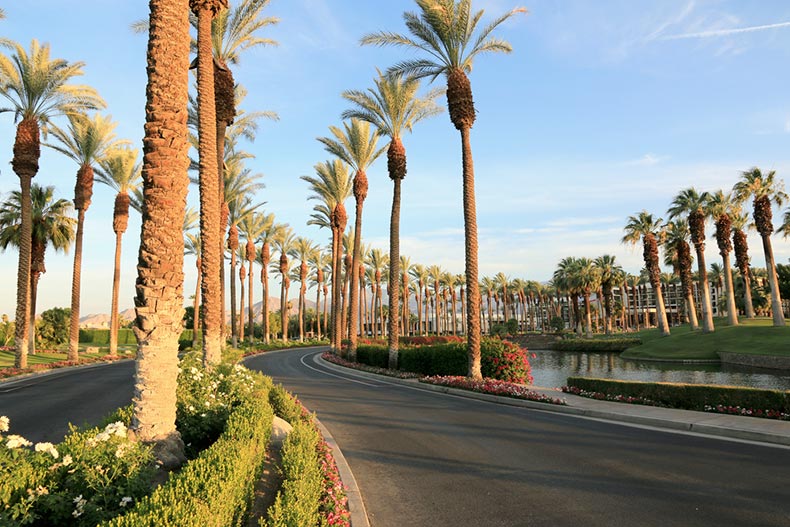 Located just east of Los Angeles, Palm Springs is not just a desirable vacation destination. This desert city— with its palm trees, spas, golf courses, and hot springs—is also an attractive place for retirees. Whether you enjoy trips out to the mountains and canyons or exploring nearby resorts, hotels, and shopping centers, this Southern California city has the perfect climate to make the most of it all. You can look for a home anywhere in this city to enjoy its amenities, or you can settle down in one of its 55+ communities.
The active lifestyle communities in Palm Springs include: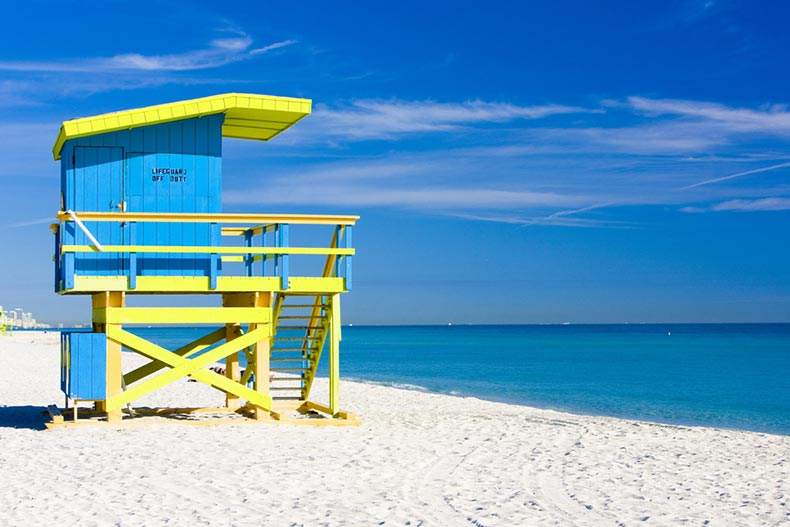 Aventura is a suburban city north of Miami. As per usual in Florida, the area experiences hot, humid summers and brief, warm winters. This planned community is a shopper's dream thanks to Aventura Mall, one of the largest shopping centers in the country. Whether you're looking to shop or simply relax by the water, this city is a contender.
The active lifestyle communities in Aventura include: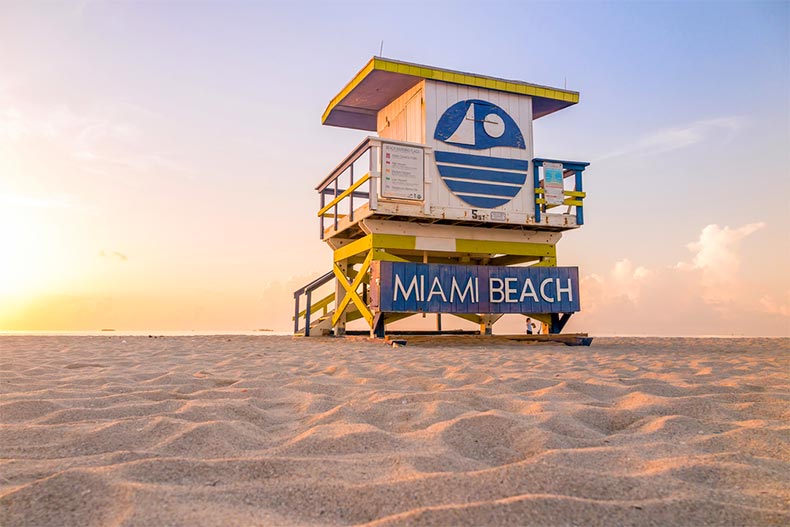 If you've always dreamed of island living, retirement is the time to make it happen. Miami Beach is located on the barrier islands that rest between the Atlantic Ocean and picturesque Biscayne Bay. You probably recognize the city's neighborhood names, like South Beach and North Beach. For retirees looking for a buzzy, vibrant spot to settle, Miami Beach is a promising option. The city is home to luxurious hotels, resort spas, restaurants, and of course, beautiful and popular beaches.
For single retirees seeking a gated active lifestyle community, 2000 Island Boulevard Condominiums is a prime option in North Miami Beach. Situated on the South Atlantic Coast, this community has 494 condos in a luxury high-rise building. Residents can enjoy maintenance-free living, access to many resort-style amenities, and panoramic views of the ocean.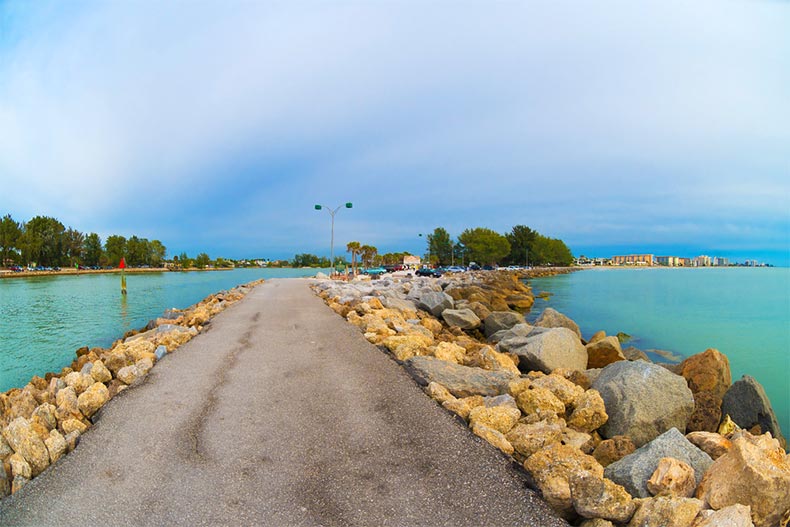 Venice is an ideal spot for outdoorsy types. You can enjoy seaside walks, swims in the ocean, and endless sunning on the city's beaches. If hot and humid weather is your ideal, Venice is the place to be. The downtown area is full of places to shop, eat, and relax, and it features architecture reminiscent of its Italian namesake.
The active lifestyle communities in Venice include: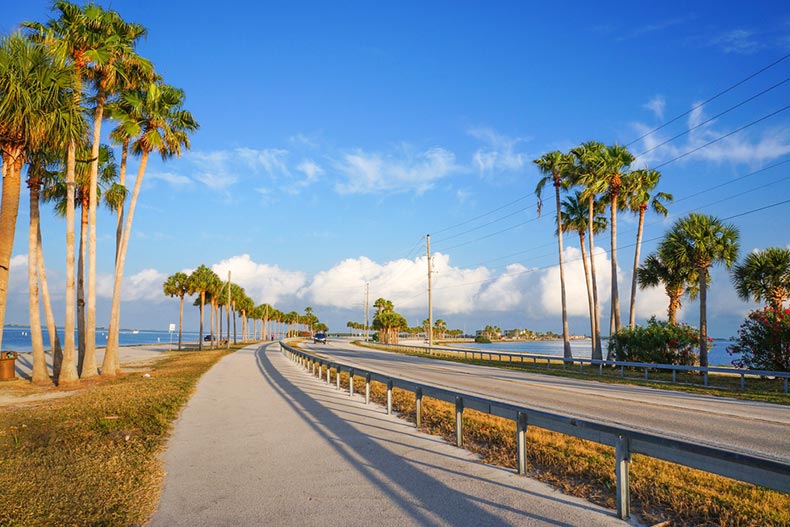 Dunedin, located on the Gulf Coast of Florida, is home to both beaches and forested areas. Residents love to mingle in the downtown area, exploring the city's museums and art galleries. The Dunedin Fine Arts Center offers classes and workshops for retirees interested in the arts. The city also features local brewing companies and the Florida Auto Exchange Stadium, home to the Dunedin Blue Jays.
The active lifestyle communities in Dunedin include: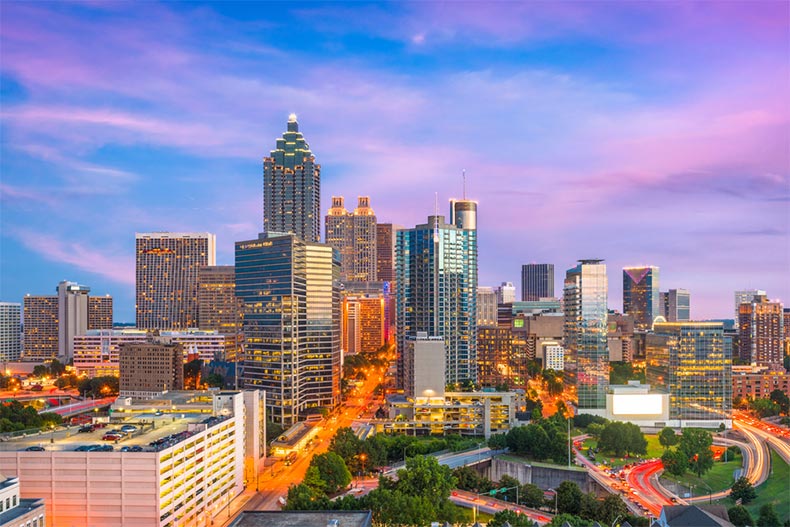 Atlanta, known as a major hub of the music industry, has plenty of amenities to attract people of any age. The hot, humid weather is enough to catch the eyes of many retirees, but Atlanta also has rich cultural offerings including botanical gardens, state parks, and museums. The downtown area is walkable, and you can enjoy city events like the Atlanta Farmers Market.
Park Regency is a high-rise community located not only within the city limits but near the downtown area. The luxury condos feature walk-in closets, granite countertops, and a den. The low-maintenance lifestyle gives residents more time to enjoy the on-site fitness center, clubroom, and steam room.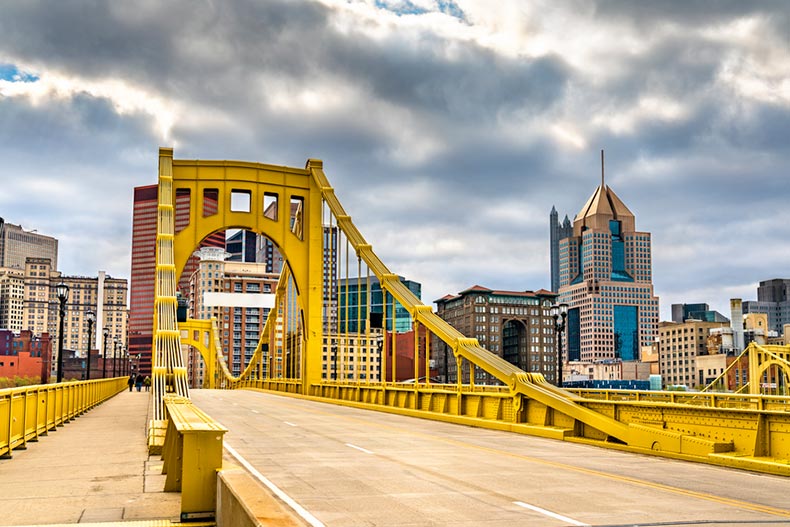 Not everyone is looking for the hot, humid beach life when they retire. Pittsburgh offers a vibrant urban setting with activities catering to both indoor (think museums and restaurants) and outdoor enthusiasts (think biking and hiking trails).
The active lifestyle communities in Pittsburgh include: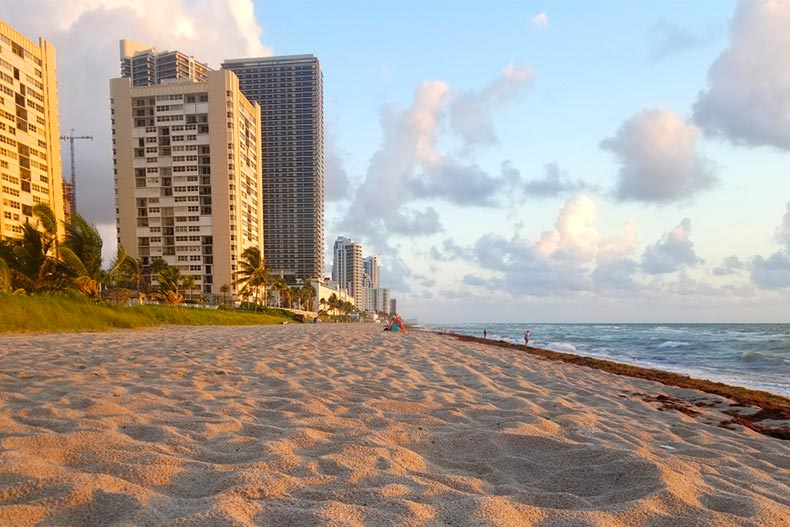 When you picture retirement in Florida, Hallandale Beach might be the ideal vision. This waterfront city has idyllic beaches, fine dining, and year-round activities that draw locals and tourists alike.
The active lifestyle communities in Hallandale Beach include: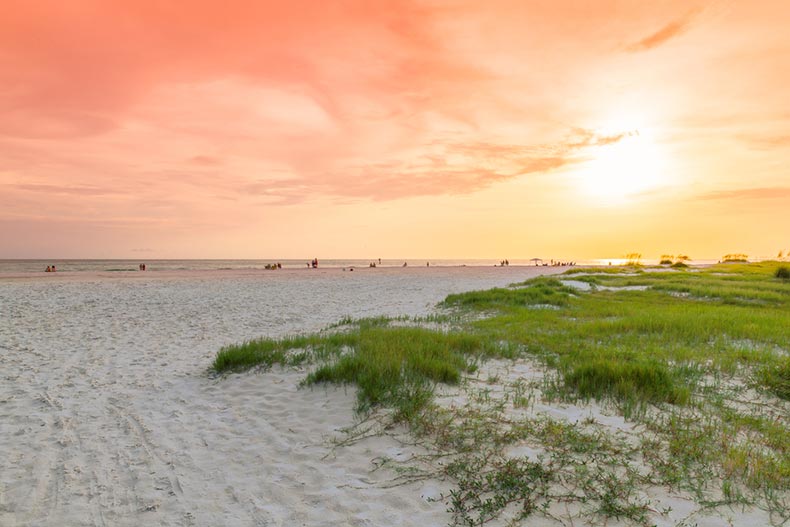 The Gulf Coast cities of Florida are major attractions for people looking to retire, and Sarasota is no exception, especially for single retirees. If you like the idea of the amenities and camaraderie of a 55+ community, Sarasota has plenty of options to consider.
The active lifestyle communities in Sarasota include: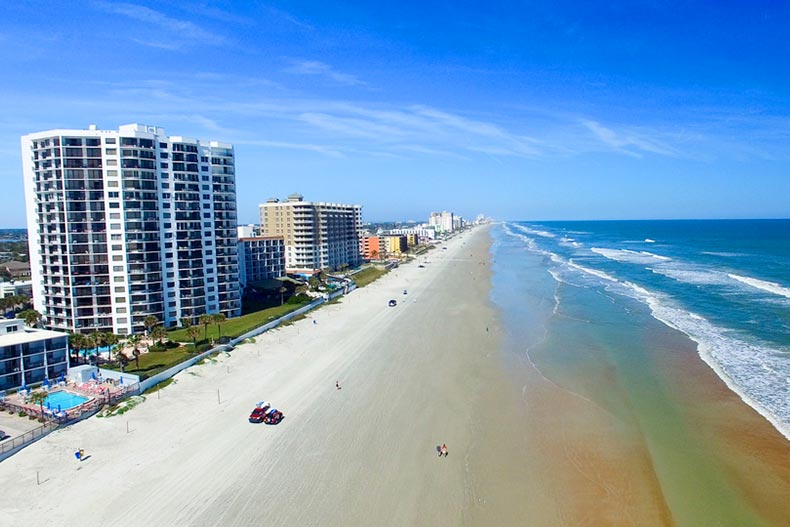 If you've been searching for Margaritaville for your entire life, the answer is here in Daytona Beach. Latitude Margaritaville is located in this city on Florida's Atlantic Coast. This 55+ community takes its inspiration from the laidback lifestyle of Jimmy Buffet, offering amenities for leisurely days and entertaining nights. Outside of Latitude Margaritaville, Daytona Beach is the ideal city for sports enthusiasts (the city is the headquarters of NASCAR) and water lovers (think sandy beaches and fishing).
The active lifestyle communities in Daytona Beach include: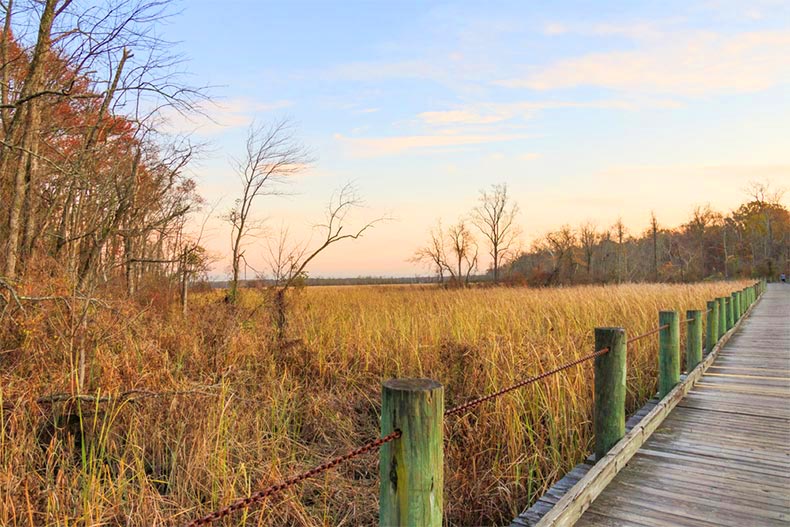 Not all waterside cities need to be on the ocean. The historic city of Alexandria is located on the shores of the Potomac River in Virginia. The city is rooted deep in our country's past but also offers the best of modern life with boutiques and celebrated restaurants.
The active lifestyle communities in Alexandria include: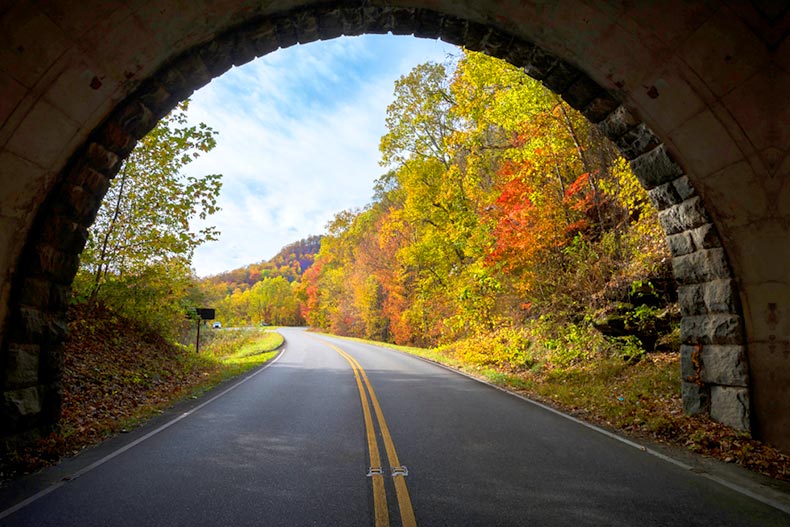 You never have to be bored in Asheville. If you're looking for an urban retirement destination with activities to keep you busy, Asheville is filled to the brim with festivals, breweries, and restaurants. Plus, you have easy access to the breathtaking beauty of the Blue Ridge Mountains and the Appalachian Mountains.
The active lifestyle communities in Asheville include: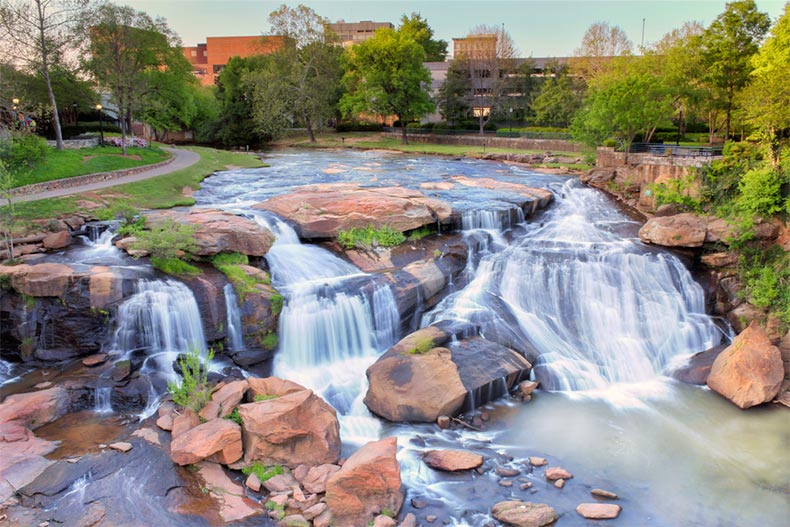 Retirement doesn't have to mean saying goodbye to four distinct seasons. If you want to feel the chill of fall and winter and the cool breeze of spring along with the heat of summer, Greenville embraces the seasons and offers plenty of activities to go along with each.
The active lifestyle communities in Greenville include: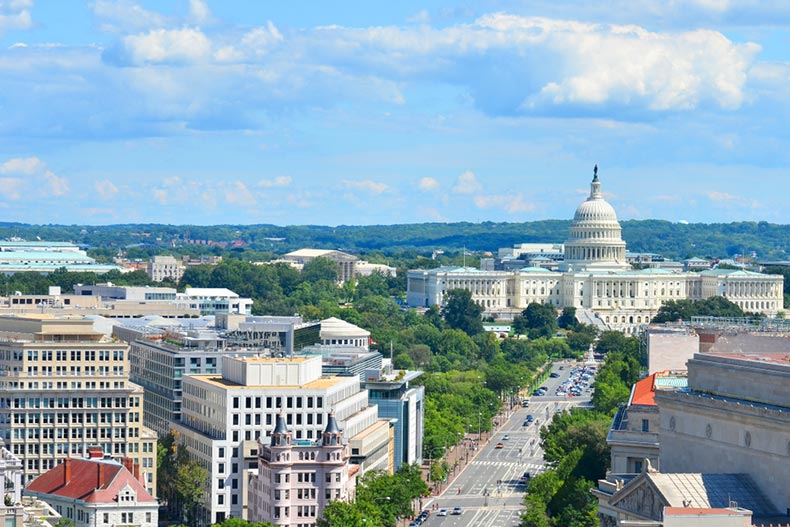 More than just the nation's capital, Washington D.C. is a thriving city with so much to do, even for single retirees. If you're in the market for a 55+ community, you're in luck. D.C. is home to a large collection of communities ranging in price and size.
The active lifestyle communities in Washington D.C. include: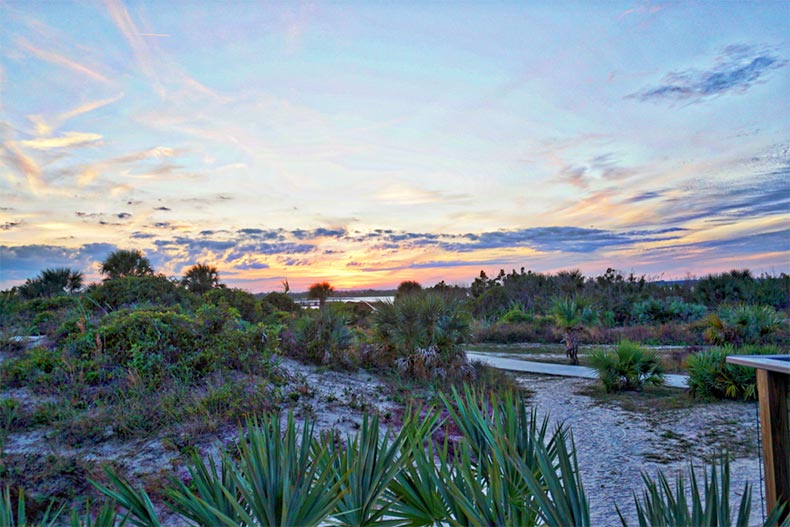 New Smyrna Beach, just south of Daytona Beach, is known for its scenic outdoors. Anyone looking to brush up on their photography during retirement will find no shortage of promising shots at Smyrna Dunes Park. The city is also home to a beautiful downtown area, lined with streets of galleries, boutiques, and restaurants.
The active lifestyle communities in New Smyrna Beach include: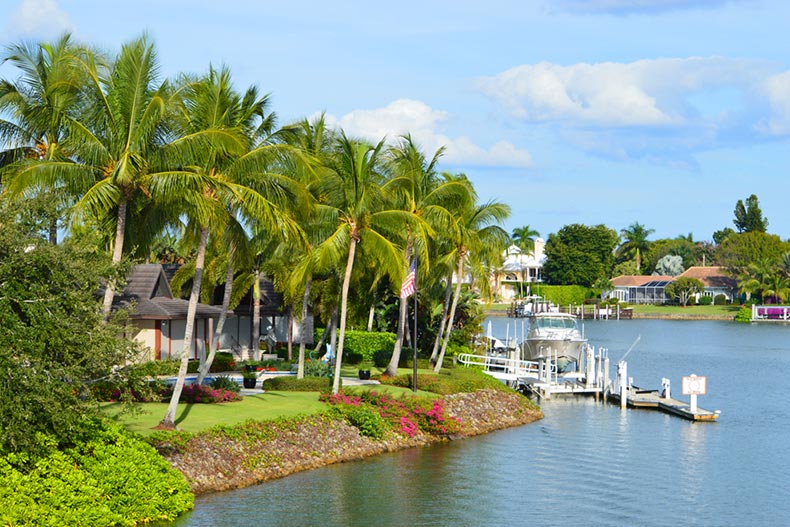 Like many cities in Florida, Naples allows its residents to enjoy a waterfront lifestyle. You can also explore the nearby Everglades, bird-watch at the Bird Gardens of Naples, and wander through the city's many historic sites.
The active lifestyle communities in Naples include: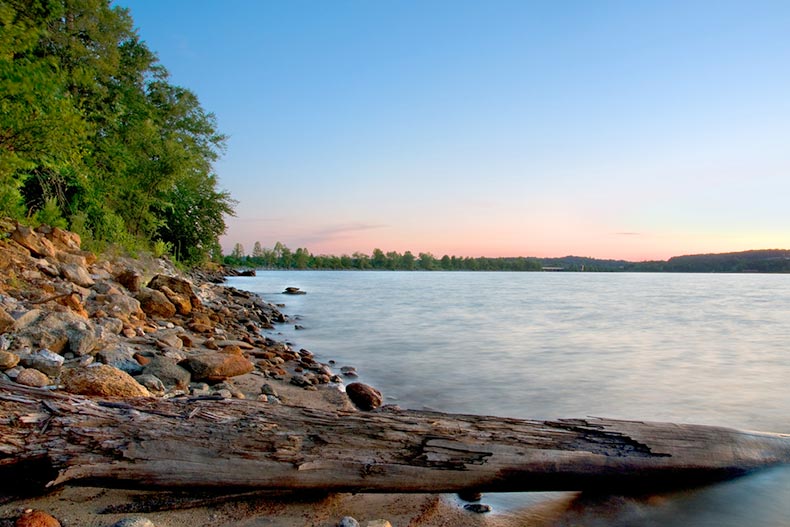 Despite being a thriving city in South Carolina, Anderson has the feel of a small town. It has several lakes for fishing, beautiful architecture, and no shortage of spots for dining out.
The Ravines at Holly Creek is a 55+ community located in Anderson. With homes priced in the high $100s to low $200s, this retirement destination is reasonably priced, and it includes amenities like an outdoor pool, clubhouse, and fitness center.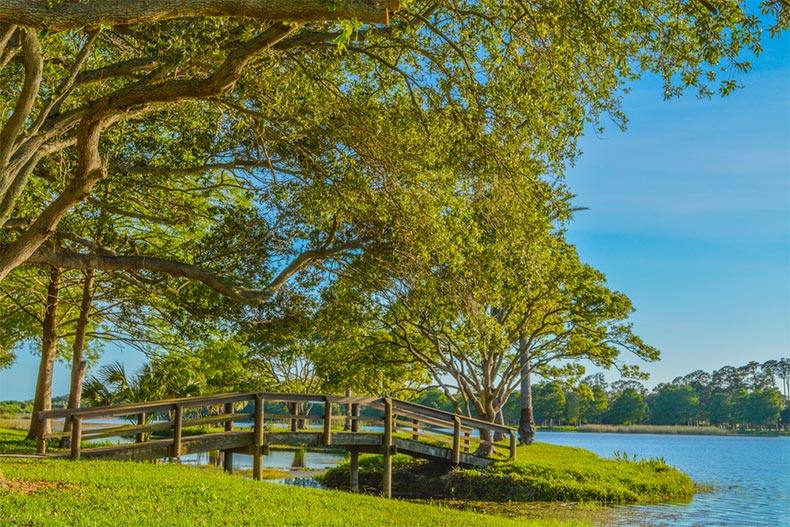 Largo is located in the Tampa Bay area of Florida. The city is full of beautiful greenspace, and it boasts a delightful downtown area. In addition to that, the health care industry in this city has exhibited remarkable growth as it strives to meet the needs of its active adult population.
The active lifestyle communities in Largo include: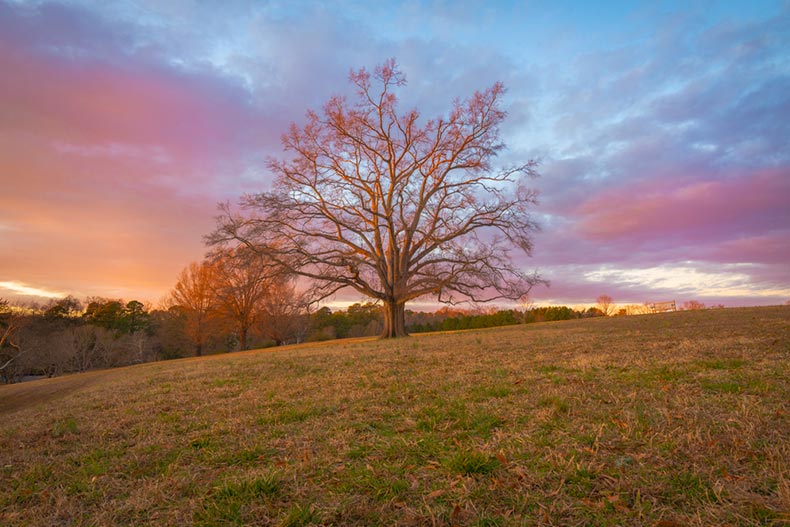 Richmond has plenty of attractions and activities for people to enjoy either solo or with friends. Steeped in history, this city is full of notable landmarks and historical sites. The city also has all of the modern amenities of an urban center, including shopping, dining, and nightlife.
The active lifestyle communities in Richmond include: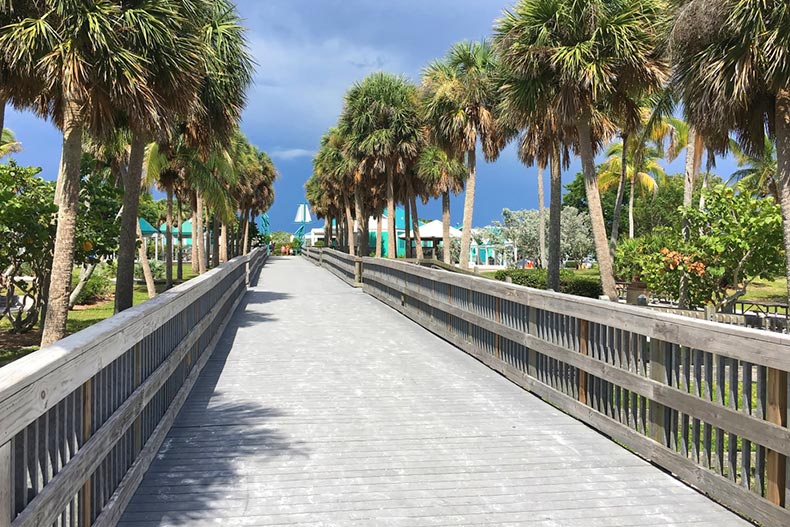 North Fort Myers is an unincorporated area of Southwest Florida. The city feels very much like a tropical hotspot, albeit on the quieter side. While it's not one of the more popular beach towns, it still attracts a fair number of tourists, and it's home to several spring-training camps.
The active lifestyle communities in North Fort Myers include: