Every February, Major League Baseball's (MLB) 30 teams pack up and head to Florida or Arizona to literally warm up for baseball season during spring training. Teams escape the cold weather of their home cities and spend several weeks gearing up for the regular season. During that time, American and National League teams mix and play within their respective spring training leagues.
Florida and Arizona see increased tourism over the weeks when spring training takes place, making the pre-season economically valuable to each area as it provides entertainment to locals and sun-seeking visitors alike.
Spring training serves a practical purpose in that it allows new and established players time to practice and try out for roster spots, but the exhibition games draw large crowds excited for winter to end and baseball to begin. There are two leagues during spring training: the Grapefruit League in Florida and the Cactus League in Central Arizona.
The History of the Cactus League
Pre-season training away from regular game sites dates back to the 1890s, but the Cactus League as we know it today was not founded until 1947. Bill Veeck, the owner of the then-minor-league Milwaukee Brewers, sold the team and retired to his ranch in Tucson, Arizona, in 1945. Unable to stay away from baseball, Veeck bought the Cleveland Indians in 1946. When it came time for spring training in 1947, Veeck had the Indians train in Tucson and convinced the New York Giants to hold their exhibition games in Phoenix instead of Florida, creating the western club. The growing Arizona league was named the Cactus League for the hardy plant commonly found in the area. By 1989, eight MLB teams were a part of the Cactus league.
Interestingly, famed 55+ community developer Del E. Webb co-owned the New York Yankees when the Cactus League was founded. The Yankees were, and still are, a part of the Grapefruit League and trained in Florida, but in 1951, Webb requested a one-time swap between the Yankees and the Arizona-bound Giants. Webb's intentions were personal: he wanted to show off his hometown of Phoenix, which would become the site of Sun City, his enduring first 55+ community.
Which MLB Teams Play in the Cactus League?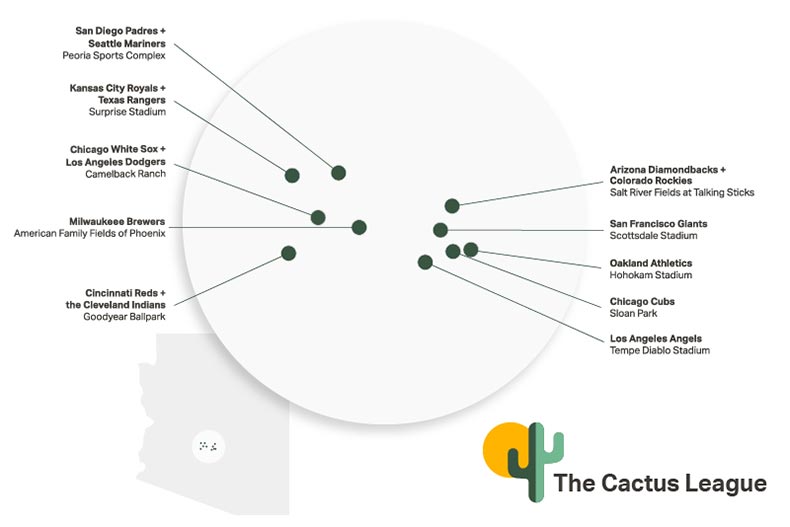 Until recently, the Cactus League always had fewer teams than the Grapefruit League, but by 2018, each league finally had 15 teams. Today, the MLB teams in the Cactus League are:
Arizona Diamondbacks

Chicago Cubs

Chicago White Sox

Cincinnati Reds

Cleveland Indians

Colorado Rockies

Kansas City Royals

Los Angeles Angels

Los Angeles Dodgers

Milwaukee Brewers

Oakland Athletics

San Diego Padres

San Francisco Giants

Seattle Mariners

Texas Rangers
Which Stadiums Are in the Cactus League?
While the Cactus League has 15 teams, there are only 10 stadiums in the Phoenix metro area. The Oakland A's, Milwaukee Brewers, San Francisco Giants, Chicago Cubs, and Los Angeles Angels each have their own home stadiums, meaning that the other 10 teams in the league share the remaining five stadiums. Each stadium is within a 50-mile radius of Downtown Phoenix, making it easy and commonplace for fans to catch multiple games in a single day.
In Glendale, the Chicago White Sox and the Los Angeles Dodgers play at Camelback Ranch. Located northwest of Phoenix, the large stadium sits on the east bank of the Agua Fria River, treating visitors to an impressive view of the water.
West of Phoenix, the Cincinnati Reds, and the Cleveland Indians are hosted at Goodyear Ballpark in Goodyear. The ballpark is next to the Phoenix Goodyear Airport, making last-minute trips to catch a game a cinch.
Northwest of the city center, the Milwaukee Brewers call American Family Fields of Phoenix home during spring training. The park recently completed $60 million in renovations, prompting the Brewers to commit to making Maryvale their home away from home until at least 2042.
In Peoria, the San Diego Padres and the Seattle Mariners set up shop at the Peoria Sports Complex. With neighboring 55+ community Sun City to the west, the stadium boasts facilities that are both picturesque and easily accessible by fans of all ages.
Arizona's local team, the Diamondbacks, and the Colorado Rockies share the Salt River Fields at Talking Stick just northeast of Scottsdale in the Salt River Pima-Maricopa Indian Community. Construction on the stadium finished in 2011, making it the first park built on Native American land.
The Chicago Cubs made Sloan Park in Mesa their home base when it opened in 2014. With a capacity of 15,000, the stadium is the largest spring training stadium in either league.
The Kansas City Royals and the Texas Rangers alternate play at Surprise Stadium, 30 miles northwest of Phoenix in Surprise. The ballpark is in the center of the city's recreation campus, which houses a whopping 18 baseball diamonds for various national and local teams.
In an ironic twist, the Los Angeles Angels play at Tempe Diablo Stadium in Tempe, southeast of Phoenix. What the stadium lacks in size, it makes up for in accessibility, conveniently located near the Phoenix Sky Harbor International Airport and just off the Maricopa Freeway.
What is the Cactus League Schedule?
Spring training games in the Cactus League span just over a month, running from February 21st to March 26th. While the first two days of the season kick off with just a single game each between the Mariners and the A's, fans can expect six to eight games a day for the majority of the season. Double-headers are not uncommon, with daily early afternoon and evening games providing multiple opportunities for fans to get in on the action.
For more information on your favorite team's schedule, check out the MLB's Cactus League schedule.
What Does It Mean When a Cactus League Game Is "SS"?
If you ever see (ss) next to a team's name on a schedule and wonder what that means, the "ss" in parenthesis stands for a split squad. When teams split their squads, it enables them to play two games in one day (usually one at home and one on the road). Some fans like to go see both "ss" games their favorite team is playing in one day.
How Much Are Tickets in the Cactus League?
A day at the ballpark comes with several costs, so audiences hoping to be a part of Arizona spring training should plan accordingly.
Individual tickets vary by stadium. Bleachers or lawns start as low as $12, while infield box seats can reach well over $200 a ticket. Buyers should consider applicable state and local taxes as well as convenience fees from online vendors, as these can dramatically raise the price of a ticket.
Local enthusiasts and baseball devotees who plan on attending most, if not all, games can benefit from purchasing season passes or ticket packages. These package offers vary by team, and some require a deposit from the ticket holder. Some teams, like the A's, offer spring training stadium passes for as low as $50, but full season passes can range from the low $200s to over $400 depending on where the seats are located. High-ranking or popular teams, like the Cubs, may have only waitlist availability for spring training season ticket packages and require early action. Most teams offer special rates or private suites for groups, events, or company functions upon inquiry.
While the stadiums are relatively close to one another as well as to city centers, fans may prefer to park their cars at the stadium rather than using public transportation or shuttle services. Daily parking passes can be purchased for as low as $5 and upwards of $20 depending on the stadium. Many online ticket purchases come with the option to bundle seat and parking costs, saving drivers a little money for a hot dog or hat.
What Should I Bring to a Cactus League Game?
At modern baseball stadiums, there's so much to do and see beyond the game itself, so visitors should be ready for anything. All visitors should have their tickets and identification on their person, and cell phones should be charged as there are not always charging stations or outlets for public use.
Not all food or souvenir vendors accept credit cards, so those wishing to avoid ATM fees should bring an appropriate amount of cash. Food from stalls or restaurants and team merchandise are widely available throughout stadiums, but buyers should be wary of the premium prices charged.
MLB fans pining for the end of cold weather can enjoy the Arizona sun and should prepare for extended time outdoors. Sunglasses, sunscreen, and hats are recommended, as not all seating is covered. Evenings in the desert climate of the Phoenix area can be chilly, so a light jacket may be necessary. Those with lawn tickets may not be allowed to have folding chairs and should instead bring a large blanket or cushions for seating.
With increased safety regulations, there's a sizeable list of items that visitors cannot bring into stadiums. Generally, ticket holders are not allowed to bring outside food and beverages, hard-sided coolers, large bags, folding chairs, non-service animals, or weapons. Sealed water bottles are usually acceptable, but visitors should consult the prohibited items lists available on each team or stadium website for complete restriction information.
Are Cactus League Stadiums Close to 55+ Communities?
The Phoenix area has one of the most densely populated collections of 55+ and active lifestyle communities. Active adults looking to enjoy MLS spring training and tour future communities have 60 options. Here are a few.
Trilogy at Vistancia – Peoria
Trilogy at Vistancia in Peoria puts fans of baseball a 30-minute drive away from the Peoria Sports Complex and offers avid golfers access to the impressive Trilogy Golf Club at Vistancia. Builder Shea Homes offers a Discovery Stay package, where visitors can enjoy a three-day, two-night stay in one of the community's homes for $399.
Sun City, Sun City West, and Sun City Grand
Three of the most popular 55+ communities in the country, Sun City, Sun City West, and Sun City Grand are near Peoria Sports Complex and Surprise Stadium. These three communities are essentially their own cities with doctor's offices, grocery stores, and plenty of resort-style amenities on hand.
Sunland Springs Village – Mesa
Located a little less than a 30 minutes drive from Sloan Park and Hokoham Perk, Sunland Springs Village is known for its affordable homes. Amenities include plenty of sports courts and a 27-hole golf course.