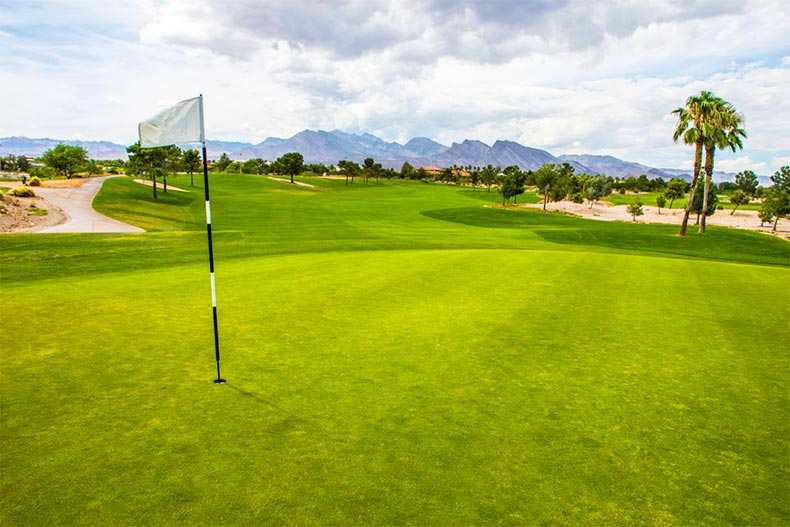 Regarded as a premier destination for retired active adults, Las Vegas offers residents a variety of options when it comes to dining and entertainment, not to mention its beautiful year-round warm weather. With such a fun atmosphere, it should come to no surprise that the area includes a number of world-class golf courses to enjoy, each of which offers golfers of all backgrounds the chance to perfect their game.
Read on below to learn about some of the best courses that Las Vegas has to offer.
Cascata
Aptly named for the Italian word for "waterfall", Cascata offers golfers a picturesque course where a 418-foot waterfall can be seen cascading above the practice grounds. Designed by renowned golf course architect, Rees Jones, Cascata is set in the foothills of the River Mountain Range, approximately 30 minutes from the Las Vegas Strip. This par-72 course is elevated at 3,200 feet above Las Vegas's desert valley and it is noteworthy for the breathtaking backdrops that await golfers at every turn, including views of the Red Mountain, lakes, and streams.
Golfers of all backgrounds are encouraged to try out the course, where they'll be attended to by Class A PGA professionals, who help with equipment, are available for instruction, and accompany players on the course with a Tour-class caddie. Cascata is ranked at No. 58 on Golf Magazine's Top 100 Courses You Can Play and ranges in price from roughly $250.00-$375.00. Reservations are available 24/7 and can be found online.
Coyote Springs
After opening in 2008, Coyote Springs quickly established itself as a course that every golfer needed to play. Ranked No. 4 by Golfweek in a Top 10 Courses You Can Play list, Coyote Springs is located an hour north of Las Vegas, requiring a ride up through U.S. 93 from the city. Designed by Jack Nicklaus, Coyote Springs is revered for its low-key design, providing golfers with eleven scenic lakes, as well as waterfalls and mountain views. This provides the course with a truly relaxed and calm atmosphere, allowing golfers the perfect space to unwind and embrace their favorite pastime.
The course plays to a par 72 and ranges from 5,349 yards from the forward tees to 7,471 yards from the championship tees. In addition, Coyote Springs also features a high-end practice facility that is spread out across 19 acres and features over 100,000 square feet of tee area, 13 target greens, and a short game green for pitching, chipping, and bunker practice. Plans are in place for the property to expand by 32,000 square feet in the next few years, allowing golfers even more room to practice, explore, and socialize with fellow golfer enthusiasts. Prices typically range from $100.00-$144.00.
Rio Secco
Next up is Rio Secco, another Rees Jones-designed course that is located 25 minutes south of downtown Las Vegas, Regarded as a sister course to Cascata, Rio Secco takes golfers across a course that highlights perfect greens and a desert canyon backdrop. The course was first opened in 1997 and designed to enhance playability for both leisure golfers and seasoned pros. Regardless of your skill, golfers will want to check out Rio Secco Butch Harmon School of Golf.
Listed by Golf Digest as their No. 1 instructor, Butch Harmon is an American golf instructor and former professional player who leads Rio Secco's golf lessons. Harmon has taught everyone from tour pros and amateurs in his legendary career, making it essential to come in and learn from a true professional. Rio Secco offers package deals with Cascata, which is approximately 40 minutes away and ranges in price from $99.00 to $199.00
Royal Links
Finally, there's Royal Links, which is perhaps Las Vegas's most distinctive course. Fashioned by architect Pete Dye as an 18 hole course that truly pays homage to the rich legacy and tradition of golf, Royal Links is a course that takes its name very seriously. The clubhouse is designed in the form of a Scottish castle, transporting golfers to the homeland of modern golf itself.
The course is located just a short drive away from the Las Vegas Strip. This links-style course features holes that were inspired by eleven different Open Championship rotation courses, including the "Road Hole" and "Hell Bunker." Scattered throughout the course are several monuments that pay homage to important moments in golf history, as well as a Champions Wall that stands near the all-turf practice range. The wall stands as a tribute to the many famous golfers to have played on the course, including Tiger Woods.
These are just some of the many famous golf courses to call Las Vegas their home. The city is filled with a variety of courses to find, meaning that golfers will have no problem playing the game they love.