The Lone Star State offers a way of life that's as vast and varied as the state itself. Texas terrain ranges from coastal marshes and rolling plains to rugged mountains and bluebonnet-speckled hills. Texas is so big that 15 of the smallest U.S. states could fit within its boundaries.
The state is also home to the fastest road in the United States, with Highway 130 between Austin and Seguin posting a speed limit of 85 mph. Texans might like to haul it on the highway, but they'll always tip their hat to their neighbor. Texas racked as the nation's fourth-friendliest state in 2019, behind only Minnesota, Tennessee, and South Carolina. Friendship happens to be the state motto, so when you live here, you can expect good company.
Whether you have your suitcase packed or you're just beginning your research, we've compiled this handy guide of everything you need to know about moving to Texas.
Retiring in Texas Pros and Cons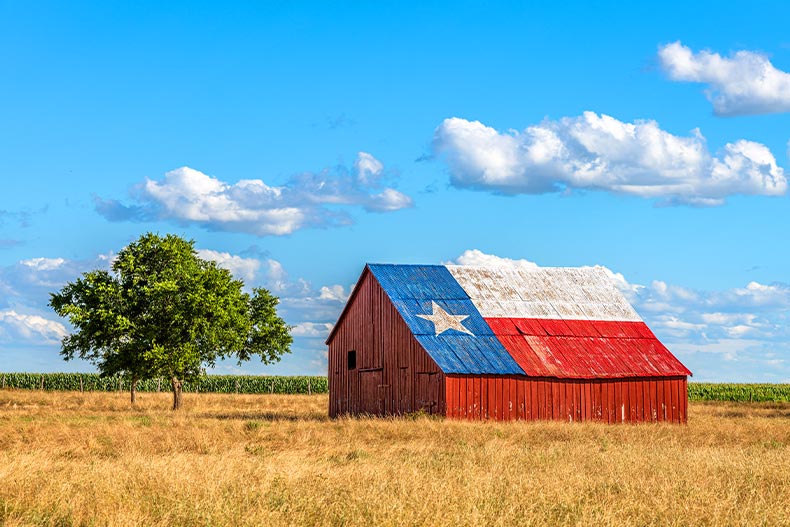 To decide if Texas is the right retirement destination for you, it's important to consider the perks and downsides of living in the Lone Star State. Here's a look at some of the biggest pros and cons.
Pros
Texas offers urban and rural living. Whether you've always dreamed of living in Houston or you want to live near another vibrant city like Dallas, Austin, or San Antonio, Texas affords you many options. But, if you'd rather hang your hat in the country, you can do that too. Active lifestyle communities around Texas give you plenty of choices, no matter what kind of environment you desire.
A low cost of living. The cost of living in Texas is considerably lower than in many other states. Texans pay less on average for housing, groceries, entertainment, and health care than retirees in other states.
Access to top-notch health care. Living in Texas means retirees are never far from high-quality medical facilities and world-renowned medical professionals. The state is home to more than 600 hospitals with many nationally ranked in specialties such as cancer, gastroenterology, and cardiology.
A diverse culture. Many retirees consider moving to Texas for its rich diversity. Texas is the second most diverse state in the country, according to WalletHub, behind only California.
Cons
Unpredictable weather. While Texas offers plenty of sunshine, the weather can often change on a dime. There's an old saying that if you don't like the weather in Texas, just wait five minutes.
An abundance of tornadoes. Texas averages 139 tornadoes every year, which is more than any other state. The Red River Valley of North Texas experiences the most tornadoes in the state, although twisters can drop down anywhere. More tornadoes have been recorded in Texas than any other state with more than 8,000 funnel clouds touching down between 1951 and 2011.
Tiresome traffic. Depending on where you live in Texas, you might find yourself caught in traffic congestion. Austin drivers contend with the worst traffic in Texas. The state capital is also one of the worst cities in the world for traffic congestion, according to the TomTom Traffic Index.
Low population of police officers. In a state as large as Texas, it's critical to keep a close eye on crime. However, Texas only has 1.5 police officers for every 1,000 people who are living in the state. Only seven other states—Alabama, Ohio, Washington, Wyoming, New Mexico, Indiana, and Mississippi—have a lower officer-to-population ratio.
Texas Climate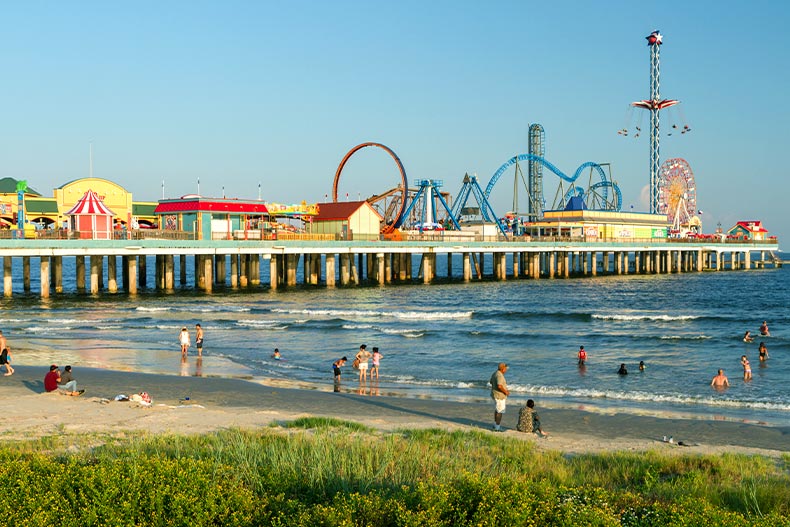 Texas offers a diverse climate, depending on where you live in the state. August is the hottest month for Texas, with an average high temperature of 96 degrees. The most temperate months of the year are April, May, and October, when high temperatures range from 70 to 85 degrees.
Future residents of Texas should be prepared to experience almost every kind of weather condition, including droughts, hail, and severe thunderstorms, as well as hurricanes along Texas' Gulf Coast.
Texas Taxes
Texas is one of the best places to retire if you're concerned about your tax burden. Only Alaska, South Dakota, Wyoming, and Tennessee are considered more tax-friendly, according to the Tax Foundation. Texas has a tax burden of 7.6 percent. Read on to explore more about Texas taxes.
Texas Property Taxes
While Texas has no state income tax and no property tax on vehicles, the state's property taxes are among the highest in the nation. Texans pay an average of $3,327 in real estate taxes per year, which is the fifth highest in the country, and it's 59 percent higher than the average American household's real estate property tax bill of $2,089.
The state's property taxes are so high because they're set locally. Instead of the state of Texas stating what you owe on your property tax bill, local taxing authorities determine what you owe. This allows control over property taxes to remain in local communities.
Texas Retirement Income Taxes
Texas is a tax-friendly state for retirees since there's no state income tax, making Social Security retirement benefits and all other types of retirement income tax-free.
Texas Tax Exemptions for Seniors
Seniors living in Texas can save a substantial amount of money by taking advantage of tax exemptions. Here's a look at what's available to seniors.
Homestead Exemption: All Texas homeowners are allowed a $25,000 homestead exemption from their home's value for school taxes. To qualify, a home must meet the definition of a residence homestead. The homeowner must be an individual and use the home as his or her principal residence as of January 1 of the tax year.
You may file for a homestead exemption for up to one year after the taxes are due. Upon receiving the exemption, homeowners do not need to reapply unless the chief appraiser sends a new application. The homestead exemption doesn't move with you to a new home. If you move, you must reapply when qualified.
Over 65 Exemption: In addition to the homestead exemption, adults age 65 and older qualify for a $10,000 homestead exemption for school taxes. You may apply to your local appraisal district for up to one year after the date you become age 65 or up to one year after the taxes are due.
If your application is approved, you'll receive the exemption for the full year in which you turned 65 and for subsequent years as long as you own a qualified homestead. Retirees should always check their property tax statements to make sure the exemption has been applied. If it hasn't, they can get an application from their local appraisal district.
Disabled Exemption: This exemption gives homeowners an additional $10,000 homestead exemption for school taxes. To qualify, an individual must meet the definition of disabled for the purpose of receiving disability insurance benefits under the Federal Old-Age, Survivors and Disability Insurance Act and must submit an application to their local appraisal district within one year of qualifying as disabled. If someone qualifies for both the $10,000 over 65 exemption and the $10,000 exemption for disabled homeowners, the owner must choose one or the other for school taxes. The owner cannot receive both exemptions.
Disabled Veteran Exemption: Disabled veterans who receive full disability due to a service-related disability can receive an exemption from taxation of the total appraised value of the veteran's residence homestead.
Texas Health Care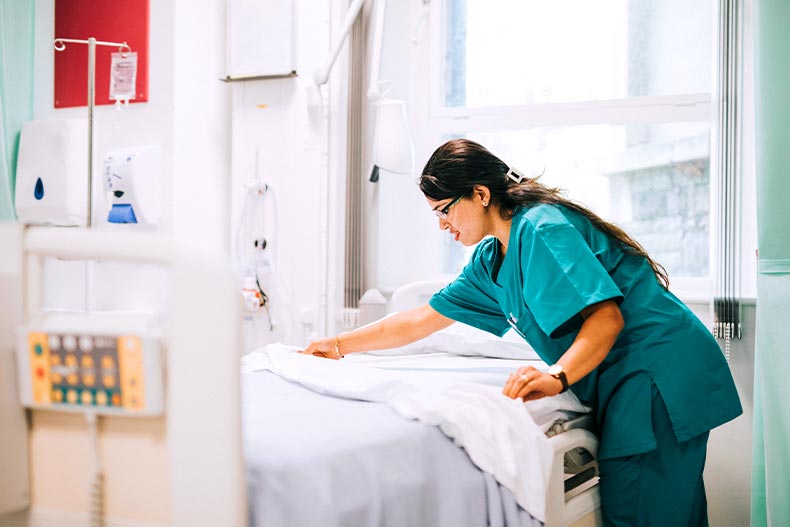 Texas is home to some of the country's largest hospitals and health systems. According to the Texas Hospital Association (THA), Texas contains 84,000 licensed beds. No matter where you live in Texas, you're always close to a hospital. The THA reports that 27 percent of Texas hospitals are found in rural areas, while 73 percent are located in urban areas. Harris County in Houston contains 83 hospitals—more than any other county in Texas.
Where to Live in Texas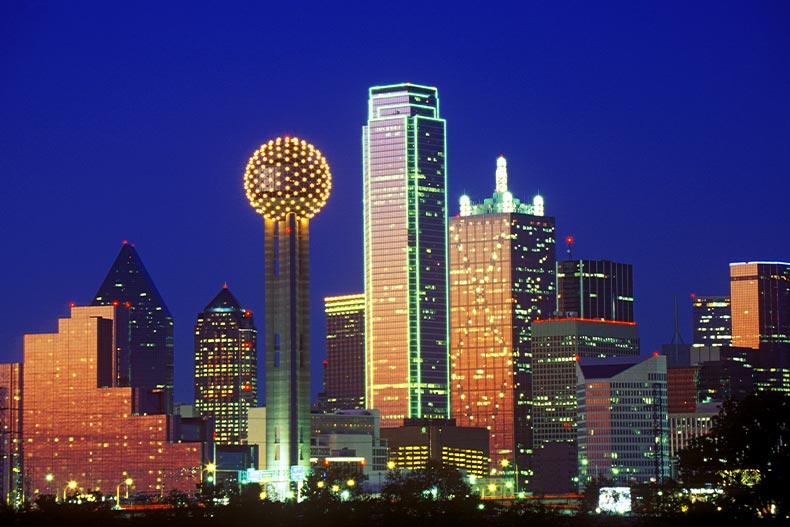 If you're thinking about moving to Texas, consider what's most important to you. Look beyond the cost of living and think about your ideal retirement lifestyle. Would you like to live near friends and family? Do you want to enjoy access to water recreation on Texas lakes or the Gulf of Mexico? Do you dream of hiking across mountainous terrain or do you prefer a laid-back lifestyle that involves less strenuous entertainment?
When you narrow down your personal list of priorities, you're in a better position to pick the best part of Texas for you. Read on to see what each Texas region has to offer.
The Dallas-Fort Worth Metroplex gives retirees two distinct cultures in the neighboring cities of Dallas and Fort Worth. Dallas sparkles with big-city excitement, from the American Airlines Center to the lively Deep Ellum entertainment district. On the western side, Fort Worth shines with cowboy culture, from the legendary Fort Worth Stock Show and Rodeo to the historic Fort Worth Stockyards. Surrounding cities, such as Frisco and Flower Mound, offer their own distinctive cultures as well, giving Texans plenty of options when looking for their ideal North Texas city.
55+ Communities in North Texas: At Ladera Mansfield, homeowners can take advantage of several onsite activities and amenities, including pickleball, bocce ball, and community barbecues.
Home of the Texas Hill Country, Central Texas is a region that stands out from the rest. Here, retirees can experience some of the best scenery in Texas, from the bright-hued bluebonnets dotting roadways to the pink granite dome of Enchanted Rock. Central Texas also offers a never-ending variety of entertainment options, including live music in Austin and floating the Comal River in New Braunfels.
55+ Communities in Central Texas: Homeowners in the San Antionio community of Hill Country Retreat can embrace an active lifestyle at The Resort, a 28,000-square-foot clubhouse home to an aerobics studio, a state-of-the-art fitness center, and an indoor pool that offers water aerobics classes, lap lanes, and free swim. At Sun City Texas in Georgetown, the largest active adult community in Texas, residents can take advantage of three 18-hole golf courses and more than 86,000 square feet of amenities.
Many retirees dream of moving to Texas to escape the cold weather. South Texas offers mild winters and warm weather almost all year long. Considering this region's proximity to the water and the Mexican border, excitement is around every corner. South Texas is home to a colorful assortment of culture, food, art, and music festivals, such as BorderFest.
55+ Communities in South Texas: Alamo Country Club in Alamo is located just north of the Mexican border and about an hour from South Padre Island. The community contains an outdoor pool and spa, two tennis courts, seven shuffleboard courts, and horseshoe pits. Sunshine Country Club Estates in Harlingen is situated on 57 acres and offers a fully equipped fitness center, pickleball courts, tennis courts, and a billiards room.
Offering more than 370 miles of beaches, Coastal Texas is an ideal destination for retirees who long for a laid-back lifestyle. This region, which includes Houston, The Woodlands, and Galveston Island, offers a robust variety of housing options, recreation opportunities, and scenery. On Galveston Island, retirees in the region can enjoy an assortment of fun activities and events, from boat tours to art galleries.
55+ Communities in Coastal Texas: A newer active adult community in Conroe, Water Crest on Lake Conroe offers outdoor pools and walking trails in addition to a clubhouse that serves as a community center. The Village at Tuscan Lakes in League City features a 12,000-square-foot clubhouse, an outdoor pool with beach entry, a stocked pond, and picturesque walking and biking trails.