All the excellent reasons to choose a Florida retirement are well-known and probably over-documented. You know about the great weather, championship golf, low cost of living, and spectacular beaches.
One of the other benefits to living in Florida is that you get to vacation in some fairly outstanding places without leaving the state.
Consider the Florida Keys, where you'll find history, scuba diving, fishing, and tranquil coasts. Discovered in 1513 by Ponce de Leon, the chain of small islands was mostly inhabited by pirates for 100 years, and then some Spanish settlers arrived and began to grow things like pineapples, key limes, and other agricultural exports.
When you're living in Florida, a trip to the Keys is a must. Take the dramatic drive from Miami and keep going until you reach the southernmost point in the United States.
We have some ideas about what to enjoy along the way.
The Best of the Florida Keys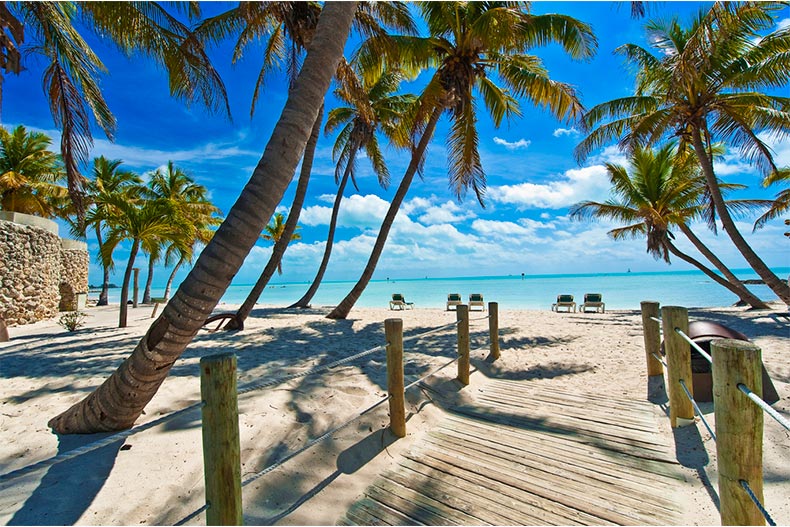 The best Florida key is certainly going to be subjective, but to get a real feel of what this lifestyle is like, head to Key West. It's only 90 miles from Cuba, and the island nation is visible on clear days. The atmosphere in Key West is one of creativity and art.
Visit Hemingway's house, enjoy the sunset festival every night at Mallory Square, and eat some incredible Cuban food in restaurants like Fernandy's Cafe or El Meson de Pepe's. Nightlife is a big part of the Key West culture, too. The streets pulse with live music, and dancing shoes are required.
The best diving and snorkeling is found in Key Largo, the first large key off the mainland. A trip to John Pennekamp Coral Reef State Park will allow you to hike through mangrove trails, enjoy a glass bottom boat, and visit with tropical fish and native sea plants while swimming around dramatic reefs. There's camping, canoeing, paddling, and an ancient artesian well which feeds ponds and streams throughout the park.
Cannon Beach is a great place to snorkel, and remains of a Spanish shipwreck can be seen. Far Beach is covered in palm trees and a relaxing place to sunbathe, soak in the salty water, or enjoy a picnic.
Which Florida Key Should I Visit?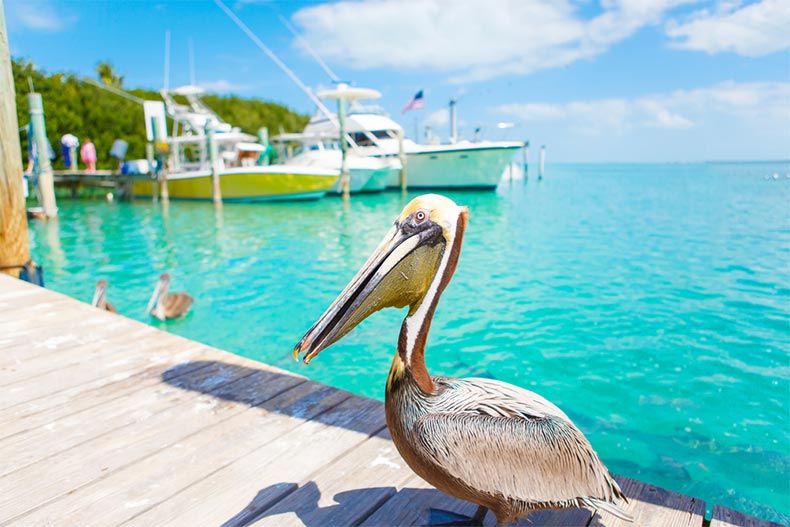 Key Largo and Key West are the most well-known keys, and each one deserves at least one full day of exploration. Key Largo is an 18-mile drive from Miami, and in addition to the great snorkeling and diving, visitors can enjoy fishing tours, dolphin cruises, shopping, and dining.
There's also the Laura Quinn Wild Bird Sanctuary, where it's fun to watch pelican feeding times, enjoy the views from the boardwalk, and learn more about the avian residents such as hawks, owls, parrots, and seabirds.
Visiting Key West is also a requirement, and don't forget to have your picture taken in front of the anchored concrete buoy that declares the spot you're standing to be as far south as the U.S. goes.
Outside of these two famous keys, there a couple of others not to miss.
Islamorada, for example, is a chain of six islands that feels less like Florida and more like a remote Caribbean coastal town. If you enjoy water sports and and sportfishing, this is the place for you. The waters are well-populated with tarpon, snook, and bonefish, making a big catch a real possibility. Islamorada also has some impressive coral reefs for snorkelers and scuba divers, and there's less traffic than in Key Largo.
The best reason to visit Islamorada, however, is the food. There's no reason to settle for the usual Cuban sandwiches or fried fish platter that's so easy to find in most tourist-friendly restaurants. In this burgeoning gastronomical hotspot, visitors can sample local craft beers at Islamorada Beer Company. The conch fritters are made with wasabi at Marker 88, and octopus is served alongside tuna lettuce wraps at Reefers Gastropub.
Marathon Key is another one not to miss. It's an old fishing village and ideally located right in the middle of the stretch of Florida Keys. People arrive by boat as frequently as they do by car, so marinas and boat slips are all over the island. Dolphins can usually be seen playing offshore, and the Turtle Hospital rescues, rehabs, and releases the beloved sea creatures that are found to be sick or injured.
Marathon Key is also the place to find the idyllic white sand beaches. Public beaches like Coco Plum Beach have shimmering white sand and picnic pavilions. You'll need to steer clear of turtle nesting areas and protected neighboring wetlands.
Which Florida Key is the Most Beautiful?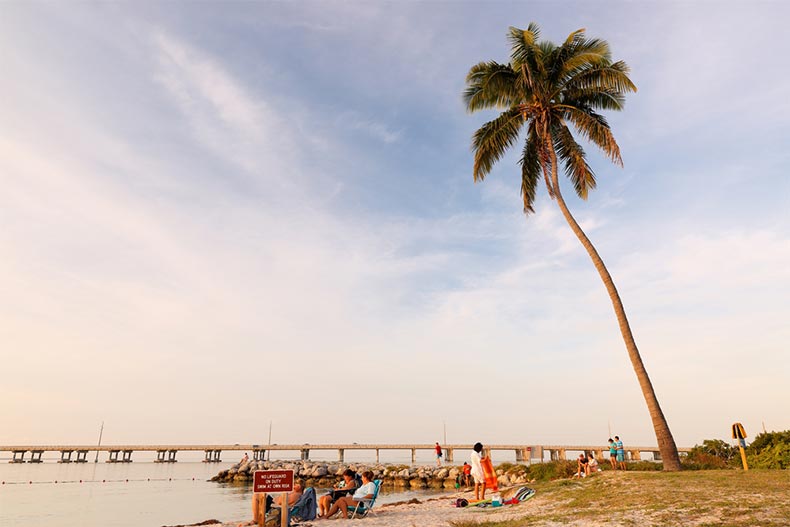 When beauty is more important than activity, head to the Lower Keys.
Big Pine Key is not going to have the party atmosphere of Key West, and you won't find any huge sailing charters to join like you would in Key Largo, but you will enjoy the Florida Keys at their more natural and beautiful state. You'll see manatees, dolphins, exotic birds, and even the Key deer, a small, white-tailed deer that's only found in the Keys. Visit the National Key Deer Refuge, where you'll explore this spotted creature's habitat and see other things like roseate spoonbills, hawks, and falcons.
You may think you've seen beautiful beaches in Florida, but there's nothing quite like the beaches at Bahia Honda State Park. The views are as glorious as the seabreezes, and it's an excellent place to rent a kayak, walk on the beach, splash through tidal lagoons, or snorkel just below the surf. The lack of light pollution in this part of the Keys makes for some great stargazing, so consider camping on the beach or staying past dark.
Which Florida Key is Most Affordable?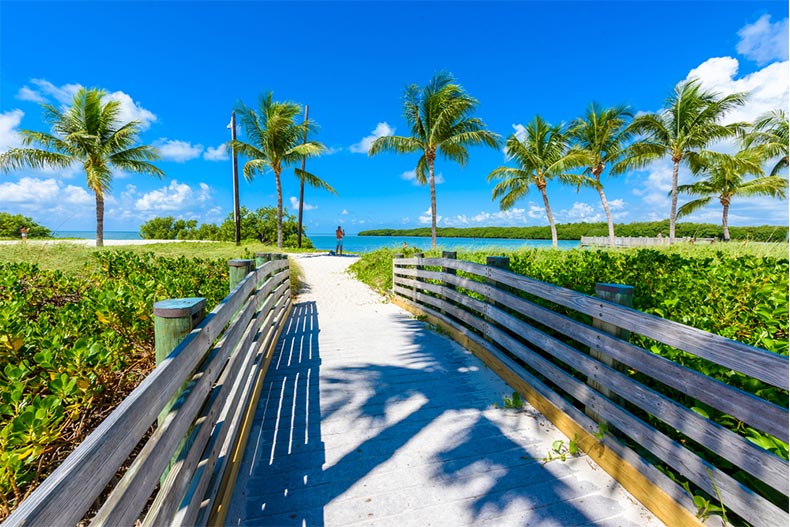 Trying to visit the Florida Keys on a budget might be a bit intimidating. But, there are ways to make the vacation manageable, especially if you take a few planning precautions and pick the right places to settle in. Here are some tips and tricks:
Visit in the low season. Typically, this is June through November.

Consider camping. Rent a campsite on a beach for a few nights and avoid pricey hotels.

Look for street food. Grabbing a taco from a truck or a Cuban sandwich from a streetside shop is just as satisfying and a lot cheaper than sitting down for a big meal in a restaurant.
The most affordable of the Florida Keys is generally Marathon Key, when you factor in average hotel, food, and entertainment costs. Its lower price tag is also due to its family-friendly environment.
Key West will also have specials and offers throughout the year. Retirees can often find discounts, and Florida residents are usually rewarded at restaurants, museums, and shops as well. The Key West Butterfly & Nature Conservancy, Harry Truman Little White House, and the Old Town Trolley Tours in Key West both offer big 55+ discounts.