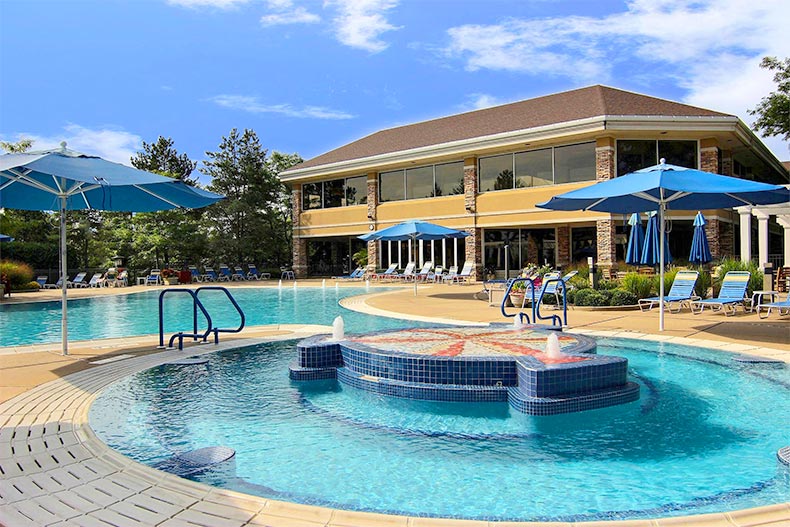 Houston is one of the best places to retire in Texas. Sprawling 665 square miles, Space City boasts an affordable cost of living, plentiful housing options, and a never-ending array of recreation opportunities. Houston is also the most diverse city in the country, according to WalletHub, beating out New York and Los Angeles. More than 140 languages are spoken in Houston, with Spanish and Vietnamese among the most common.
Retirees looking for homes for sale in Texas will find that this vibrant city has much to offer. Whether you're thinking of moving to Houston to live near family or you simply want a change of pace, active adults can explore multiple active lifestyle communities in H-town.
Read on for five reasons to retire in Houston.
1. Plenty of Greenspace
Although it's the largest city in Texas, Houston isn't a concrete jungle—it's home to abundant greenspaces. Bayou City contains more than 50,000 acres of park space within the city limits, and it has undergone a greenspace transformation in recent years.
Houston has added new parks, cleaned up existing parks, and installed nature and biking trails throughout the city, giving retirees plentiful options for outdoor recreation and exercise. The Houston Parks and Recreation Department oversees 366 parks and more than 200 greenspaces, in addition to more than 125 miles of hiking and biking trails.
2. A Low Cost of Living
Compared to similar metro areas, Houston offers better affordability for residents. Here, retirees can expect a median home sale price that's lower than several other cities around the country. While the national average for housing costs hovered around $227,000 in 2018, Houstonians experienced a lower average of around $223,000, according to U.S. News & World Report. Houston also offers an overall cost of living that's lower than the national average, making the city even more appealing to retirees.
Houston is home to several 55+ communities. At The Village at Tuscan Lakes in League City, retirees can enjoy the nearby Kemah Boardwalk and waterfront or spend the day on Galveston Island, which is just 30 minutes away. This 55+ community offers homes for sale that range in size from 1,109 to 2,581 square feet.
A little closer to Downtown Houston, Heritage Towne Lake in Cypress offers single-family homes for sale that range in size from 1,553 to 3,372 square feet. Homeowners in this active adult community can enjoy a resort-like atmosphere that centers around fishing and boating.
3. A Robust Restaurant Scene
Whether retirees consider themselves foodies or they simply enjoy a good meal, living in Houston allows them to dig into an exciting culinary scene. Houston is home to more than 11,000 restaurants that span the spectrum from traditional Southern fare to fine dining. Retirees can savor a variety of international cuisine to suit any palate, whether they enjoy Ethiopian dishes or Indian street food.
Active adults can't go wrong ordering a dish at one of the city's many award-winning restaurants, such as Brennan's of Houston, which Food & Wine ranked as one of the 40 Most Important Restaurants in America, or Goode Co. BBQ, which was named one of America's best barbecue joints by National Geographic Traveler.
4. No State Income Tax
Retirees who settle in Houston can enjoy stretching their retirement dollars further than many other major metro areas. Texas doesn't impose a state income tax, and it never will since the state constitution forbids it. This means that Social Security retirement benefits and all other types of retirement income are tax-free.
Texas joins six other states—Alaska, Florida, Nevada, South Dakota, Washington, and Wyoming—that don't collect income tax.
5. World-Class Healthcare
Living in Houston gives retirees peace of mind because they have easy access to some of the world's top doctors and specialists. Houston is home to the world's largest medical complex and employs more than 360,000 health care workers.
Retirees can also take comfort knowing that no matter where they live in the city, they're always close to a medical facility. The Houston area contains 85 hospitals with more than 19,300 beds. Houston Methodist Hospital, the city's No. 1 hospital, is a general medical and surgical facility that's nationally ranked in nine adult specialties and high-performing in nine procedures and conditions.