Fast-paced city life often draws people in with things like ample employment opportunities and vibrant social scenes with no shortage of entertainment options. However, those same attributes that tend to attract residents during their younger years no longer have the same appeal for active adults.
Usually, the desire to live in a more peaceful setting starts to beckon people out of the city as they age. Plus, there are several advantages that come with living in less urban areas, including more affordable homes, less traffic, and typically a slower pace of life that allows residents to stop and smell the roses, instead of the car fumes.
These days, plenty of active adults who are moving out of the city are choosing to move into a 55+ community. If you're considering a move out of the city, but you aren't sure how to begin the transition, we've listed some things to consider before making your move as well as some popular active adult communities that are located outside of larger cities.
Location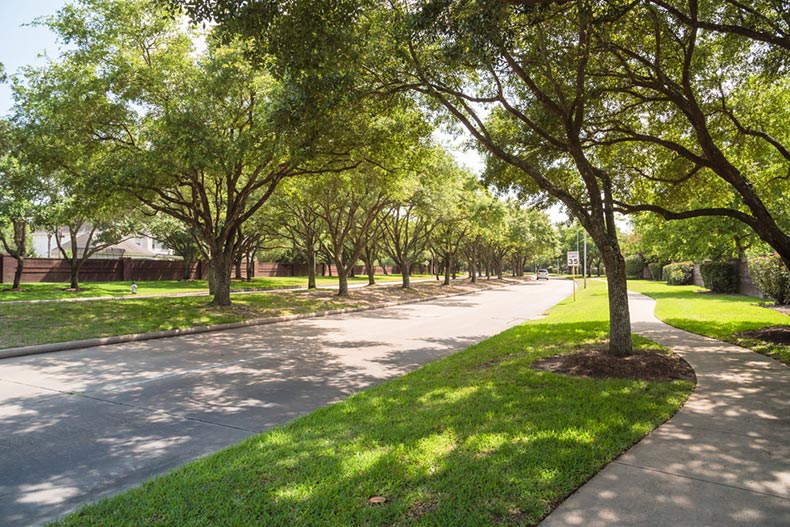 Moving out of the city is a big decision that comes with many changes. There are a lot of differences between urban and suburban living, and after living in a city for any amount of time, it can be a big transition to move to the burbs or a smaller town a little further from the city.
Choosing where you want to move to is probably the biggest decision you're going to make once you've decided to leave the city—and it should be the first one you focus on as it will impact the rest of the process. Think about whether or not you want to live in a suburb just outside of that city or if you would rather retreat further away to a smaller town and enjoy a change of pace.
Once you've settled on an area that you think you'd like to live in, take the time to really dig in and research what the town and surrounding community offer. Does the potential location fit your needs and provide everything for you to live the lifestyle you want? Think about things like how convenient it is to get daily necessities like groceries and medicine or if there are nearby healthcare facilities and doctors' offices. If you like spending a lot of time outdoors, pay attention to the number of parks and greenspaces that are close by. You'll also want to spend some time in the town to get a true feel for the area and make sure it feels like the right place.
Community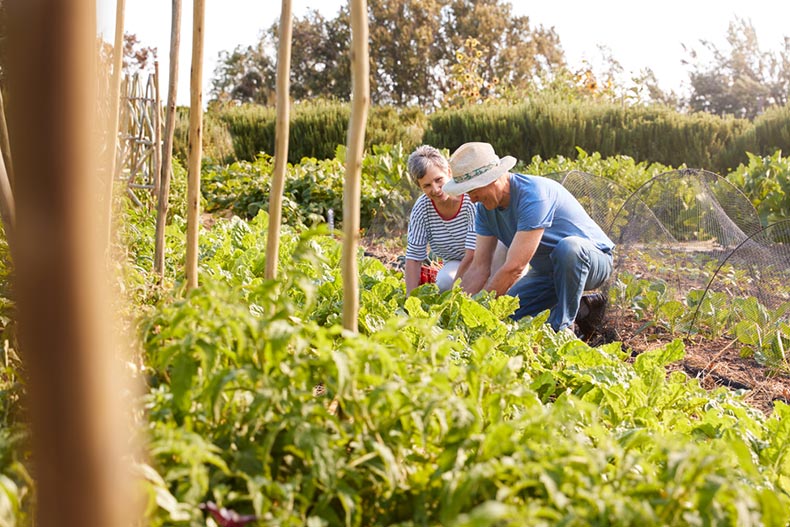 Once you've decided on the location where you want to settle down, it's time to start honing in on the kind of 55+ community you want to move into. Finding the right neighborhood to suit your needs is just as important as the location.
Think about whether you'd rather live in a large community with lots of neighbors or a smaller, tight-knit, community with lots of land. You'll also want to consider the type of home you want to purchase. There's a wide variety of 55+ communities with options that range from high-rise condo buildings to single-family homes with ample acreage.
Additionally, you'll want to determine what kind of amenities are most important to you when moving into a 55+ community. Do you picture yourself enjoying retirement in a golf course community where you can spend the day on the links? Or does a community with lake access that's big on boating make more sense for your lifestyle? If working out and staying fit is a large part of your life, pay attention to what fitness offerings each community has. Some may offer state-of-the-art fitness centers while others may have more outdoor offerings like athletic courts, lap pools, and walking and biking trails.
Popular Active Adult Communities Outside Large Cities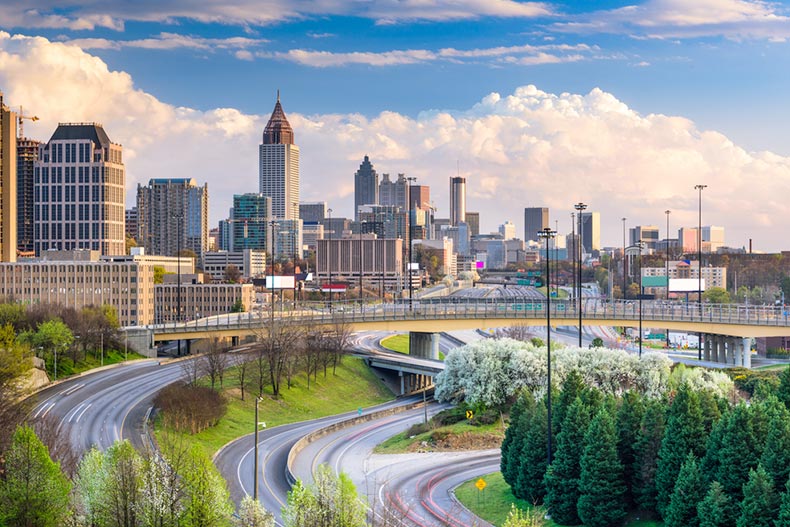 Mid $200s – High $200s
Consider The Orchards at Sweetapple for a low-maintenance lifestyle outside of Atlanta. The small 92-home neighborhood is age-restricted and ideal for active adults who want to live in a tight-knit community that's within an hour's drive of Atlanta.
Homes are available on a resale-only basis and are all single-story, attached residences. There are two floor plans that range from 1,550 to 1,750 square feet with two to three bedrooms, two bathrooms, and an attached two-car garage. Amenities include a clubhouse with an exercise room, a sitting area, a meeting room, and a catering kitchen. Outdoors, residents will find a pool and patio as well as a community garden.
Request more information about The Orchards at Sweetapple here.
Low $200s – Mid $300s
Situated 35 miles south of Atlanta, Sun City Peachtree is a large, gated 55+ community that features more than 3,380 single-family homes and spans 1,700 acres. The expansive neighborhood offers prospective buyers new and resale homes with around two dozen floor plans to choose from. Plans range from 1,103 to 2,637 square feet with one and four bedrooms, one-and-a-half to three bathrooms, and attached two- or three-car garages.
Sun City Peachtree's amenities range from an 18-hole golf course and a 45,000-square-foot clubhouse to an on-site restaurant and a 146-seat theater.
Request more information about Sun City Peachtree here.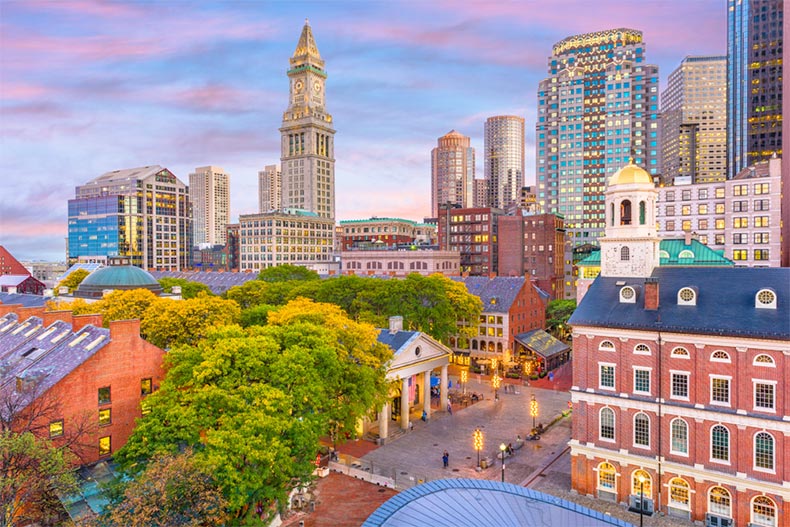 High $300s – High $600s
Plymouth's Great Island community features 600 single-family and attached homes. It's age-restricted and part of the master-planned Del Webb community, The Pinehills in Plymouth. This community offers resale homes in five distinct floor plans that range from 1,587 to 2,470 square feet with two to three bedrooms, two to three-and-a-half bathrooms, a den, and a two-car garage.
Great Island residents have access to several amenities, which include two clubhouses, a fitness center, an indoor pool and spa, and game rooms. Outdoor amenities range from bocce ball and tennis courts to a 77-acre pond and trails that wind throughout the property. Along with its amenities, the 55+ community has an on-site activities director who's dedicated to planning and organizing community social events.
Request more information about Great Island here.
Mid $400s – Mid $600s
Only 30 minutes north of Boston, Regency at Methuen is a gated and age-restricted community that features 240 resale single-family and attached homes. There are more than a dozen floor plans for prospective buyers to consider with options varying from 1,522 to 2,590 square feet. Homes have two to three bedrooms, two to three bathrooms, and two-car garages. Some plans also include a den area.
Within the community, residents have access to a number of amenities, including a clubhouse, a fitness room, an aerobics and dance studio, and a hobby and game room. Outside, residents can enjoy a pool and patio area, a tennis court, two bocce ball courts, and walking and biking trails.
Request more information about Regency at Methuen here.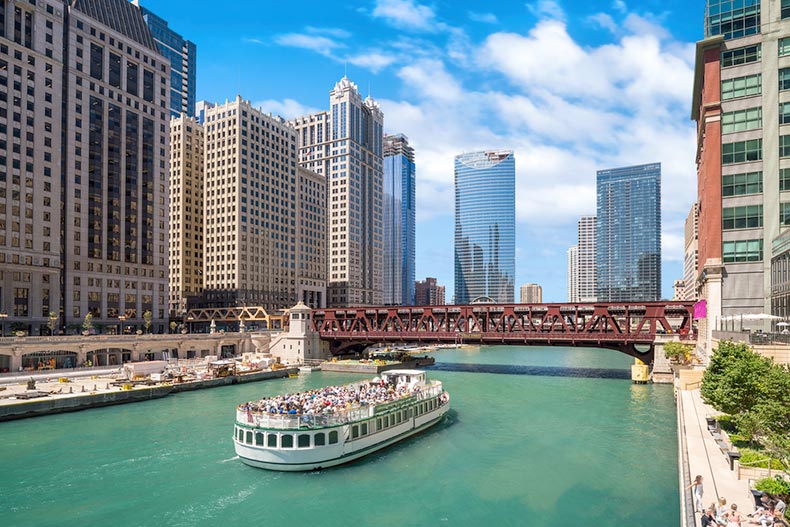 Low $200s – Mid $400s
Edgewater by Del Webb is ideal for active adults who are looking to trade in the city for suburban life. Located in Chicago's northwest suburbs, Edgewater boasts just over a thousand single-family homes. The gated, age-restricted neighborhood spans a total of 440 acres, providing residents with a much more peaceful setting than downtown Chicago.
Buyers interested in the community have more than 20 floor plans to choose between. Residences range from 1,190 to 2,833 with two to four bedrooms, one-and-a-half to three bathrooms, and two- or three-car garages. Along with its many floor plans, the large development has a wide variety of resort-style amenities that range from a 23,000-square-foot lodge and fitness center to several pools and athletic courts.