Retirement generally means living on a budget, but there are places to live where that's easy. The state of Pennsylvania is becoming a talked-about option for this population, because of its affordability, more relaxed pace of life, excellent healthcare, and moderate weather.
Pennsylvania is also known as being tax-friendly for retirees. It is one of the only two states in the country that does not tax retirement income. Public and private pension income is 100 percent tax-exempt; IRAs, 401(k) accounts, and Social Security checks are also tax-free here. The state also boasts a flat tax rate of 3.07 percent, which is the lowest in the U.S.
But that's not all, the state sales tax is 6 percent (also one of the lowest rates in the nation). Food, clothing, and all non-prescription and prescription drugs are also tax-exempt.
55places.com lists 167 age-restricted and active lifestyle communities in Pennsylvania, and it is not surprising that the prices drop the further you get from large cities like Philadelphia. When looking for homes for sale in Pennsylvania, it can make financial sense to spread your wings and look at some of the more budget-friendly areas.
Here is the lowdown on some friendly, smaller cities that are garnering attention for their affordability and livability.
Sharon
Sharon is a welcoming city in Mercer County, about 75 miles west of Pittsburgh on the Ohio state border. It's also home to Penn State's Shango campus. Its two main medical providers are The Primary Health Network and Sharon Regional Health System.
Sharon's downtown area is full of local boutiques, restaurants, and art galleries. They also sponsor live performances, cultural events, and the yearly Waterfire festival. Its main recreation facility, Buhl Park, has a free golf course, an outdoor pool, a dog park, tennis, and kayaking.
Greenville
Also in Mercer County, Greenville is 80 miles west of Pittsburgh and smaller in both square miles and population size. Like Sharon, it is also within driving distance of Cleveland and Erie, Ohio. Greenville has a picturesque location on the Shenango River, where locals head for boating and family fun.
This community is big on small-town atmosphere, with its own community theater, the Greenville Symphony Orchestra, three museums, and locally-owned restaurants and stores. It is also home to Thiel College and a bustling weekly farmers market from May through October.
Mercer County holds many other adventures for 55+ adults, like a wine trail and breweries, outdoor excursions at Hell's Hollow Adventure Trail, farms, zoos, and beautiful Pymatuning State Park. Natural beauty certainly abounds in both Sharon and Greenville, but you can rest assured that all the shops, stores, and services you need are right in these towns.
Johnstown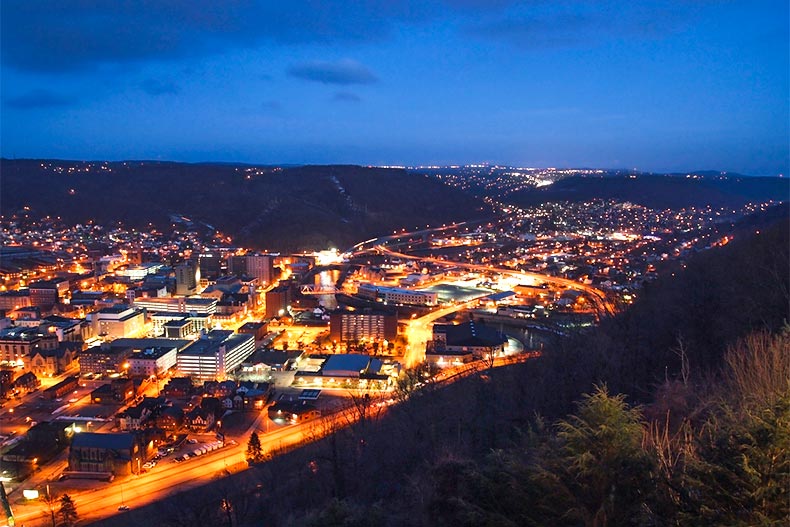 Johnstown is about 67 miles east of Pittsburgh in Cambria County. It's nestled in the scenic Laurel Mountains and is known for its enviable quality of life and strong sense of community. Its main hospital is Conemaugh Health System and there's also an active public library and community arts center.
Johnstown is known as being the site of the 1889 Johnstown Flood, and it has a museum and national memorial commemorating the event. On a happier note, Johnstown also has its own symphony orchestra, a lively senior center, and the University of Pittsburgh at Johnstown campus.
Outdoor activities are big here, as Johnstown is a stop along the Pittsburgh-to-Harrisburg Main Line Canal Greenway. This region is also dotted with state parks and forests, and lakes and rivers for whitewater rafting, fishing, kayaking, and tubing.
Duquesne
Duquesne (doo-kane) is perfect for 55+ homebuyers that want affordability near a large city, as it is 10 miles from Pittsburgh in Allegheny County. It is bordered by the Monongahela River, which is one of the three rivers that converge at Pittsburgh's renowned Golden Triangle. Although driving into the city is easy, there is a wide range of shops, services, libraries, and churches right in Duquesne.
Allegheny County has two public golf courses, each with 18-holes (adult admission Monday through Thursday is just $17). Other area landmarks include lovely Angora Gardens. Plus, it has several low-maintenance communities nearby.
Allentown
The largest city in this list, Allentown is in Lehigh County in Eastern Pennsylvania. It was a major contender in the early days of this country's railroad system and has received an influx of over $1 billion in new development these past years.
Its infrastructure is highlighted by the PPL Center sports arena, the Civic Theater of Allentown, and Miller Symphony Hall. There are also historic buildings and homes interspersed within the many different districts of this city. Local restaurants, a theater district, and an Arts Walk are just a few of the many local attractions here. Allentown also has a farmers market, Dorney Park, the America on Wheels Museum, and over 25 county parks.
The region is served by Lehigh Valley Hospitals and Coordinate Health Hospital. Being a larger city, it has an airport and nearby amenities like the Lehigh Valley Mall, dozens of shopping centers, and several golf courses. There are over 20 communities that appeal to active adults here, too.