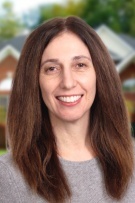 Ann Morris
Gloria Nilson Realtors & Co. Real Estate
Lic. #0337985 (NJ)
As a Seniors Real Estate Specialist, Ann has been a full-time Sales Associate with Gloria Nilson & Co. Real Estate for over 15 years. In addition to her outstanding real estate qualifications, Ann is also a licensed social worker and finds that her knowledge from each field makes her more passionate about helping her clients find the perfect home.
...Read More
My wife and I were so fortunate to have had Ann as our realtor during the daunting task of choosing, purchasing and closing on a home in a fifty five and over community.
...Read More
August 17th, 2018
I was very fortunate to have Ann as my agent as she made this process as easy and comfortable as possible.
...Read More
March 21st, 2018
I'm writing to express my thoughts about our real estate agent - Ann Morris. She helped us in the buying process of our condo in Shadow Lake, Red Bank, NJ.
...Read More
January 20th, 2018
Showing 1 - 3 of 10 reviews