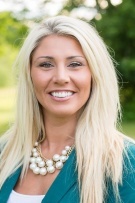 Kellie Kieley Realty
Lic. #10401290537 (NY)
Contact Me
Brittney has lived in the capital region for her entire life. She knows the neighborhoods inside-out and can help you select the best home for your family's needs. She can put her insider knowledge to work to find a special property in your neighborhood of choice.

Brittney graduated from SUNY Oswego with a degree in Psychology and a minor in Criminal Justice, where she pursued a career as a caseworker with Child Protective Services. A position requiring perseverance and communication skills as she worked with a diverse customer base. Today, as a real estate professional, she brings those same skills and talents to serve her clients.

Why choose Brittney as your real estate agent? For one thing, she really listens to you and will work tirelessly on your behalf. She looks forward to developing a long-term relationship and achieving success for each and every client. A focused listener and a fair advocate, Brittney is known for her intuition and diligence while employing encouragement and genuine concern as she creates a positive experience for both sides in any property transaction. Her business approach is direct and successful: she
listens to the client's needs and matches them to the right property, then assures an honest and efficient transaction.

Brittney Beliveau is reliable, easy-going, motivated, and ambitus. She takes pride in the work that she does. Buying or selling a home is one of the largest decisions a person will make in their lifetime, and Brittney would love to be apart of it. She listens to her client's needs and matches them to the right property. Her goal is to help guide her clients through the process of buying and selling, and to make every effort to make the process as stress-free as possible! Brittney will work tirelessly on your behalf from start to finish!