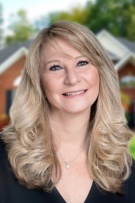 Goldilocks Real Estate
Lic. #10401304988 (NY)
Contact Me
After many years of working in the financial industry, Holly discovered her passion is helping people find the home of their dreams. She prides herself in providing excellent service to her customers from their first conversation to beyond the closing, because a relationship built from selling a home is merely the beginning of a life long friendship.

Holly is extremely compassionate and knowledgeable and is there for and with the customer every step of the way, like they are her one and only, focusing on their individual needs and desires. Her resources to assist with every step in the process include but are not limited to home inspectors, attorneys, title professionals and mortgage brokers is invaluable. She will go above and beyond in marketing your current home to get you the right buyer and price for your home thus completing the cycle and moving forward.

Holly is a native Long Islander and is ready to work with you in reaching your ultimate goal in finding that dream home. Let her help you close one chapter and open another.