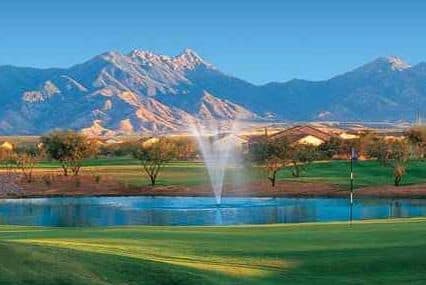 Quail Creek, set in Green Valley, Arizona, is a gated active adult community built by Robson Communities. This resort-style golf community offers something to meet the interests of many different active adults. Potential residents can explore the community for themselves by scheduling a Quail Creek Preferred Guest Getaway.
The Quail Creek Preferred Guest Getaway
The Quail Creek Preferred Guest Getaway is a vacation package that includes lodging and plenty of recreations. Active adults can choose from a three-day, two-night getaway and a four-day, three-night getaway. One day guest visits are also available for anyone who wants to tour Quail Creek, but a guest getaway provides a more complete and immersive experience to help homebuyers decide if Quail Creek is right for them.
When taking advantage of this offer, preferred guests stay in one of the community's own fully furnished luxury homes. Guests are also given a golf cart and two bicycles for exploring the community. During a Preferred Guest Getaway, guests experience a full community overview. Recreation opportunities during the visit include access to Quail Creek's clubhouse and many on-site amenities, as well as 18 holes of golf at the community's championship course. This program also includes a complimentary dinner at the community's restaurant, which is hosted by some of Quail Creek's friendly resident homeowners.
Quail Creek Amenities
If you choose to arrange a Quail Creek Preferred Guest Getaway, there are many amenities that you will be able to try out for yourself. The Madera Clubhouse is a beautifully appointed spacious recreation center that is the central hub for the community's social activities. The clubhouse includes multipurpose hobby and game rooms, a lounge and a library, a grand ballroom with a stage, a catering kitchen, and a bar. The Creative Arts and Technology Center supports a variety of creative interests. Here, residents can pursue activities such as ceramics, arts and crafts, silversmithing, lapidary, sewing, and woodworking. There is also a computer center which is ideal for technologically minded residents.
The Quail Creek Sports and Aquatics Complex offers additional amenities. The state-of-the-art fitness center features both cardiovascular and strength training equipment. Outdoors, there is a lap pool, a whirlpool, and a resort-style swimming pool. There are also lighted tennis courts and bocce ball courts. Quail Creek's grounds also include a softball field, fishing lakes, RV storage, and a dog park.
For golf enthusiasts, the 27 holes at the Quail Creek Golf Club are one of the community's most exciting features. Golfers will love the challenging play, just as they enjoy its majestic mountain views and beautiful Sonoran desert setting. Behind the ninth hole, members will find a fully stocked golf pro shop. This is also the location of the casually elegant Grill at Quail Creek and Oasis Bar & Lounge.
With all of its indoor and outdoor amenities, it's easy to see why Quail Creek is popular with active adults. But instead of just reading about this fabulous community, the Quail Creek Preferred Guest Getaway gives you a chance to experience the lifestyle for yourself.
Click here for more information on Quail Creek.