With breathtaking beaches, a consistently warm climate, and affordable living, Florida remains the top retirement state in the U.S. year after year. Naturally, there are hundreds of 55+ communities to choose from in the state. If you're looking to narrow down the options, you might be interested in taking a look at our 2020 list of Florida's best 55+ communities.
We looked at the best-selling, most popular, and highest-rated communities in Florida to put together this comprehensive list. We scoured data, looking at home prices and value, the number and quality of amenities offered, long-term residents' happiness, location, the quality of lifestyle, and the variety of home styles offered.
Take a look below to discover more about these 10 noteworthy 55+ communities.
Below $100k – Low $400s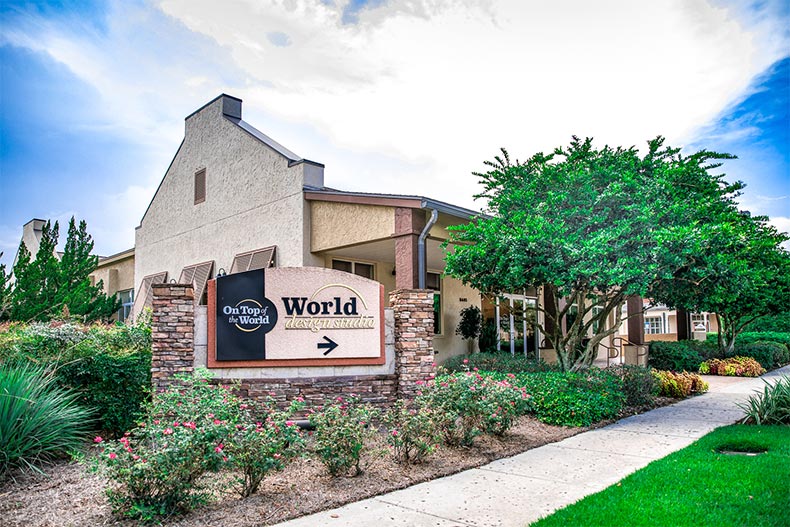 At the top spot on our list, On Top of the World continues to delight residents with its affordable home prices, great location, and vast assortment of amenities. This 55+ community was awarded the number one spot in our 2019 Community of the Year award, and it has earned the top spot in many other "best of" lists.
This gated, 55+ community offers both new and resale homes, with a total of 10,000 attached and single-family homes divided into two distinct communities. As one of the largest 55+ communities in the state, On Top of the World offers a staggering variety of amenities. Some of the standout amenities at this sprawling community include three golf courses, multiple swimming pools and clubhouses, two on-site restaurants, and even an R/C airplane field and an R/C car track. Nearby, plenty of greenspace and parks offer outdoor recreation and natural beauty, and Downtown Ocala offers wonderful shopping and restaurants.
Request more information about On Top of the World here.
Mid $100s – High $1Ms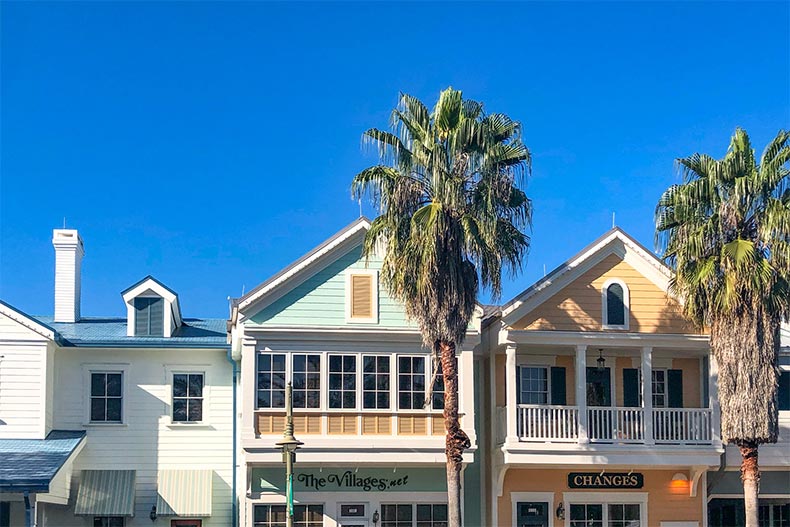 Another sprawling 55+ community, The Villages makes our number two spot because of its number of amenities, assortment of home styles, and available price points. With 70,000 attached, manufactured, and single-family homes to choose from, this established community caters to a variety of needs and budgets.
What sets this 55+ community apart is that it's an entirely self-sustaining town, spanning three counties, three zip codes, and over 20,000 acres. The community offers residents access to everyday conveniences and plenty of recreation and entertainment, including on-site retail shops, restaurants and cafes, banks, movie theatres, post offices, and health care centers. There are also 100 miles of golf cart legal streets and trails weaving throughout the property.
Request more information about The Villages here.
Mid $100s – Mid $500s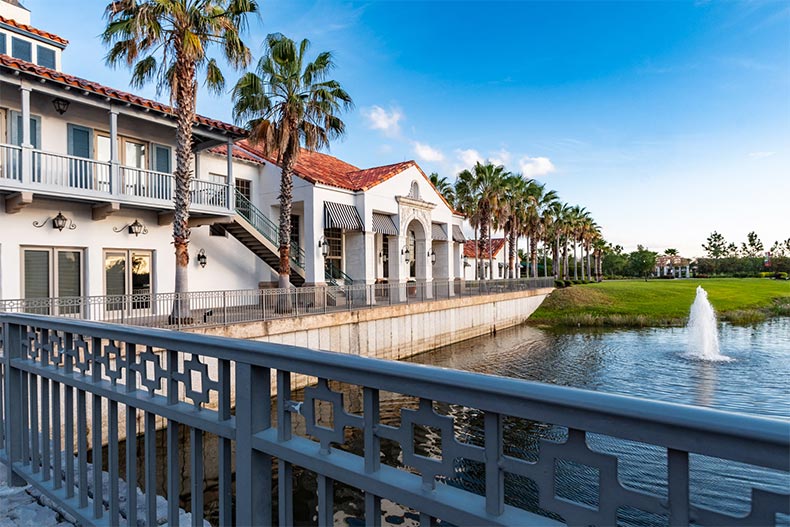 Setting itself apart from the larger communities on this list, Solivita earns the number 3 spot thanks to its modest size, intimate feel, affordable homes, and beautifully maintained common areas including beautiful greenspaces, lakes, and waterways.
Located in charming Kissimmee, Florida, this award-winning, gated community is comprised of 5,900 attached and single-family homes from the year 2000 or newer. There are over 20 home collections to choose from and over 150,000 square feet of amenities for residents to enjoy. Highlights of these stunning amenities include a 19,000-square-foot clubhouse, a 32,000-square-foot Riviera Spa & Fitness Center, and the semi-private Stonegate Golf Club.
Request more information about Solivita here.
Low $200s – Low $500s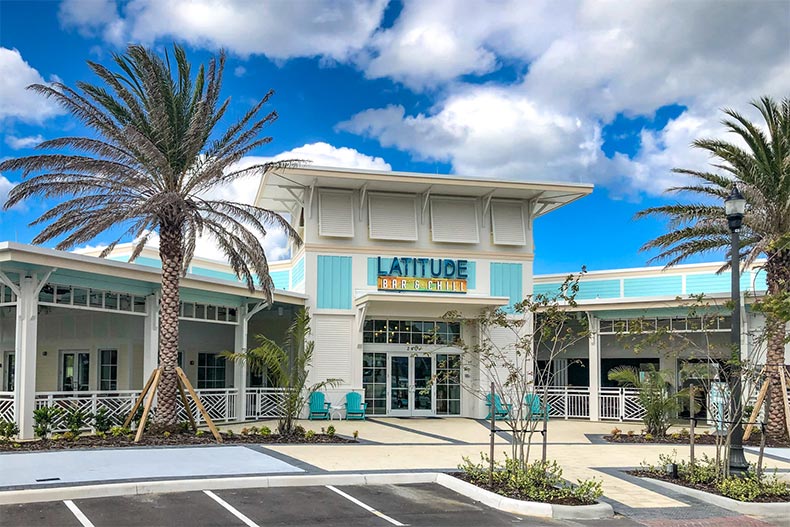 With a fun-loving and social atmosphere, Latitude Margaritaville comes in at number four for its laid-back lifestyle, world-class amenities, and beautiful beach location. Designed by renowned developer Minto and inspired by legendary musician Jimmy Buffett, this gated 55+ community was built in the heart of Daytona Beach, near shopping centers, museums, and plenty of dining options.
This mid-sized community has 3,092 attached and single-family homes, all encircling a lively Town Square where residents enjoy the state-of-the-art Fins Up! Fitness Center, the Latitude Bar & Chill Restaurant, the Last Mango Theater, and plenty of other well-appointed amenities. The outdoor pool is another popular hangout, with its beach entry, tiki hut lounge, and poolside bar.
Request more information about Latitude Margaritaville here.
Mid $100s – High $500s
Coming in at number five, Pelican Preserve is a haven for nature lovers who relish tropical flora and botanical beauty. This master-planned, gated community boasts a 38-acre nature preserve including a butterfly garden, a garden area, and a fishing pier. Golfers at Pelican Preserve love the 27-hole championship golf course and its 24,485-square-foot clubhouse.
With just 2,500 attached, condo-style, and single-family homes, Pelican Preserve maintains an intimate feel while still offering a variety of home styles, prices, and amenity choices. Nearby Fort Myers and Fort Myers Beach offer even more entertainment and recreation opportunities.
Request more information about Pelican Preserve here.
Mid $200s – Low $600s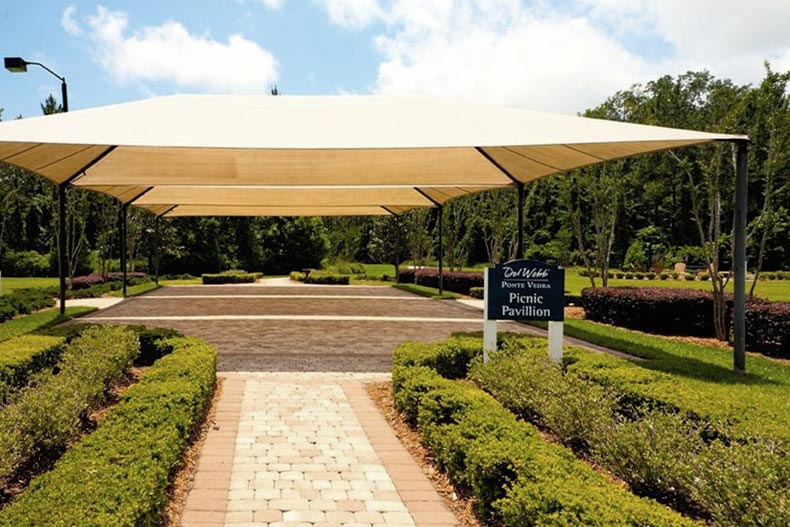 Well-loved for its attention to detail and proximity to the sea, the luxurious community of Del Webb Ponte Vedra falls at number six on our list. As part of the master-planned community of Nocatee, this gated 55+ community offers newer-build attached, condo-style, and single-family homes. There are only 1,988 homes total, so the community maintains a friendly neighborhood vibe.
Along with that friendly atmosphere, Del Webb Ponte Vedra offers residents a 38,000-square-foot clubhouse and an impressive outdoor area that spans 15 acres and includes a resort-style pool. A six-mile nature trail gets good use from sun-loving residents as well. Nearby, the sandy beach beckons homeowners to take leisurely sunset strolls.
Request more information about Del Webb Ponte Vedra here.
Low $100s – Mid $500s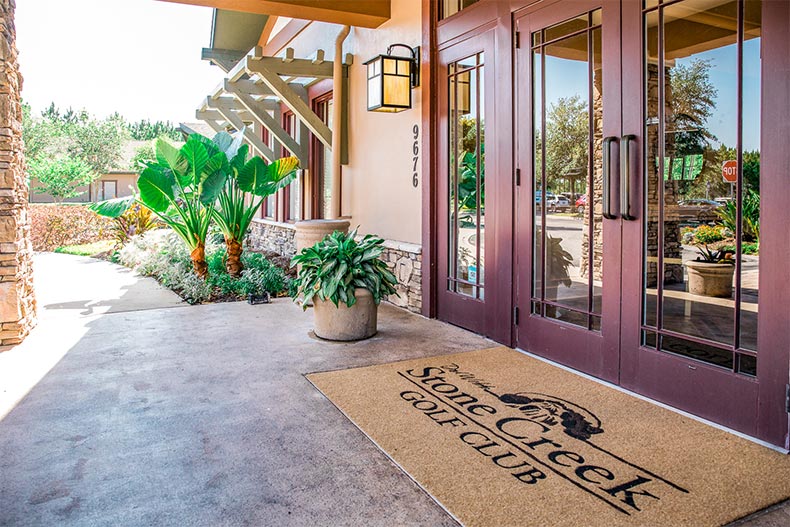 At a respectable number seven on our list, Stone Creek offers a serene, friendly vibe. With a smaller number of homes than many nearby "mega resorts" and with peaceful elements such as oak trees, horse farms, rolling hills, and pristine lakes, Stone Creek is a haven to call home.
There are 3,800 attached and single-family homes in this gated community, built from 2006 to the present. These modern homes are built around world-class amenities such as a catch & release fishing lake, outdoor and indoor pools, and a 60,000-square-foot social and recreational complex. The scenic ponds, lakes, miles of paved walking and biking paths, and acres of natural greenspace add to the bucolic ambiance. Residents also have the option to play golf at the nearby public Stone Creek Golf Club.
Request more information about Stone Creek here.
Below $100k – Low $300s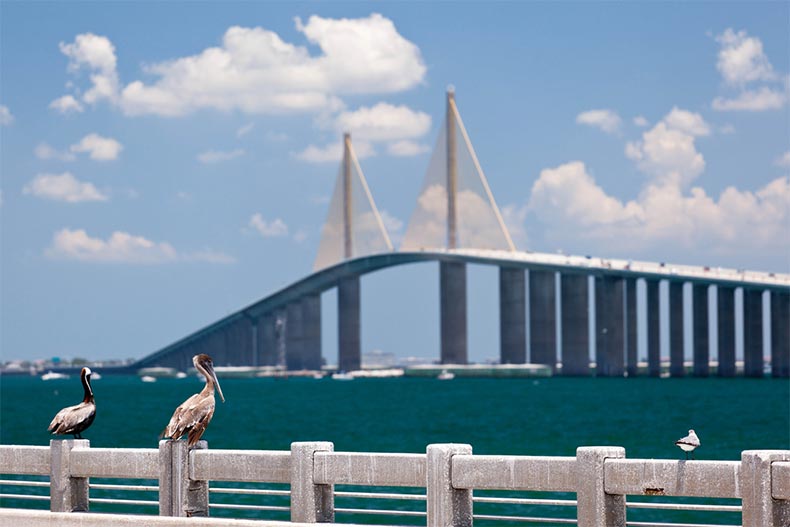 Known for its value and prime location near plenty of amenities, entertainment, and everyday necessities, Kings Point is number eight on our list. In fact, this gated 55+ community allows convenient golf cart access to all of the retail and dining establishments in Sun City Center.
This established community is comprised of 5,277 attached and single-family homes, ranging from 800-square-foot condos to 2,00-square-foot homes. The amenities allow for plenty of choices, offering a 90,000-square-foot clubhouse with both an indoor and outdoor pool and spa, a floating fishing dock, and more. There's also an internal and external tram service as well as an event bus to ferry residents anywhere they need to go.
Request more information about Kings Point here.
Below $100k – Mid $200s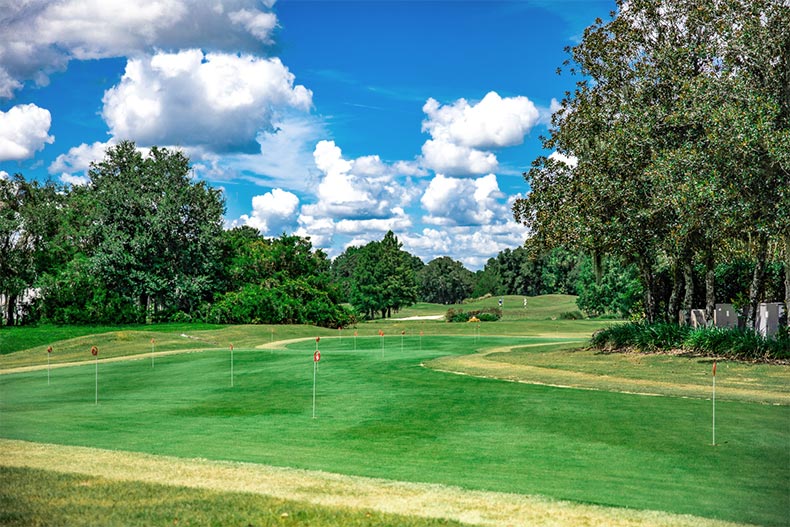 At number nine, Oak Run is well-loved for its affordable home prices and sociable environment. This lively community boasts over 100 clubs and interest groups as well as a diverse lineup of amenities that include multiple pools and spas, a fitness room, a ballroom, and outdoor game courts. Residents can also join the nearby Royal Oaks Golf Club for plenty of quality green time.
There are 3,509 attached and single-family homes in nearly 100 floor plans ranging from approximately 1000 square feet to over 2,200 square feet. These homes offer two or three bedrooms, two bathrooms, and attached one- or two-car garages. Many boast golf course views as well as upgraded fixtures.
Request more information about Oak Run here.
Below $100k – Mid $500s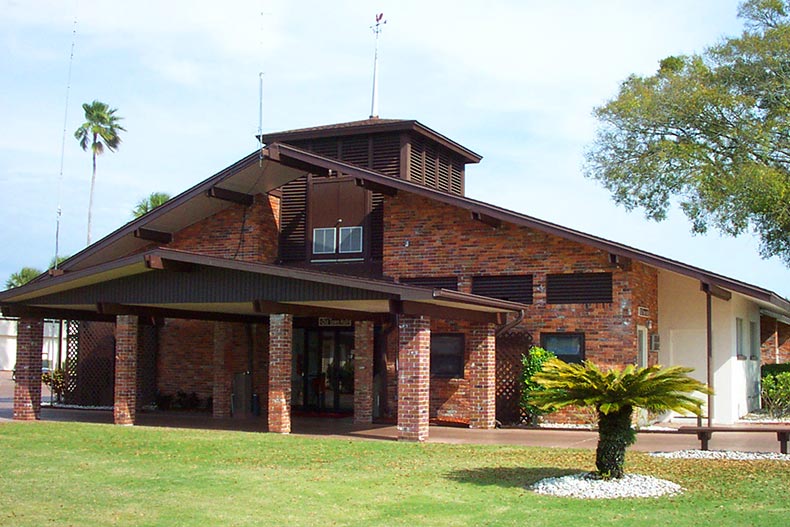 Rounding out the number ten spot on our list of Florida's Best 55+ Communities of 2020 is the sprawling Sun City Center, with over 11,000 residents and 9,500 attached and single-family homes. This master-planned community is a self-sustained village with every necessity right on the premises, including retail shops, grocery stores, worship centers, restaurants, entertainment venues, and even a hospital. Here, the streets are golf-cart permissible, so residents can conveniently zip around on their carts whenever they please.
Located 25 miles south of Tampa in an unincorporated part of Hillsborough County, Sun City Center is well-loved by its residents for its affordability, wide range of amenities, and social atmosphere. There are almost 200 active clubs and interest groups in this active adult community. With too many amenities to list, some of the more noteworthy include two dog parks, a floating fishing dock, a wine cabinet for club members, and a "Mind and Body Studio."