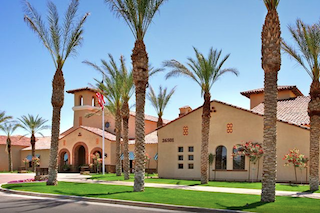 At the base of Arizona's White Tank Mountains, Sun City Festival provides a desert retreat for active adults aged 45 and better. This spectacular community is set in a tranquil location where residents can escape the everyday hustle and bustle, yet its amenities support a diverse range of interests. Residents can enjoy a game of golf, pursue a favorite craft, take a Lifelong Learning class or simply socialize with friendly neighbors.
Active adults who want to live in a peaceful, rural setting will love Sun City Festival's location in Buckeye, Arizona. The community is set some distance from shopping and cultural attractions, yet it makes up for the distance with scenic charm. Perched 1,600 feet above the valley, Sun City Festival enjoys cleaner air, cooler summers and less traffic than other Phoenix area developments. Sun City Festival is being developed by Del Webb to incorporate the builder's decades of experience with active adult communities.
Opened in 2006, the community has plans for 7,200 single-family homes in a range of sizes, styles and prices. These homes are designed with upscale elements and desirable upgrades, including over 20 energy saving features. Today's homebuyers can choose from available resale homes and new construction homes from seven distinct collections: Holiday, Cottage, Classic, Premier, Estates, Encore and Retreat. Homes throughout the community are designed with Spanish, European, Ranch or Tuscany inspired exteriors. Their floor plans range from about 1,100 to over 2,800 square feet, with sizes and layouts which appeal to many different active adults.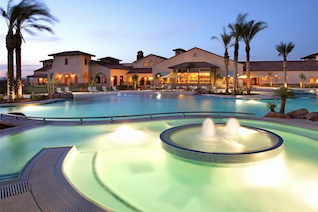 Social and recreational activities at Sun City Festival are centered around the 31,000 square-foot Sage Center for Wellness and Higher Learning. In this beautifully appointed facility, residents will find plenty of space to pursue hobbies, enjoy a game of billiards or cards, or simply socialize with friendly neighbors. Arts and crafts studios support several creative pastimes, such as ceramics, sewing, woodworking and general craft projects. When it comes to staying healthy, the Sage Center exercises both mind and body.
The on-site Arizona State University Lifelong Learning Academy opens the door to limitless learning possibilities. Residents can participate in numerous classes and lecture programs on a wide range of subjects. Meanwhile, the Sage Center's state-of-the-art fitness center keeps residents physically fit with cardiovascular and strength-training equipment, an aerobics and dance studio, and a spin bike studio.
Outdoors, the Copper Canyon Golf Club offers an 18-hole championship course with challenging and enjoyable play for golfers of any skill level. The lovely grounds also provide multiple outdoor recreations, such as a softball stadium and sports courts for tennis, pickleball, basketball, bocce ball and volleyball. Residents can also swim or sunbathe at the resort-style swimming pool and enjoy performances at the outdoor amphitheater.
Del Webb has plans to continue to develop Sun City Festival with more amenities, including two new clubhouses and a second 18-hole championship golf course. With beautiful diverse homes, resort-style amenities and plans for expansion, Sun City Festival is a luxurious playland retreat for active adults.
For more information on this community click here: Sun City Festival – Buckeye, AZ