If you imagine spending your retirement years surrounded by sun, sand, and beautiful views, Mexico might be high on your list. The low cost of living could also be a big part of this country's appeal. But Mexico has a wide range of geographies and attractions. One locale can feel very different from another.
Where is the best place to retire in Mexico? Get acquainted with these retirement destinations and their unique allure to help you decide the best fit for you.
Ajijic and Chapala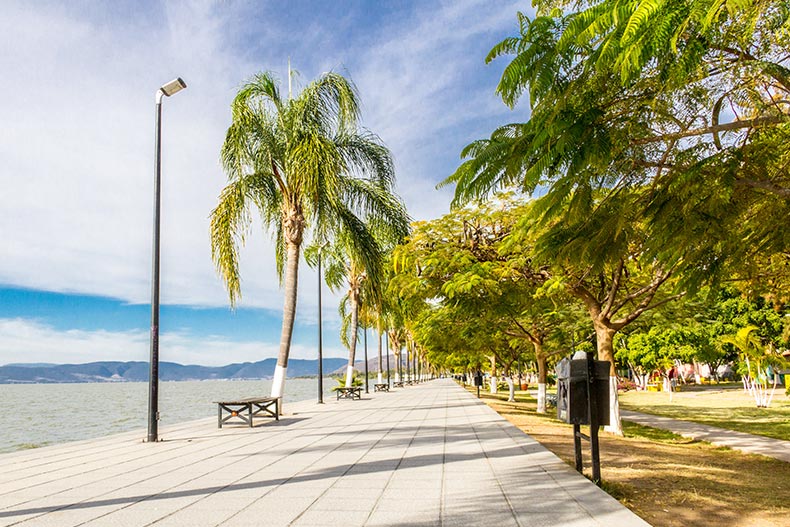 Ajijic and Chapala are two towns located on the shores of Lake Chapala, the largest lake in the country. Chapala is the bigger of the two towns. It has a population of approximately 55,000 people. Ajijic feels much smaller with a population of less than 12,000 people. Though smaller, Ajijic is a tourist hotspot. You can expect to see many foreign visitors and ex-pats here. The two towns are relatively close to one another. If you settle down in one town, you can easily visit the other.
Given their proximity, you can expect the weather in Ajijic and Chapala to be about the same throughout the year. In the summer months, expect hot weather in the 80s and 90s. June marks the beginning of the rainy season, which lasts until the fall. The winter months are cooler but hardly ever cold.
The Lake Chapala region of Mexico was originally settled by nomadic tribes of indigenous people. In the 1500s, the Spanish arrived and began to colonize the land. The original population continued to live there. By the 20th century, Lake Chapala began to attract foreign tourists. Since then, it has remained a popular travel destination.
Their location on Lake Chapala means both towns have access to waterfront activities. Stroll the boardwalks in Ajijic and Chapala for gorgeous views. You'll also find plenty of spots to dine out in both towns, but you can expect more options in the larger town of Chapala.
Cozumel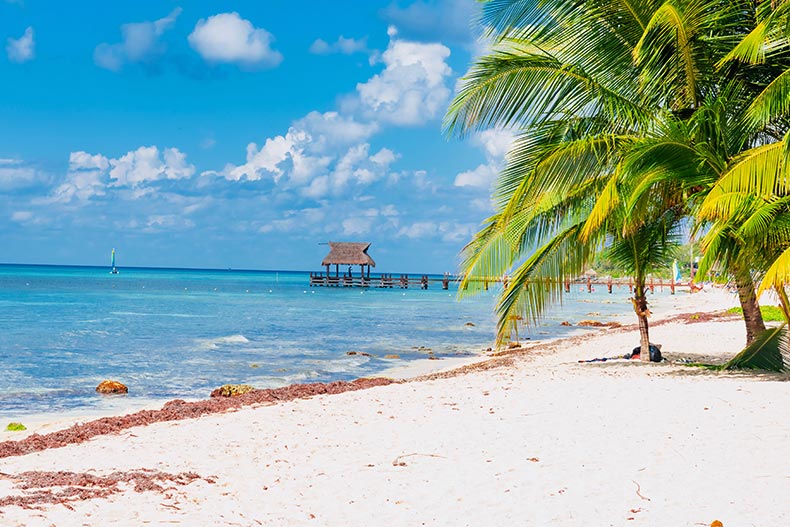 Cozumel is an island located off the Yucatan Peninsula. Roughly 88,000 people call this tropical island in the Caribbean Sea home. Downtown San Miguel de Cozumel is one of the main areas for dining and shopping.
As a tropical island, Cozumel is known for its white sand beaches and hot temperatures. Keep in mind that tropical also means an annual wet season. You can expect rain and humidity from May to October. The period from November to April tends to be cooler and drier.
Cozumel is steeped in Mayan history. The island was a vital place for trade and ceremony during the Mayan period. In the 1500s, it became a part of the Spanish colonization efforts. Today, you can still visit Mayan archaeological sites on the island.
Swimming and sunbathing can easily become a part of your daily lifestyle in Cozumel. The island is also known for its scuba diving. You can explore the world's second-largest barrier reef off the coast of Cozumel.
Cancún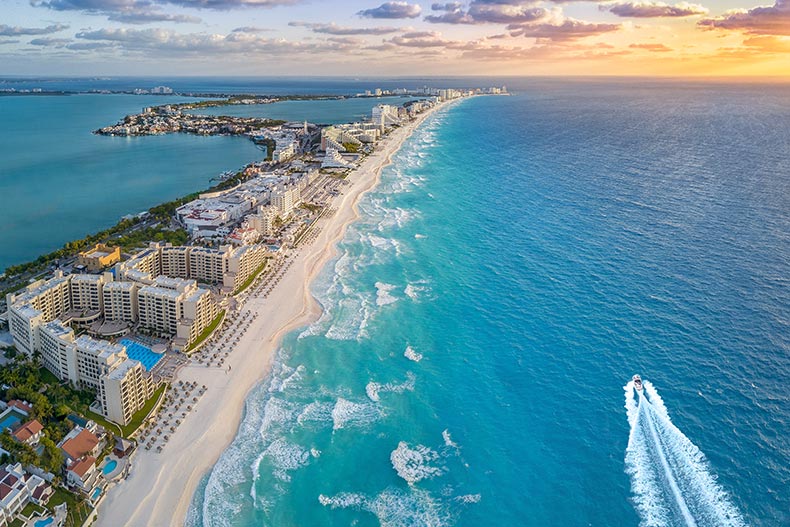 If you are looking for good places to retire in Mexico, Cancún has probably popped up as a popular suggestion. This city on the tip of the Yucatan peninsula is a bustling tourist hub known for its resorts. The city is divided into the Hotel Zone, home to its famous resorts, beaches, clubs, and restaurants, and El Centro, a downtown area that is home to more locals. Cancún is a large city with a population of more than 900,000 people.
Cancún has the dry and wet seasons characteristic of a tropical climate, but you won't have to worry about too much fluctuation in the temperature. Your retirement here will be filled with warm and hot days.
This Mexican city was developed for the express purpose of attracting tourists. The Mexican government began the development of Cancún in the 1970s, and the rest is history. The city's name is virtually synonymous with Mexican tourism.
If you want to soak up the resort lifestyle, you can find no better place than Zona Hotelera, the city's Hotel Zone. You can take your pick of pristine beaches and vibrant nightclubs. For a break from the tourism scene, you can eat and shop in El Centro.
San Miguel de Allende
Not everyone pictures themselves lounging on the beach in their retirement, but that doesn't mean Mexico is off the table. If you're looking for warm weather and a small-town lifestyle that isn't all about the beaches, San Miguel de Allende could be high on your list. This colonial-style town is located in Central Mexico. Approximately 174,000 people live here.
San Miguel de Allende is located in the central highlands of Mexico. It's known for having sunshine for more than 320 days out of the year. While it also has a dry and wet season like the more tropical cities of Mexico, it's much less humid.
The city's colonial look reflects its history. San Miguel de Allende was established as a Spanish settlement in the 1500s. The first part of its name comes from its founder, a monk named Juan de San Miguel. The second part honors Ignacio Allende, an important figure in the fight for Mexican independence.
San Miguel de Allende is a city made for exploring. The town's colorful buildings make for a beautiful backdrop as you walk its cobblestone streets. The city also has a growing reputation as a gastronomic destination, making it a foodie's retirement dream.
Oaxaca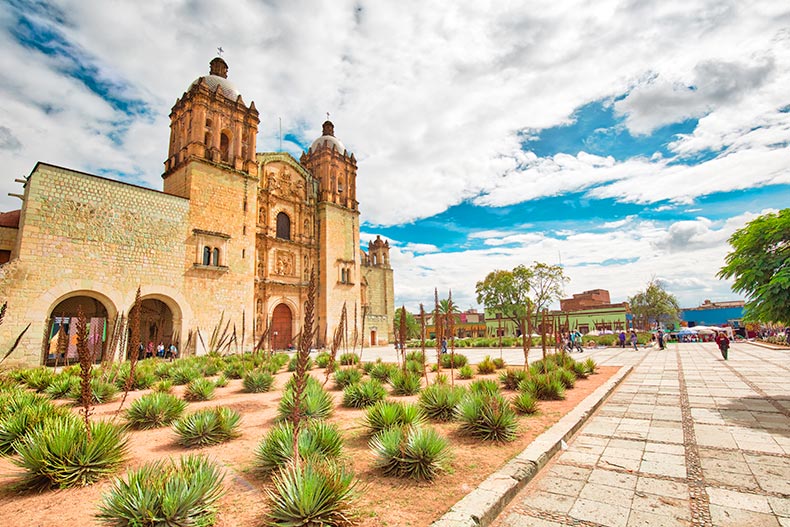 Oaxaca is a sprawling Mexican city and the capital city of the state that shares its name. Its full name is Oaxaca de Juárez, but it often goes by the shortened version. Approximately 270,000 people live in Oaxaca.
This Mexican city has a subtropical climate. It has mild, dry winters and warm, wet summers. You can expect warm weather most of the time, but the winter nights can get chilly in Oaxaca. Retirees who want a hint of changing seasons, without the snow and weeks of freezing temperatures, might appreciate those dips in temperature.
Oaxaca has a long history shaped by multiple pre-Columbian peoples, including the Zapotec, Mixtec, and Aztec. In the 15th century, the city was conquered by the Spanish under Hernán Cortés. If you're curious about the city's early history, you can visit Monte Alban to explore an archaeological site notable for its pyramids. Oaxaca is also home to plenty of museums, local markets, and restaurants.