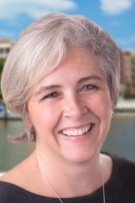 Preferred Real Estate
Lic. #SL3436782 (FL)
Contact Me
Stacey Raisch has always had determination. An already college graduate at 20, she worked endlessly to fulfill her childhood dream. By 22, Stacey had left a corporate career to pursue her dream of opening and successfully operating a bakery and cafe.

Stacey's endless enthusiasm and zeal still drive her today. Stacey believes that "Information is power". All too often, people believe they can't own a home because; "it's too hard of a process", "no one in my family has ever owned a home", or "I just don't know where to start". Stacey has been through the process on a personal level and as a buyer and seller agent. Whether you are a seasoned or a first-time buyer or seller, her expertise and her reputation for customer care will facilitate the process and give you the most desirable outcome.

Stacey grew up in upstate NY. She competitively showed horses into her early 20's and had her first successful business at 22. She understands the rewards of hard work. Stacey values family, faith, and friends. She and her family moved to Ocala 7 years ago to be in a community that allows her and her family to thrive. Stacey is well established in the local community through school and church. Stacey understands the multiple facets of moving. Her number one goal is to build happiness one home at a time while making it as stress-free as possible. Owning a home is most people's biggest dream, and Stacey will help make this happen!