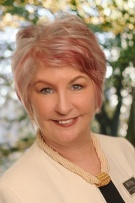 REAL Broker, LLC
Lic. #626746 (NY)
Contact Me
Veronica has been a realtor for the past 15 years and an Associate Broker for the past eight years. Veronica is a Graduate of the Real Estate Institute and has earned many designations and certifications; one of which is a certified Senior Real Estate Specialist with continuing education on assisting seniors with housing, finance, and lifestyle transitions involved in relocation. Veronica's commitment to education makes her your go-to person for answers to your real estate questions. Veronica is dedicated to providing current market analysis and real estate guidance to her potential neighbors.

Veronica has also held many leadership roles in her real estate career including past president of the Women's Council of Realtors Anne Arundel and as the Maryland State Treasurer for Women's Council of Realtors. She remains actively involved in the Women's Council and her local Realtor Association.

Veronica is a long-time resident of Kent Island and the Eastern Shore. She knows the local area, communities, amenities, and hidden jewels in the Chesapeake Bay Area. Veronica was raised in Brooklyn, NY, and lived in the Hudson Valley before she found her way to Kent Island and the Eastern Shore 35 years ago when her husband, Burney, transferred from USMA to USNA in Annapolis. Veronica worked for many years as a local Registered Nurse and volunteered with local organizations while raising three sons on Kent Island.