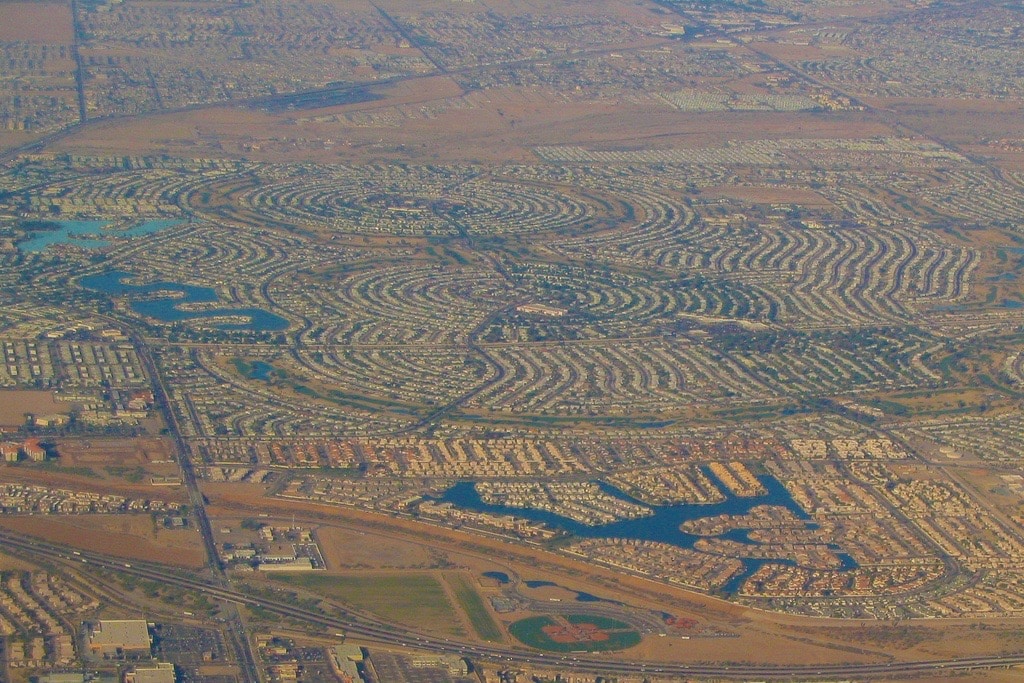 Baby boomers represent over a quarter of the U.S. population, so it's no surprise that builders dove into this market to meet the growing demand of retirees who want to remain active and social throughout their Golden Years.
Development of 55+ communities began in the early 1960s, generating a new era of community living. And with about 80 million Americans reaching the age of 65 by 2050, it's safe to say that active adult communities are here to stay and will continue to play a major role in the housing market.
The First Community
The first age-restricted community in the U.S. was in Youngtown, Arizona, which opened in 1954. Its founder 'Big Ben' Schleifer along with his friends Elmer Johns and Francis Greer developed 320 acres of farmland to build the first master-planned adult community, dedicated exclusively to retirees.
By the mid-1950s, Youngtown had 125 homes built with 85 lots already sold. The retirement community gained media attention after being featured on a national TV show, which led to its popularity and catapulting a new retirement movement. However, in 1999 Youngtown removed the age restriction in its community, opening it up to all ages and families.
Del Webb Sun City
Although Youngtown was the first development to have a minimum age requirement, Del Webb's Sun City Arizona, which is adjacent to Youngtown, remains as the longest-running 55+ community in the country because it is still operating as an age-restricted community to this day.
Del E. Webb pioneered the active adult concept with the idea that retirees should be able to live in a self-sustaining community with access to every amenity and necessity they could want or need. Sun City opened on January 1, 1960 and attracted 100,000 visitors in its opening weekend. Retirees toured the active adult community and witnessed all that this vibrant development had to offer, including five home models, a shopping center, golf course, and clubhouse.
Within its first month the builder sold 400 homes and then 2,000 homes total by the end of the first year, making it one of the most popular 55+ communities in Arizona. Del Webb continued to build and improve Sun City by adding more quality home designs, recreational facilities, and amenities that catered to the active adult crowd. Del Webb completed construction of Sun City in 1978 with a total of 27,492 homes and now more than 40,000 residents call the community home. Although there is no new construction offered in Sun City, this active adult community remains popular among 55+ buyers because of its low property taxes, affordable homes, minimal association fees, resort-style amenities, and prime location in Maricopa County that offers easy access to shopping, entertainment, and attractions.
Nationwide Expansion
Del Webb's Sun City development laid the groundwork for what active adult communities would become over the next several decades. Del Webb continued to build more retirement communities in Arizona and expanded into Florida, Texas, North Carolina, New Jersey, and California. Eventually, Del Webb started building outside of the Sun Belt and into areas outside of Chicago, Boston, Cleveland, and Detroit in order to cater to retirees who wanted to live close to relatives while enjoying access to nearby cultural attractions.
New Builders
Other builders like Taylor Morrison, Shea Homes, Lennar Homes, K. Hovnanian, and more also followed suit. More builders recognized the needs of baby boomers and began developing active adult communities that included features like low-maintenance homes, single-story living, master suites on the main floor, large kitchens, open floor plans, flex rooms, and luxury upgrades. They also continue to add recreational facilities that are at the heart of every active adult community such as amenity-rich clubhouses, state-of-the-art fitness centers, walking trails, golf courses, tennis and bocce ball courts, swimming pools, and social clubs.
The Villages
Active adult communities reached their pinnacle with The Villages, which is the largest active adult community in the U.S. and features more than 56,000 homes and spans three zip codes, three counties, and over 20,000 acres. This age-restricted community acts as a self-sustaining town that provides residents with over 100 miles of golf cart trails that connect to retail shops, restaurants, banks, post offices, medical centers, and recreational facilities within its boundaries.
The Villages continues to offer new construction homes despite its early beginnings in 1978 and has transformed this once small town into a massive and sprawling active adult community.
Today, 55+ communities—both large and small, from coast to coast—maintain the active lifestyle and social element that make these communities stand apart from typical retirement homes or suburban communities. More baby boomers seek communities where they can lead exciting and vibrant lifestyles. Retirees seek to belong to communities where they can be as active as they please, share hobbies with other like-minded adults, and spend their best years relaxing and not worrying about exterior home maintenance.
Some of the most popular 55+ communities continue to offer attractive amenities, elegant homes, and great social atmospheres. When all of these components are combined, they make for the perfect retirement lifestyle.