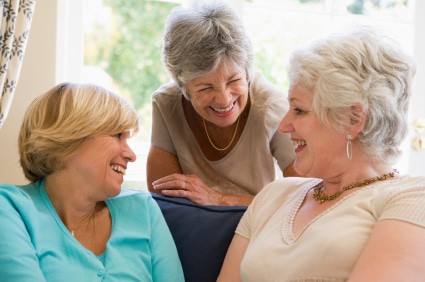 In the 1980s, The Golden Girls showed us that singles can be vibrant and adventurous at any age. These iconic television characters may have famously shared stories over late-night cheesecakes, but they were also depicted as active adults who enjoyed volunteer work, taking classes, working, dating, traveling, and taking part in community plays and events. Today, single men and women over 55 can find a similar lifestyle at a number of resort-style active adult communities.
When picturing the residents of an active adult community, some people envision happily retired couples. But, that is not necessarily the case. According to the American Association of Retired Persons (AARP), approximately one-third of active adults are single. Many of these single active adults opt to live in age-restricted or active lifestyle communities, and for good reason. Here's how singles in active adult communities can meet each other and create lasting relationships.
Live Among Peers
Single or married, some active adults prefer to live in a community designed for residents over a certain age. This often means living on a quieter street and not having to share community amenities with children or teenagers. It can also lead to more opportunities to meet peers who may turn out to be supportive neighbors or even close friends.
Join Social Clubs
Whether joining a book club, sharing a love of tennis, meeting to ride motorcycles, or performing with a choir, the diverse social clubs offered at active adult communities provide single adults with many ways to share their interests with others. Social groups can be a great way for singles to make new friends or even find travel companions.
Participate in Community Events
Active adult communities often hold special events throughout the year. Holiday parties, seasonal festivals, chili cook-offs, card tournaments, and dances are just a few of the events available to residents. For singles who are new to a community, an on-site activities director can be a great resource to find out about upcoming events.
Find Support Groups
When coping with a chronic illness or a recent tragedy, a strong support system is crucial. Several active adult communities offer specialized support groups for coping with cancer, addiction, depression, diabetes, or a number of other problems. Bereavement groups are also available at many communities.
Discover Safe Dating Opportunities
Single active adults may date regularly or be interested in rejoining the dating scene. Special social groups designed for singles can help residents find single neighbors or get advice on getting back into the swing of things. Singles clubs are popular at many active adult communities, including SaddleBrooke in Arizona, Palm Cay in Florida, and Chesapeake at Easton Club East in Maryland. Many of the same amenities and activities that draw couples to active adult communities also appeal to single adults.
Active lifestyle and 55+ communities let residents live among peers while pursuing a variety of social and recreational opportunities. For single adults, active adult communities can be an ideal way to meet new people, become involved in a community, make close friends, stay active, and even find a new life partner.