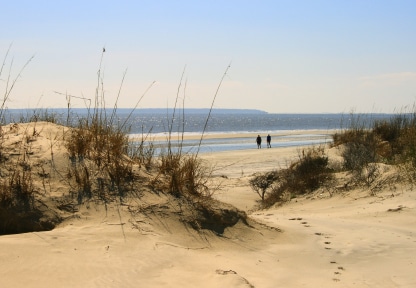 Georgia's coastal region stretches along the shores of the Atlantic Ocean from Savannah in the north down to St. Marys at the Florida border. This fascinating region includes island culture, historic towns and picturesque scenery. The area is a welcome destination for both tourists and retirees, offering a wide range of activities and attractions.
Location & Attractions
The Coastal Georgia region extends north and south along the Atlantic Ocean, but it also reaches farther into the state. This typically includes areas north, west and south of Savannah, such as Effingham and Pembroke. The northern portion of the region extends even farther inland to include the cities of Blackshear, Homerville, Fargo and Saint George.
There are several islands nestled along Georgia's coastline. These include Tybee Island, St. Catherines Island, St. Simons Island, Jekyll Island and Cumberland Island. Featuring sandy beaches, palm trees and luxurious resorts, these islands are prime vacation spots for tourists and Georgia residents.
Okefenokee Swamp
Visitors and newly relocated retirees will enjoy discovering the mysterious beauty of the Okefenokee Swamp. This fascinating mix of wildlife and scenic wetlands spans 700 square miles and has inspired many legends and myths. There are four parks within the Okefenokee Swamp, letting visitors experience the area's many different treasures.
Savannah
As Georgia's first town, established in 1733, Savannah has had plenty of time to develop its own mix of Southern charm and modern attractions. Live oaks drip with Spanish moss and historic buildings are spread throughout the city. Active adults can enjoy local tours of historic homes, churches, cemeteries and forts. Shopping centers and restaurants satisfy a variety of tastes, while cultural attractions let residents experience live theater, music and other performances.
The Golden Isles
Known as The Golden Isles, the area surrounding Brunswick and the Jekyll and St. Simon Islands is another popular spot for beach-lovers. The city of Brunswick features Victorian homes, quaint historic districts and a busy waterfront. Jekyll Island is known for its modern recreations including golf courses and beautiful beaches, while St. Simons Island features both historic charm and countless recreations.
At the southernmost end of the Georgia Coast, St. Marys and Cumberland Islands provide their own flavor. St Marys is known for its shops, restaurants and local museums. Cumberland Island offers 17 miles of secluded beaches, tranquil forests and wildlife which includes wild horses and loggerhead turtles.
Active Adult Living
Active adults who choose to live in the Coastal Georgia region can opt to live in either age-restricted or open-age communities. Developments which appeal to mature homebuyers are typically intimate communities such as Carlisle Village in Rincon or The Fairways at Savannah Quarters in Pooler. With diverse settings including historic cities, quaint towns and beautiful islands, Coastal Georgia is a fabulous retirement destination for active adults who enjoy tranquil East Coast living.