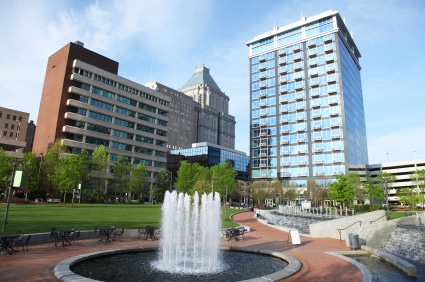 With picturesque scenery and a thriving urban core, Greensboro, North Carolina, offers modern attractions and plenty of historic charm.
Location
The city's prime location at the intersection of I-85 and I-40 is less than 90 minutes from Raleigh and under an hour from the Virginia border. Its distinctive neighborhoods and surrounding suburbs provide a great destination for active adult visitors and relocating retirees. Greensboro is set among the rolling hills of North Carolina's Piedmont region, halfway between the Blue Ridge Mountains and the coastal Outer Banks.
Climate
Its southern location offers a relatively warm climate with hot, humid summers and mild winters. Average daytime temperatures in the summer months are typically in the high 80s, with several days reaching over 100 degrees. Winters are cool, but mild with days generally in the low 50s.
Attractions
The Downtown Greensboro area offers shops, restaurants and a growing nightlife. Cultural attractions include popular museums and entertainment venues, such as the Carolina Theater, Triad Stage and the Greensboro Children's Museum.
The Elm Street area is a particularly popular spot for antique shops, art galleries and local restaurants. Just outside of the downtown area, the Four Seasons Town Centre features hotels, a shopping mall and the Joseph S. Koury Convention Center. A wide range of city events are also held in the nearby Greensboro Coliseum Complex.
Nature lovers will find plenty of appealing attractions within the Greensboro area. The Greensboro Arboretum includes 17 acres of gardens, arbors and plant collections. Active adults can also visit the gardens and park spaces at Bicentennial Garden, Blandwood Mansion and Gardens, the Bog Garden and Greensboro Center City Park.
For educational and historic offerings, Greensboro features a variety of recreations. Visitors and locals alike can enjoy exploring sites like the Natural Science Center of Greensboro and the Guilford Courthouse National Military Park. For fun in the summer sun, visitors can also cool off at the Wet n' Wild Emerald Point water park.
Active Adult Communities
Active adults who choose to live in the Greensboro area can often find several beautiful homes in intimate, age-targeted communities. Along with community amenities, low-maintenance and maintenance-free attached homes are available in area communities like Villas at Deep River Plantation and Villas at Sedgefield. Homebuyers who prefer single-family homes may also find what they are looking for in an upscale neighborhood like Westridge Forest.
Those who settle in the Greensboro area can enjoy living within close proximity of shopping centers, restaurants, medical facilities and golf courses. The city and its surrounding area provides historic charm, modern attractions and convenient services to support an active adult lifestyle.