Daytona Beach is one of the sunniest, warmest, beachiest, and most fun destinations on Florida's Atlantic coast. It's a fabulous place to visit, especially for those who love NASCAR, outdoor concerts, and the sorts of sandy, salty activities that can only be found on the shores of an ocean.
It turns out Daytona Beach isn't just a great place to visit. It's also a desirable place to live. More and more active adults are settling here thanks to the entertainment, recreation, weather, and low cost of living.
If you're moving to Daytona Beach, here's what you'll need to know before you finish packing.
Retiring in Daytona Beach: Pros and Cons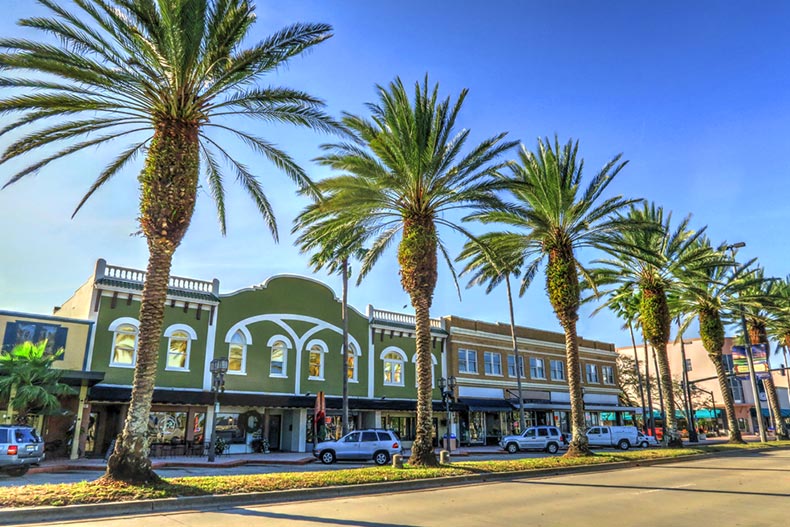 PROS
There's always something to do: From the Daytona International Speedway to a busy boardwalk with shops, food, games, and entertainment, there's little risk that anyone living in Daytona Beach has the opportunity to get bored. There's plenty to do on and off the water, including shopping, hiking, boating, fishing, surfing, and golf.
Beaches: The Daytona Beach coastline covers 23 miles. The white sand isn't the fine silky variety; it's hard and packed, which means automobiles can safely drive on the beach. In some areas, it's allowed, but in others, you'll have to leave the car at home. Water temperatures stay warm, welcoming swimmers and surfers even in the winter months. Some of the most popular regional beaches include Ormond Beach and New Smyrna Beach.
Warm winters: There's no shame in leaving the snow and shoveling behind. Winter weather in Daytona Beach is pleasant. While nearly 70,000 people live in Daytona Beach year-round, the population swells a bit in the winter months. Not only are there lots of tourists visiting the area, but there are also seasonal residents who come for the glorious winter weather.
Low cost of living: Daytona Beach is surprisingly affordable for a beach town. Costs for housing, food, gas, utilities, and health care are lower here than the national average. Residents don't have to worry about a state income tax, either.
Central location: Daytona Beach International Airport makes it easy for people to come and go when they live in Daytona Beach. It's also right off Interstate 95, making car travel a breeze whether you're visiting other parts of Florida or heading north for a road trip. Active adults who love to cruise are only an hour from Port Canaveral.
CONS
Tourists and more tourists: Everybody wants to be in Daytona Beach. That's great if you like the energy of a busy, well-populated area where everyone is having fun and making new friends. If you're more of an introvert or happier in a quiet setting, you might find the busy restaurants and the beach crowds a bit too much. Traffic gets tricky during race weeks at the Speedway and Spring Break can be a pretty huge party in Daytona Beach.
Hot, tropical summers: Summers are hot, and while there's a lucky seabreeze that catches the coastline, inland Daytona Beach can feel pretty unpleasant when it's 92 degrees in the shade. There's also the threat of hurricanes and tropical storms. Daytona Beach is rarely in the direct path of any major storm, but anything that hits the regional Atlantic coast will deliver astonishing rain and wind.
Daytona Beach Climate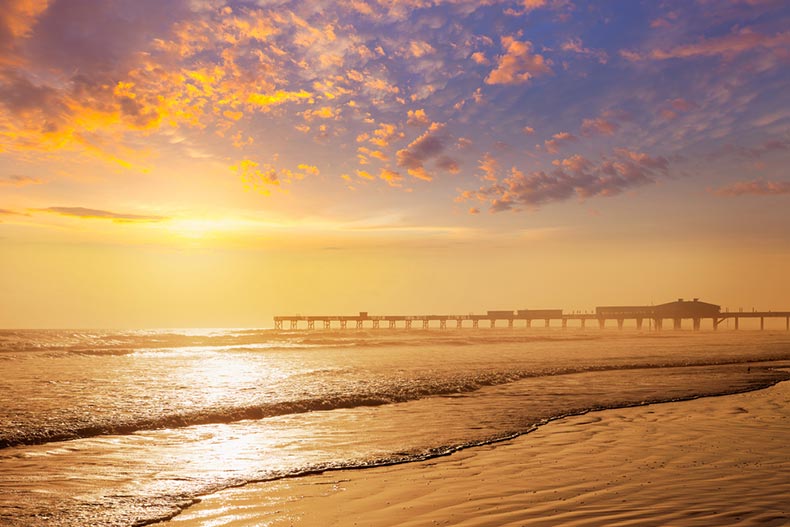 Climate is one of the reasons people move to Daytona Beach. You can understand why; there are an average of 233 sunny days every year. Summers have the most rain and there are almost always thunderstorms in the late afternoon, but they pass quickly.
Winters are cooler and sometimes windy. Temperatures rarely drop below freezing, however. In the summer months, high temps range from 88 to 92 degrees on average while the typical lows are between 70 and 75. Winter temps average at around 68 to 72 degrees for the highs and settle into the 50s for lows.
Humidity is a factor in the summer, but from November to March, there's a lot less of it, and the breeze off the water keeps things comfortable. Hurricane season begins on June 1 and lasts until the end of November. Luckily, there's plenty of time to prepare when storms approach.
All year round, Daytona Beach residents enjoy outdoor activities such as golf, tennis, shuffleboard, pickleball, volleyball on the beach, and bike riding. People go hiking and camping in some of the nearby forests and wildlife areas, and the beaches are busy. There's plenty of fishing, boating, canoeing, and kayaking to enjoy every month of the year as well.
Daytona Beach Taxes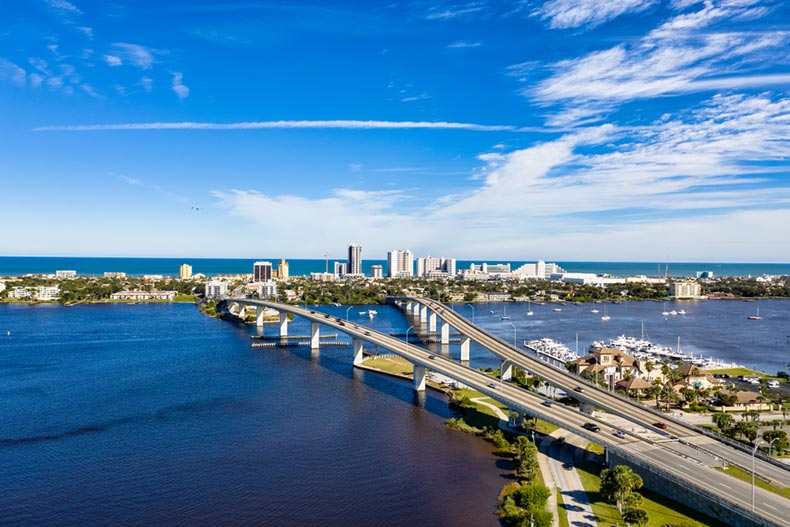 Good news for people moving to Daytona Beach: there's no state income tax in Florida. The state is pretty favorable tax-wise, especially to retirees because Social Security benefits, pensions, IRAs, 401(k)s, and other sources of retirement income are protected from any state or local income taxes. There isn't an inheritance tax or an estate tax, either.
Daytona Beach Property Taxes
Daytona Beach is in Volusia County, which collects property taxes annually from local homeowners. The tax year runs from January 1 to December 31, and the annual tax bill must be paid in full and at one time unless there's a predetermined installment agreement in place or a homeowner is taking advantage of a homestead tax deferral.
Discounts are extended for residents who pay early. The Property Appraiser determines home values and tax amounts and in Volusia County, residents who qualify can apply for the Homestead Exemption by March 1 of each year.
Daytona Beach Retirement Income Taxes
The lack of a state income tax in Florida is a well-known advantage to living in the state. Your retirement income, whether it comes from federal benefits or a pension or your private savings, is only subject to federal taxes. The lack of an inheritance or estate tax makes this state one of the best places for retirees to keep more of their income.
Daytona Beach Tax Exemptions for Seniors
Florida residents have the opportunity to claim a Homestead Exemption on their property taxes. Active adults who are 65 years of age or older can also qualify for additional homestead exemption benefits. You'll need to own a home and meet certain income requirements.
Daytona Beach Health Care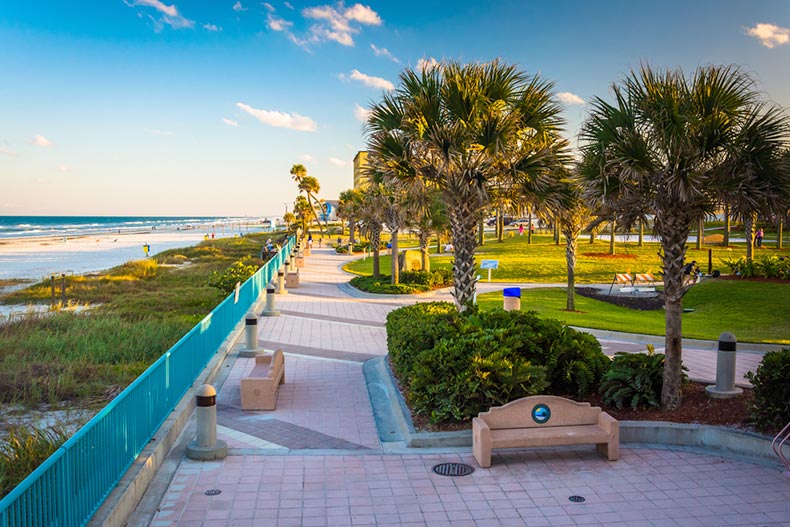 Several major hospital systems can be found in Daytona Beach, giving residents access to high-quality primary care as well as specialized medicine. Halifax Health Medical System includes a 24-hour emergency hospital, 536 inpatient beds, and units dedicated to surgery, critical care, psychiatry, and heart and lung care.
AdventHealth Daytona Beach (formerly Florida Hospital Center) specializes in cancer care, heart and vascular care, diabetes care, and weight management. Imaging and lab services are available, and there's an entire team dedicated to senior care.
Where to Live in Daytona Beach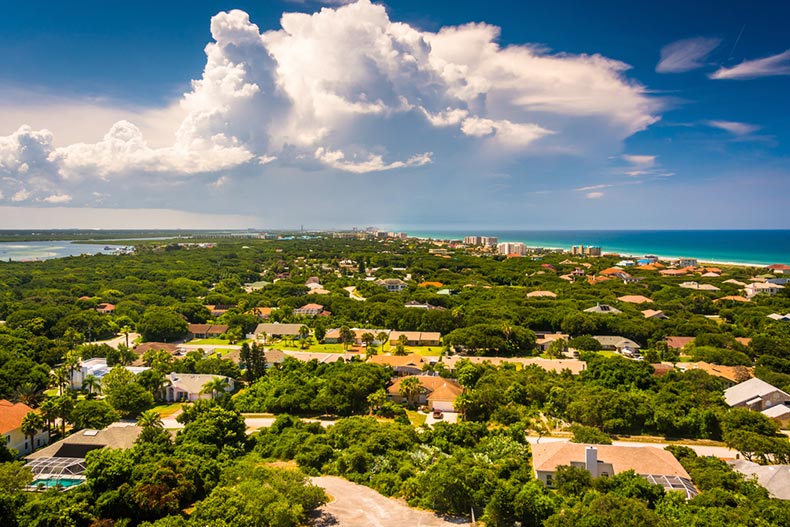 Daytona Beach includes a number of suburban neighborhoods like Daytona Shores and Ponce Inlet, which are great for new residents who want to be close to the beach and all the local attractions without being in the center of tourist-friendly neighborhoods. Ormond Beach and New Smyrna Beach also have comfortable, desirable neighborhoods with attractive homes for sale.
Daytona Beach
Daytona Beach itself is where you'll find the Daytona 500 International Speedway, historic neighborhoods like the Surfside District, and 55+ communities in neighborhoods like Daytona Beach Shores, Holly Hill, and Ponce Inlet.
The beach is just minutes away, there are outlet malls throughout the area, and plenty of good restaurants and shops within close proximity to Daytona Beach's most popular areas.
Latitude Margaritaville Daytona Beach is perhaps the most well-known 55+ community in this area. The Jimmy Buffet-inspired neighborhood offers residents new construction homes and move-in-ready properties in single-family and attached models. Diverse floor plans in dozens of styles are available, but the real draw is the amenities. There are pools, a gym, restaurants, and even a Barkaritaville Pet Spa. A private beach area is also available to homeowners, and there's a shuttle taking residents back and forth between the community and the beach resort.
There's also Pelican Bay Daytona Beach, with resale single-family homes and attached villas, two golf courses, and additional amenities such as a pool, tennis courts, and pickleball courts.
Ormond Beach
Ormond Beach is just north of Daytona, popular with surfers for its great waves and board-friendly beaches. There's lots of nature for wildlife and hiking enthusiasts to enjoy as well. Ormond-by-the-Sea is a quieter part of town where only a few tourists can be found.
Tomoka State Park is a great place to watch seabirds, and there are frequent events at Andy Romano Beachfront Park. Ormond Memorial Art Museum & Gardens offers discount memberships and admission to active adults.
Plenty of great communities can be found in Ormond Beach, including Plantation Bay Golf & Country Club, where buyers will find new and resale homes, condos, and villas. Various club memberships are available, giving residents access to golf, fitness centers, and social activities.
Halifax Plantation is a community without age restrictions. There are new construction homes as well as resale homes available and amenities such as a clubhouse, pool, golf, and walking and biking trails.
New construction condos are found at Ormond Renaissance, a gated 55+ community offering low-maintenance lifestyles and a 3,600-square-foot clubhouse that overlooks a large pool. Condos have high ceilings, granite counters, and garage parking.
New Smyrna Beach
Just south of Daytona Beach is New Smyrna Beach, another popular surfing spot and an ideal location from which to watch launches from nearby Cape Canaveral. This area is a nice blend of suburban coastal living and a more energetic city vibe.
Fun things to do in New Smyrna Beach include a visit to Canaveral National Seashore as well as Smyrna Dunes Park, where it's easy to see Ponce Inlet and its historic lighthouse. Downtown, there's Canal Street, a historic district featuring art galleries, shops, and the New Smyrna Museum of History.
Several active lifestyle communities can be found between Interstate 95 and the coast in New Smyrna Beach. Venetian Bay is a master-planned community with golf amenities and both single-family homes and condos. There's a restaurant, a pool, a fitness center, and a town center with dining and shopping opportunities.
The Meadows of Sugar Mill is a small, gated community of single-family homes. Large floor plans are available, and homes have private yards, many with a view of the 27-hole golf course in the community.
Homebuyers who want to be as close to the water as possible might consider Inlet Marina Villas, which is a condominium community with a boat marina and a fishing pier. Condos are spacious, low-maintenance, and include amenities like a pool and tennis courts.
Minorca is also close to the water, and the community provides boat slips for residents. There's also a beachside pavilion and many condos have pools, outdoor space, and access to walking and biking trails.
Ready to Make the Move? 55places Can Help.
To discover more exciting 55+ communities in Daytona Beach, we invite you to contact us at 800-928-2055 or visit 55places.com. Our experienced team of real estate experts will guide you through the top options in your area and help you make a seamless transition from your current home to a 55+ community. We look forward to helping you make your next move the best one yet!