People travel into Philadelphia for different reasons. Many people work there while others have family who calls it home. And there are those who have theater memberships or frequently patronize the excellent restaurants, shops, and cultural attractions on that side of the bridge.
Heavy traffic can put a damper on things though, especially around the holidays and during bad weather. Thankfully, Philly is easily accessible through public transit, including NJ Transit rail lines and buses, as well as the PATCO speed lines.
Workdays and leisure activities start the moment you leave you house though, so living within an easy commuting distance to Philadelphia is very beneficial for active adults living in New Jersey. Below are some top choices that fall into this category.
Low $200s – Mid $200s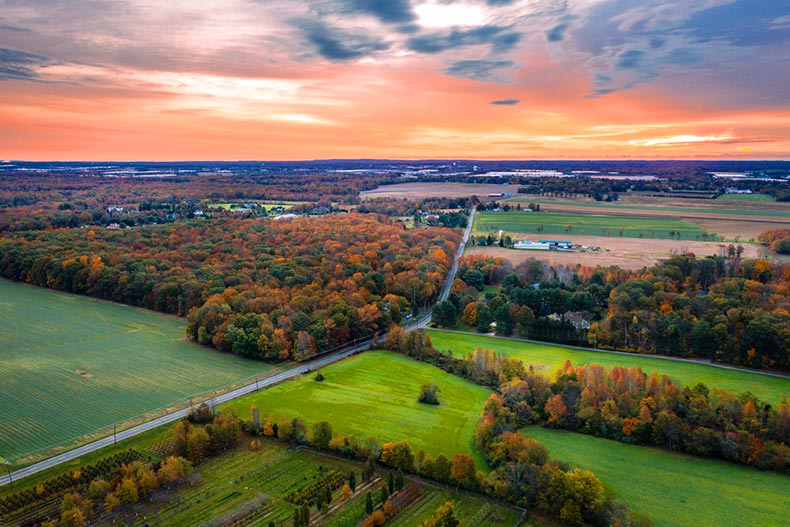 Deptford is in Gloucester County around 13 miles from Philadelphia. The shortest drive is via Interstate 676 North and across the Walt Whitman Bridge. Other options include NJTransit buses, which get passengers at several area bus stops. The closest PATCO stop is in Ashland, just 20 minutes away.
Lakebridge was built between 1986 and 1992 by J.S. Hovnanian and has 375 resale single-family homes. There are four models ranging from 1,175 to 1,510 square feet. These offer two or three bedrooms, one to two-and-a-half baths, and attached one-car garages. These ranch-style homes feature large patios and eat-in kitchens.
The community clubhouse has a library, activity rooms, an outdoor pool and patio, and a tennis court. Lakebridge is also close to Red Bank Battlefield Park and Valley Brook Country Club, which has a public golf course. The Deptford Mall is also in town, and this major shopping hub is surrounded by dozens of other stores and restaurants.
Request more information about Lakebridge.
Mid $200s – Mid $300s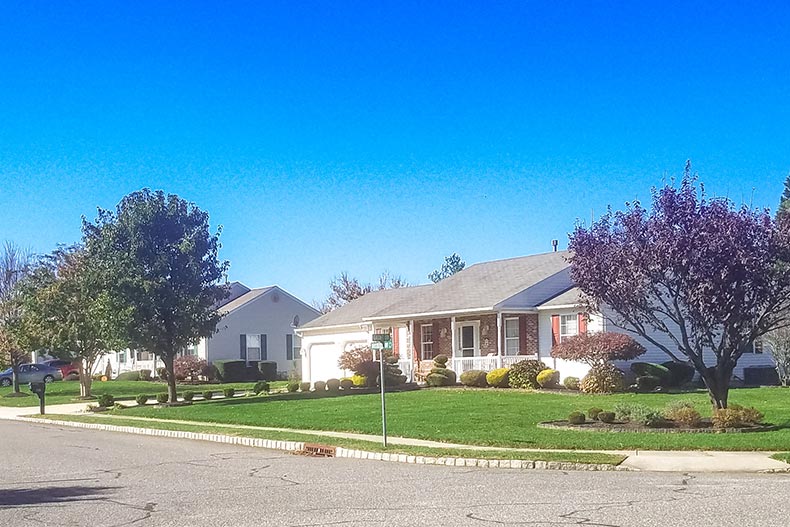 Mickleton is also in Gloucester County and is a few miles south of Deptford. Depending on what part of Philadelphia you're heading to, you may want to use the same routes. Another option is taking Route 322 over the Commodore Barry Bridge, which goes from Bridgeport, NJ to Chester, PA.
Brookhollow is a smaller, intimate community of just 53 single-family, resale homes built by M&R Builders from 1998 to 2000. They are sized from 1,164 to 1,656 square feet with two bedrooms and bathrooms as well as attached one- or two-car garages. Upgrades may include patios, sprinkler systems, and hardwood floors.
A homeowners' association (HOA) fee covers common area maintenance, lawn care, and snow removal. This 55+ community is adjacent to a beautiful park, which has walking paths and gazebos. Homeowners can also find everything they need at close by groceries, drug stores, a Walmart, Target, and many other stores.
Request more information about Brookhollow.
High $200s – High $300s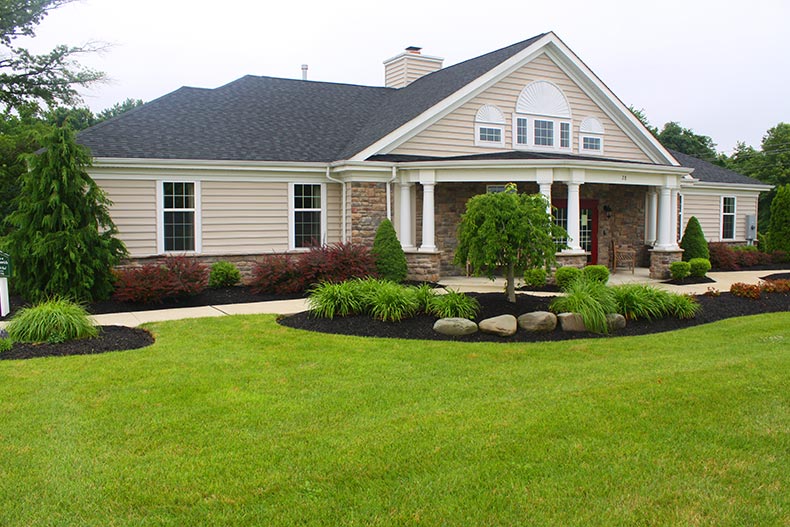 Clarksboro is located in between Mickleton and Deptford and about 19 miles from Philly, with similar PA commuting options. Built here from 2010 to 2014 by Beazer Homes, Gatherings at East Greenwich has 161 single-family resale homes. The eight floor plans range from 1,457 to 2,217 square feet with two to four bedrooms and bathrooms as well as attached two-car garages. Every home features a second-story loft space, as well as basement options. Some available upgrades include nine-foot ceilings and six-panel doors.
Gatherings also has a private clubhouse with a fitness center, tennis courts, bocce ball, and an outdoor pool. Clarksboro is also very close to Interstate 295 and the NJ Turnpike, while downtown Deptford is about seven miles away.
Request more information about Gatherings at East Greenwich.
High $300s – Mid $500s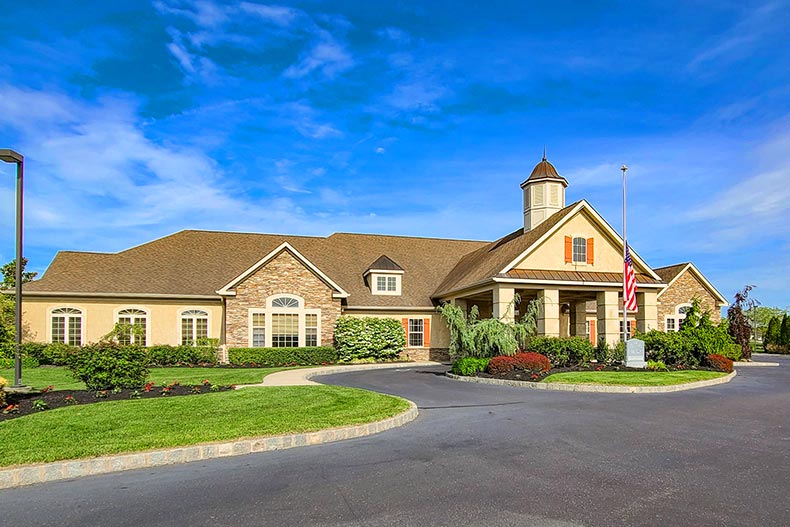 Many Berlin residents that commute to Philly prefer to drive (it's only 20 miles away), but the Lindenwold PATCO station is also very convenient. There are also NJTransit buses that stop in the area, but this adds time to the ride. Montebello is perfectly poised at the edge of Wharton State Forest, one of NJ's largest park and recreation areas. This park has rivers for canoeing, hiking and biking trails, and ample opportunities for wildlife observation.
Montebello is a newer development, construction began here in 2007 by J.S. Hovnanian. When completed, it will have 348 upscale, single-family homes. There are 13 models from 1,758 to 3,277 square feet with two to four bedrooms, two to three baths, and attached two-car garages. Upgrades include gourmet kitchens, covered porches, and luxurious master bathrooms.
The state-of-the-art Montebello Club & Spa features an indoor pool and spa, a fitness center, and activity rooms. There is also a putting green, walking & biking trails, and a sparkling outdoor pool and patio.
Request more information about Montebello.
Mid $300s – Mid $400s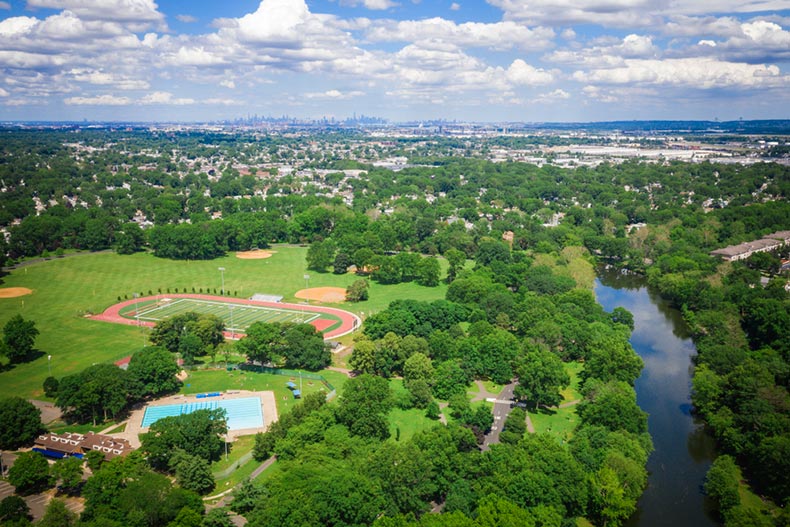 Also in Gloucester County, Sewell is around 19 miles from Philadelphia, with the quickest route being I-676 North. The closest PATCO station is in Lindenwold, about 10 miles away, and there are NJTransit bus stops in the area.
The Village at Country Gardens is a gated active adult community with 223 single-family, new and resale homes. Construction started in 2006, there are three models sized from 2,097 to 2,902 square feet. They offer two or three bedrooms and bathrooms as well as attached two-car garages. Many have exclusive upgrades like gas fireplaces, hardwood floors, dens, and stainless steel appliances.
The private clubhouse has its own Jacuzzi room, a catering kitchen, and game rooms. The well-manicured property has bocce ball courts and horseshoe pits, natural space, and pretty ponds. An HOA fee provides for snow removal, lawn maintenance, and common area maintenance. This community is right by Route 55, which is dotted with stores and restaurants.
Request more information about The Village at Country Gardens.