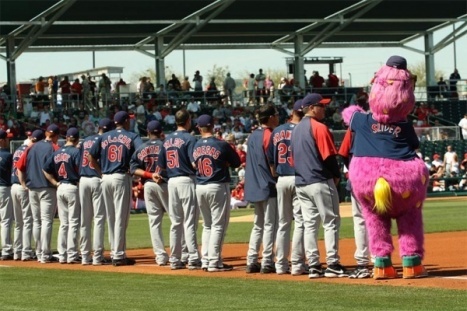 Goodyear Ballpark hosts spring training baseball and over 80 rookie leagues games a year
In 1917, the Goodyear Tire and Rubber Company bought 16,000 acres of land outside of Phoenix, Arizona as a place to cultivate cotton for tire cords. Over the years, that land grew into a self-sufficient community and in 1946 the city of Goodyear was officially incorporated. And it's only kept growing from there.
These days, Goodyear is the third-fastest growing city in Arizona and seventh-fastest growing city in the U.S. (no wonder the city slogan is 'Goodyear is Geared for Growth,'). It's also known for having a high quality of life, good healthcare, and tons of things to do for residents.
Perhaps then it's no surprise that two active adult communities on 55 Places' list of the 100 most popular active adult communities of 2018 are located in Goodyear. Active adult community PebbleCreek came in No. 51 while CantaMia, a 55+ neighborhood inside the Estrella master-planned community, finished No. 62. While these communities themselves are thriving, it's the access to fun activities and unique experiences in and around Goodyear that push them over the edge.
Let's take a look at some of those things to see and do when you're in Goodyear.
Attractions
Not only is Goodyear Ballpark the spring training home for the Cleveland Indians and Cincinnati Reds but there are also over 80 "rookie league" games played here throughout the summer. After the game, head down to Brass Armadillo Mall, one of the largest antique malls in the state. Or you can visit the Wildlife World Zoo in nearby Litchfield Park, which has more than 600 animals to admire as well as rides and a petting zoo.
Eateries
Depending on what you're in the mood for, there are a bunch of highly rated and well-regarded restaurants and cafes in Goodyear. If you're looking for a local brewpub experience, Saddle Mountain Brewing Company comes highly recommended. If you've got a pizza craving, head to Casa Del Mar Pizza. For those who want to spice up their dinner menu, consider Flavors of Louisiana and try one of their gumbos or stews. CantaMia residents can make a short trip to Player's Grill & Patio at the Golf Club of Estrella for a good meal while overlooking breathtaking views of the Sonoran desert.
Nightlife
Need some new nightlife options? We Olive & Wine Bar in Avondale is a gourmet specialty store but they also host a regular happy hour at their wine bar. Stop by for tapas tastings featuring their own olive oils and vinegars as well as small production wines, craft beers, and more. There are also plenty of sports bars if you want to eat some wings and watch the game. Consider checking out Augie's Sports Grill.
Outdoor Recreation
If you're looking to get out in nature and explore, there's no shortage of options available. Hop on a horse for a day or make a whole trip out of it with Corral West Adventures. If you'd rather stay on your own two feet, consider hiking in Estrella Mountain Regional Park, just don't forget to buy a pass. Keep an eye out for the upcoming green space, Wellspring Park. It should be a wonderful place to spend a day, upon completion. Another upcoming project is the Goodyear Recreation Campus, which will eventually fill 86 acres with sports fields, pathways, pools, activity spaces, and much more.
Make sure you're getting more content like this by following 55Places on Facebook, Twitter, and Instagram