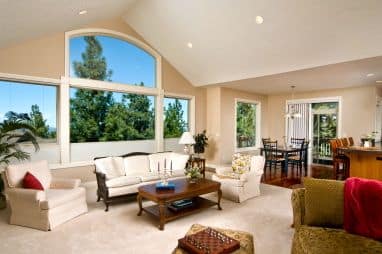 Home builders and buyers alike are always on the lookout for updated living spaces and hot new design trends. In 2013, that means a continuation of trends such as the open floor plan design. Emerging trends include an increase in energy efficiency, multipurpose rooms and outdoor spaces which feel more like extended living rooms.
Energy-efficient systems and green building practices continue to be popular in today's new homes. Solar roof panels are becoming a more common option in new construction homes as recent models are more affordable and more aesthetically appealing. Energy-efficient heating and cooling systems and home appliances are standard in many homes as well. Even interiors are becoming more green with environmentally friendly paint, flooring and countertop options.
Beyond energy efficiency, builders are finding ways to make more efficient use of living space. As plans by architect Michael Woodley show, flex space is an important feature for both Baby Boomers and Gen Y homebuyers. For both groups, transitions to larger or smaller families are eased by rooms which can be easily adapted to many purposes.
Homes which feature spacious great rooms as well as separate dens or casitas offer both an open floor plan and private space which can be converted to a guest room or additional bedroom. This may be ideal for Baby Boomers who need bedrooms for their visiting adult children, but still want the space to have purpose between visits.
As great rooms and open floor plans become more standard, builders are moving away from formal living rooms and dining rooms. Modern kitchens are commonly open to the great room, especially when they feature large islands with ample counter seating. Dining areas are often included right in the great room or as a kitchen nook. Although many new homes do still offer separate dining rooms as well. Gourmet kitchens with upscale cabinets, countertops and appliances are the central focus of many modern homes. They are both family gathering places and an inviting place to entertain guests while preparing a dinner party.
After the party is over, luxurious master bedroom suites with spa-like bathrooms are popular retreats that continue to show up in new home plans. Walk-in closets or dressing areas are frequently included, as are double vanity sinks and large showers. Soaking tubs and Jacuzzis are becoming less common, although many builders do offer them as an upgrade. Upscale kitchens and multipurpose living areas are so popular that they are also making their way outdoors. New homes are frequently designed with enclosed patios, courtyards, terraces or sleeping porches.
These outdoor living areas may include comfortable seating as well as optional features like gas fireplaces or built-in kitchens. Some are even designed with weatherproof TVs and audio systems.
Overall, new trends in home design continue to enhance the efficiency of living space and energy consumption. These design elements are a perfect fit for Baby Boomers who want to buy new homes and get the most from their investment dollars.