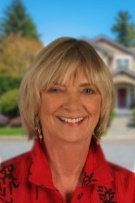 Realty One Group
Lic. #SA569240000 (AZ)
Contact Me
Sandra has lived in the Valley for over twenty-five years and has a broad knowledge of marketing and organizational expertise and the uppermost level of real estate knowledge. She has years of experience in real estate, customer service, marketing, and most importantly, will put your interests first in your purchase of any real estate property. Her prior experience as a Senior Sales Manager for Prudential Financial Services specializing in investment retirement planning has provided her with extensive experience working with active senior clientele.

Sandra's primary passion is working with buyers and helping them find the perfect house. She continually goes the extra mile and completely puts her clients wants and needs first. She always makes herself available to answer any questions and works diligently to make the buying process as easy as possible, as well as fun, for her clients.

Sandra has been very active in local charities and community affairs. She has served as Director and managed several charity fundraising events to aid children in the Valley. She is committed to giving this same care and concern to her real estate clients.

Sandra was born and raised in Minnesota and, having spent several years in Ohio, still feels she has maintained her Midwest values.

Sandra enjoys the outdoors, sports, friends, and spending time with her family. She is an avid walker and in 2003 "walked" the Paris International Marathon.