Atlanta is a popular retirement destination. The southern city is known for its warm weather and wealth of entertainment. If you're thinking of settling down in Atlanta, you have plenty of choices to make. What part of the city do you want to make home? What amenities are important to you? What kind of home are you looking for?
If you're looking for Atlanta condos for sale, these four 55+ communities in or near the city are a good place to start your search.
The Village at Maplewood - Rome, GA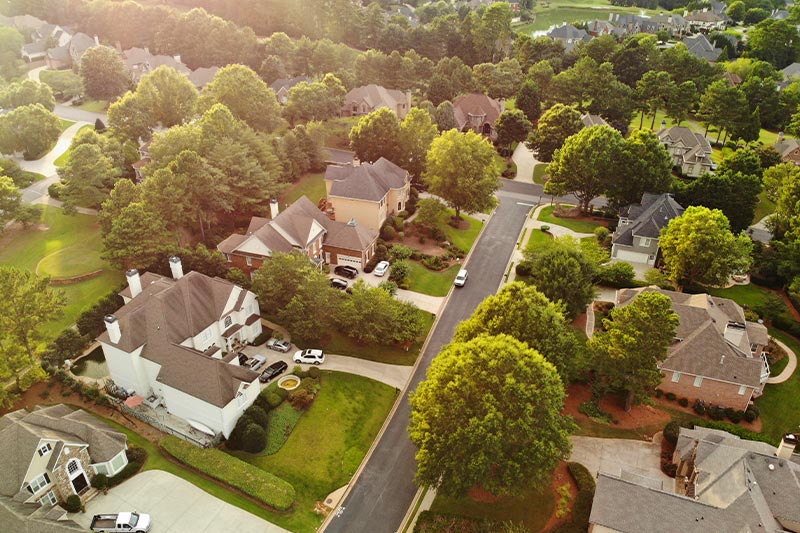 The Village at Maplewood is a 55+ community in Rome, Georgia, an hour outside of Atlanta. The gated community sits on 38 acres of verdant land next to the Etowah River.
The 55+ community has a mix of home types including both single-family options and condos. Homes in the Village at Maplewood were built between 2004 and 2019. When considering condos here, keep an eye out for features like open floor plans and gourmet kitchens with modern appliances and granite countertops.
Residents of the Village at Maplewood enjoy a low-maintenance lifestyle. The community's homeowners' association (HOA) is responsible for upkeep, including landscaping and trash removal. Once you settle into a condo, you can also take advantage of the social aspects of life at the Village at Maplewood. Attend a cocktail party or enjoy a catered meal with your neighbors.
Atlanta is a relatively short drive away from the community, and residents can also find plenty to do in Rome. The city is home to myriad restaurants as well as a variety of retail outlets for those who like to shop.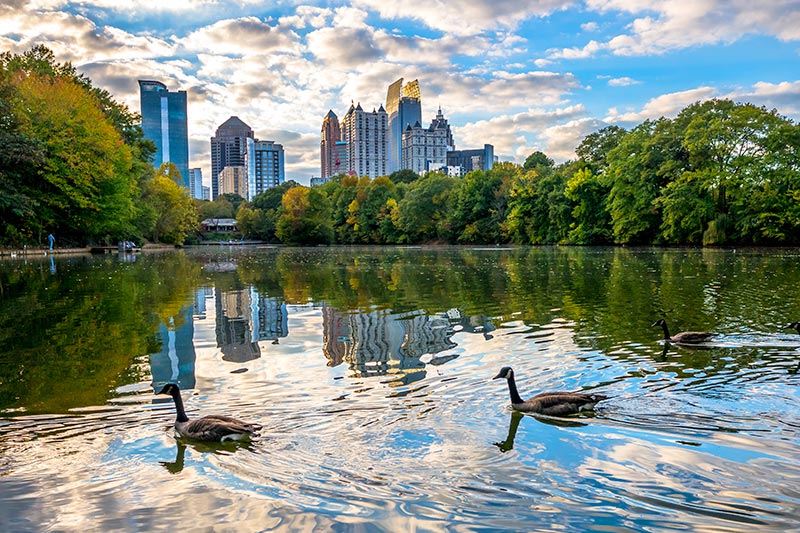 The 55+ community Herrington is located a little less than an hour north of Atlanta. Construction on the community began in 2018, and there are still new homes going up today.
If you're in the market for new construction, Herrington is the place to look. The community will have a total of 183 homes, a mix of condos and single-family homes. The community's condos come in four floor plans with amenities like an elevator, a garage, and a balcony. Herrington's condos are spacious, ranging from 1,529 to 2,031 square feet.
Step outside to soak up the sun on the community's outdoor patio. Cool off in the outdoor pool or warm up around the patio's fireplace. Herrington also has a fitness center and a community dog park.
Cumming is home to plenty of restaurants and shopping options. Herrington residents can also enjoy some time by the water at Lake Sidney Lanier. Spend your time boating or lounging on the beach. Cumming also has its own fairgrounds that regularly hosts events.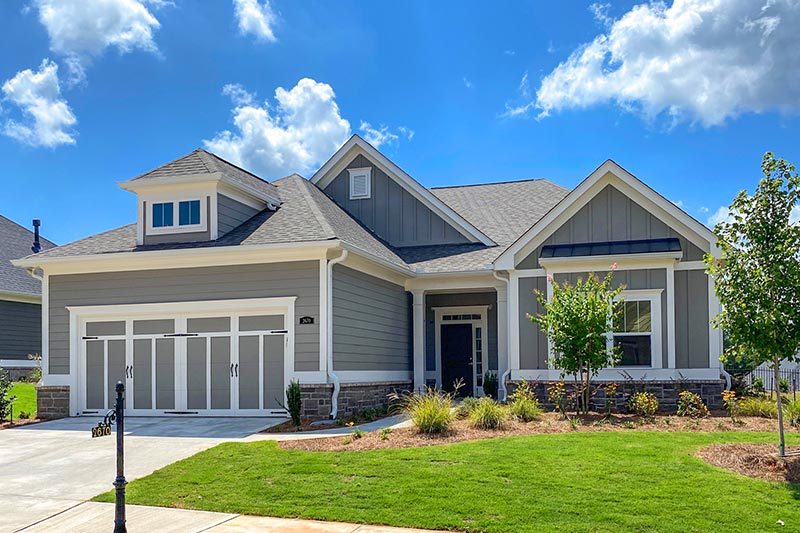 The Orchards of Central Park is another 55+ community in Cumming, not far from Atlanta. Construction on the community began in 2019 and continues today, making the Orchards of Central Park attractive for homebuyers interested in new construction.
The community developer has plans for a total of 160 homes, a mix of condos, attached units, and single-family homes. The community's condos make up the Southern Heritage collection. These condos have two bedrooms, two bathrooms, and garages with space for two cars.
Residents of the Orchards of Central Park will be able to make use of the community's luxury amenities, including a saltwater swimming pool and a clubhouse. Residents will also be able to perfect their tennis swing and enjoy the nearby Central Park.
Cumming is home to a number of delicious restaurants as well as shopping options and plenty of greenspace. If you envision yourself getting out on the golf course, the Orchards at Central Park is near the Hampton Golf Village and Country Land Golf Course.